The Queen's Gambit, Emily in Paris and Bridgerton are all the same: colourful, people-pleasing TV
What Netflix does, others follow, and the streaming giant's aesthetic is now frictionless plots and bright colours. Maybe algorithms will finally finish off dark, complex television, says Ed Cumming
Thursday 14 January 2021 16:12 GMT
Comments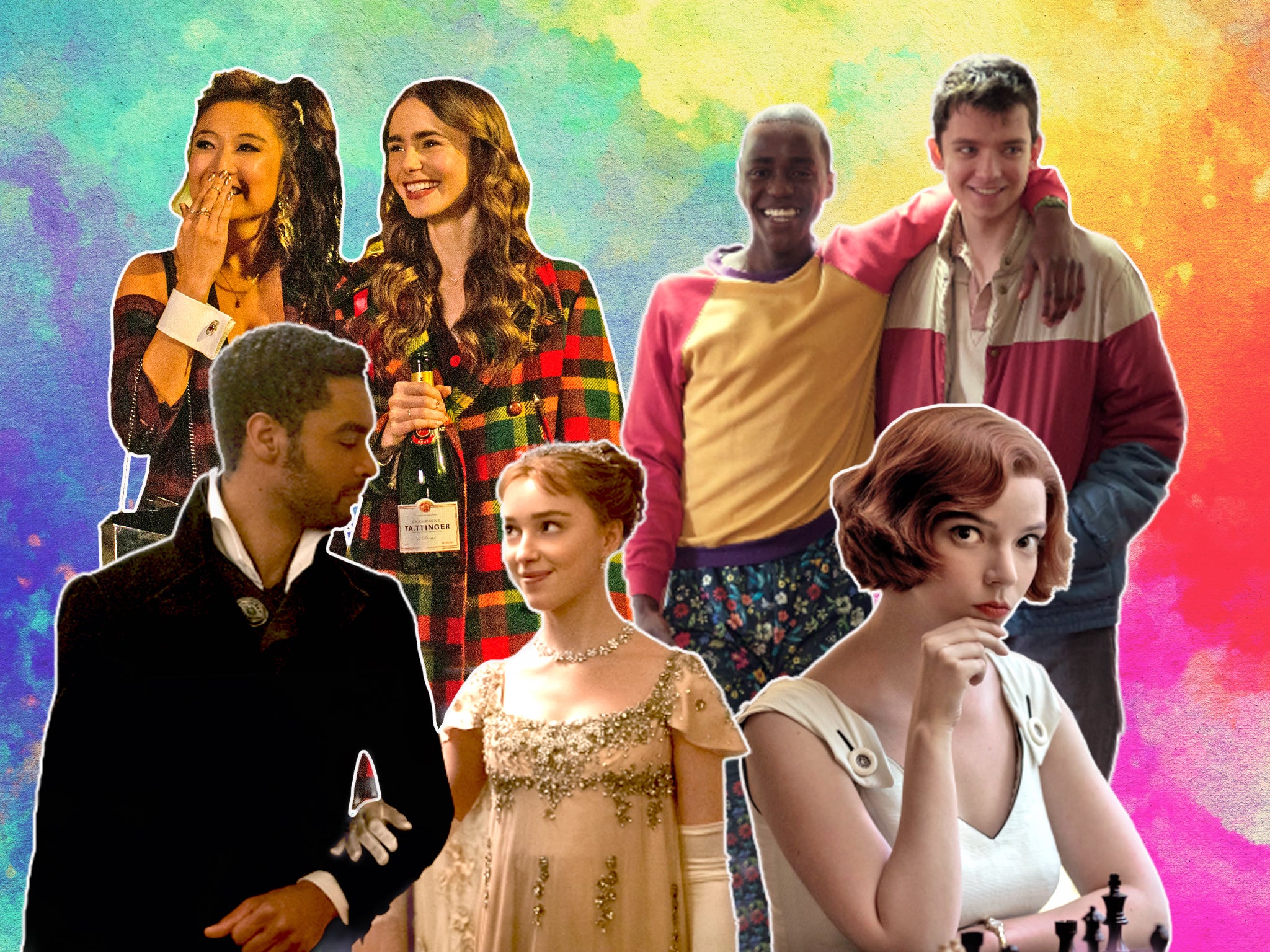 Global television comes with global obligations. Netflix has nearly 200 million subscribers in 190 countries. Amazon Prime has 150 million in 17. Disney+ already has 100 million and hopes to reach 240 million by 2024. Where in the past successful series might eventually break out of their domestic markets, programmes are now designed for the whole world from the start. But how do you make TV that 200 million people will enjoy? Do you make lots of idiosyncratic local series and hope that one or two take off? Or do you throw the kitchen sink at making something so big and so polished – The Crown – that the whole world will love it?
The Queen's Gambit, Emily in Paris and Bridgerton give us clues about where Netflix is heading with its flagships. On the face of it, the three series could hardly be more different. The first is about a female chess prodigy during the Cold War, the second is a contemporary comedy about a young woman from Chicago sent to work in a Parisian marketing agency, and Bridgerton is a Regency costume drama. Watching them in close succession, however, you get a nagging sense of familiarity. They're all shot in a bright, glossy palette, applied to both sets and costumes. Whether the action is in a mid-century Moscow hotel, a charmant apartment or 18th-century London, it's invariably colourful and well lit. Even the Queen's Gambit scenes set in the cellar of an orphanage are given a kind of glamorous sheen. Sex Education was interesting because it applied an American high-school varnish to a fictional English setting. It's less interesting now that everything looks like Sex Education.  
The storytelling is increasingly frictionless, too. We know Beth Harmon will become chess champion just as we know Emily will eventually succeed in Paris. Bridgerton proceeds by a series of mild twists, disguising its slightness with sexual frankness and refreshingly diverse casting. These are expensive, watchable, undemanding TV programmes, to wash over you while you have one eye on your phone, whether you are in Berlin or Bogota. In an article focusing on Emily in Paris, The New Yorker called this rising genre "ambient TV".  
Where the streamers, especially Netflix, lead, others must follow. On AppleTV+, The Morning Show is the acme of starry prestige, with Jennifer Anniston, Steve Carrell and Reese Witherspoon going at each other in brightly lit studios. Julian Fellowes's latest effort, the ITV/Epix co-production Belgravia, had a chocolate-box gloss that made Downton Abbey look gritty and realistic. BBC/HBO's His Dark Materials offers no shortage of spectacle, but arguably less heart than Philip Pullman's beloved novels.  
"There's definitely a homogenisation in terms of look and ways of telling stories," says Joe Barton, creator of the Bafta-winning Giri/Haji, who has recently signed on as showrunner of HBO's The Batman. "It's hard to tell whether that's being dictated [by the streamers], or the result of other factors. For a long time, I thought there was a look and feel for terrestrial BBC and ITV dramas, partly because they had the same budgets but also because they were using the same 20 writers and 20 Oxbridge graduate mid-40s male directors."
The streaming look is an American aesthetic but spreading fast, partly because so many programmes are co-productions. In its early days, Netflix was vaunted for giving its creators free rein, but those in the business say that's increasingly a myth. Where creative decisions are guided by algorithm, they tend to mimic things that have been successful before, just as they increasingly favour programmes only running for one or two series. Although there are now hundreds of independent British production companies where previously there were just a handful, they are under pressure to pitch the same kinds of programmes. Convincing people to try something new is hard, and if anything it has got more difficult with the increased competition. It has to look new, but audiences still want things they can bank on not being a waste of time. One reason for the renaissance of true crime might be that a murder investigation plays equally well everywhere in the world.  
The wider distribution is driving the look in other ways, too, says Brendan Galvin, a director of photography who's worked on Westworld and Good Behaviour as well as Hollywood films like Rambo: First Blood. Television is now "cinematic", but in the past directors and cinematographers knew their work would be seen on a big screen. If you are shooting a big TV series today, there's no way to know whether your audience will be watching it on their laptop in bed, or indoors in their home cinema, or outside in the sunshine on their phone. Chastened by high-profile controversies around the "gloomy" episodes of Game of Thrones or Wolf Hall, directors are shy of showing anything too dark.  
"Think of Lawrence of Arabia, those wide shots with just Lawrence on a camel in the distance," he says. "They wouldn't work on a phone because it would be too small to see anything. Equally some close-ups might be too big in the cinema, but work on a smaller screen." He adds that the enormous budgets now available in TV are not always conducive to good filmmaking. "The best meal of your life was probably not the most expensive," he says.
The irony is that there has been no shortage of distinctive drama in recent months, although Covid will restrict the output in 2021. Industry, I May Destroy You and Normal People, not to mention Giri/Haji, were all transatlantic co-productions that retained a unique look and feel. Industry was as fitted to its City setting as Normal People was to County Sligo, but both received international acclaim. All benefited from American money without losing their identity or compromising on storytelling. They were also all the work of people near the start of their careers. The glossy Netflix mega-series listed above, by comparison, are by industry veterans. Looking at the numbers bandied around, populism certainly pays. Shonda Rhimes – the super producer behind Bridgerton – has a deal with Netflix that is said to be worth $150m (£110m). But at what cost, creatively?  
Access unlimited streaming of movies and TV shows with Amazon Prime Video
Sign up now for a 30-day free trial
Sign up
Access unlimited streaming of movies and TV shows with Amazon Prime Video
Sign up now for a 30-day free trial
Sign up
It's a dilemma Phoebe Waller-Bridge may be grappling with. It was only in 2016 that the first episode of Fleabag appeared, a thrillingly original spin off from a one-woman Edinburgh Fringe show. Four years later she is a superstar, with an Amazon deal said to be worth £60m that has yet to bear fruit.  
"It's unhelpful creatively to be in that position," Barton says. "As you move up in your career it becomes much more easy to get your work made, but you get to the point where you're the reason something is being made, rather than the quality of your work. It's good for these guys and their bank balances, but you need that vigorous process of stress-testing an idea."
She can presumably put out more or less whatever she wants, but that comes with its own risks. Play it safe and you'll be accused of selling out. Take a punt on something unusual and you risk upsetting the overlords.  There are lots of people to please and The Crown lies heavy. 
Join our commenting forum
Join thought-provoking conversations, follow other Independent readers and see their replies