Quiz: The Millionaire 'coughing major' scandal wasn't just about cheating – it was also about class
Whether or not the Ingrams were cheating on 'Who Wants to Be a Millionaire?', the resulting outrage was rooted in the same dynamics that have come to dominate social discourse in the years since, says Adam White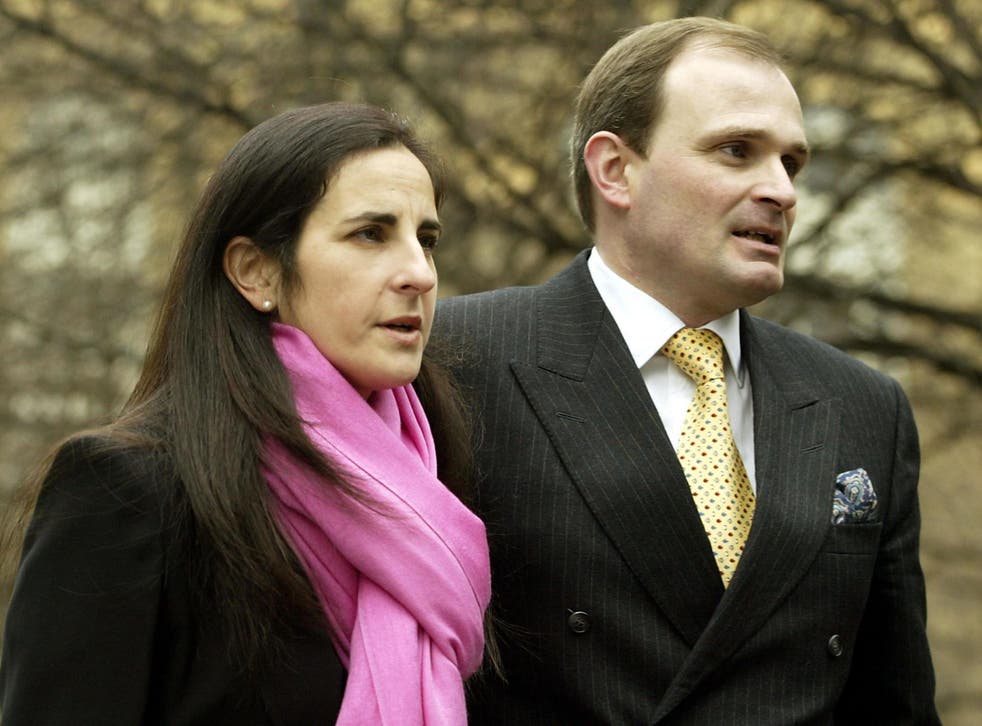 Charles and Diana Ingram were carefully curated villains because we really wanted them to be. In September 2001, the pair were thrust into the spotlight after being accused of cheating their way to victory on Who Wants to Be a Millionaire?, then the most-watched quiz show in the country. It was easy to believe their guilt – there was Charles, with his posh boy moon face and unfortunate taste in polo shirts; Diana, a Victorian ghost of a woman, grimacing in the audience as if she'd just swallowed a wasp. But as seen in Quiz, ITV's brilliant new dramatisation of the scandal, which continues tonight, there were always ambiguities to the case.
Ingram, a British Army major, was noticeably poor in the early stages of his participation on the show. He would answer the easiest of questions with uncertainty and immediately use up two of the three "lifelines" designed to help him. The following day, recording the second half of his appearance, he proved inexplicably successful. Despite apparently knowing little, he would repeatedly guess correct answers. He ultimately took home a million pounds, becoming the show's second ever winner of the big money prize.
Then questions arose: a recurring cough in the audience, allegedly stemming from a man working with the pair, could be heard seemingly responding to the correct answers. The Ingrams' cheque was rescinded, and the uncertainties surrounding their primetime-television fraud became less important as time went on. They would be publicly scorned.
Quiz is appropriately just as gaudy as it is compelling. Starring Matthew Macfadyen and Sian Clifford as the Ingrams, and an uncanny Michael Sheen as the brusque and perma-tanned Chris Tarrant, it also refuses to incriminate the pair, or accused cougher Tecwen Whittock. Not for dramatic purposes, nor wilful impartiality, but because the "coughing major" scandal was never as cut-and-dried as it seemed.
The Ingrams have always maintained their innocence, despite the undeniable oddness of Charles's processes of elimination during the episode. The coughs, which a jury decided were Whittock's means of indicating the correct answers as Charles read them aloud, were indiscriminate, they have claimed. Whittock merely had a persistent cough, he argued. Others have similarly raised doubts – of the 192 coughs heard from the audience over the course of the episode's recording, only 19 seemed to match the timing of Charles's decision-making. It's similarly never been proven which coughs directly came from Whittock himself. The trio were convicted of "procuring the execution of a valuable security by deception" in 2003, and each given suspended prison sentences but, for some, doubts still linger.
Quiz plays into that ambiguity. The camera darts around the studio whenever a cough is heard, we don't see the Ingrams doing any off-camera plotting, and even ITV bigwigs seem uncertain as to what actually happened. Its most intriguing elements are its gestures to how class played into the nation's collective disdain of the pair.
"Police?" asks a bewildered Diana in tonight's second episode. "You're an army major and I'm a teaching assistant. People like us don't deal with the police – this is Wiltshire!" Earlier, the prosecution argues: "The accused look, and for all intents and purposes are, respectable – middle class, middle-aged, middle-England men and women."
Back in 2001, Who Wants to Be a Millionaire? and Tarrant himself served as gatekeepers to unthinkable wealth. It was a quiz show representative of the naive understanding of social mobility in the UK. There was a ladder of questions, each rung's answer worth that little bit more, and it was solely down to knowledge and skill that you ascended it. This wasn't light entertainment dependent on chance – it was like life. Work hard enough, have enough mental prowess, and you too can achieve incredible riches.
The Ingrams broke the rules. Not just the rules of the show, but the rules of social order. It was unfair that Charles was the third person in his immediate family to participate on the show (both Diana and her brother separately won £32,000 each on previous episodes). It was unfair, too, that white, upper-middle-class individuals were seemingly cheating in a system designed to help them the most in the first place. That the Ingrams were swimming in debt, and not quite as posh as they seemed, was irrelevant – the country house, clipped English and lack of basic Craig David knowledge were enough to convince everyone otherwise.
Access unlimited streaming of movies and TV shows with Amazon Prime Video Sign up now for a 30-day free trial
Sign up
It was also a reaction driven by twin pillars of nonsense – one related to the perception of the programme as a bastion of fairness and equality, and the other a tabloid media driven by a need for sensational narratives. The ambiguities in the Ingram's alleged deception were always there, but we were so consumed by the "idea" of the Ingrams – upper-middle-class cheats who were consumed with wanting more than their already not-insignificant share – that they were rapidly downplayed.
Consider how often we misremember the "coughing major" scandal itself. It didn't happen on live TV, for one, the episode in question only being broadcast, for legal reasons, two years after it had been recorded. Even watched today (it can be found in its entirety on YouTube), the episode struggles to convey a consistent pattern of coughs relating to Ingram's answers. Charles remains exasperating, his endless dithering certainly suspicious if never exactly incriminating. Diana is bizarre, clutching at her face and shifting her gaze like a cartoon villain. But as much as we may want to see something in it no one else has, or finally crack the puzzle of whether they did it, it's nowhere near as interesting as the myth that surrounds it.
While the scandal is today remembered as a laughable pop culture curio, a shocking tale of glitz and subterfuge that distracted us from the horrors of 9/11, it would be more appropriate to remember it as the beginning of something far darker. The nation allowed itself to be coaxed into believing a story that always seemed slightly unreal, and further still allowed itself to rage over something with incredibly minimal stakes. We concluded that two individuals were guilty of a crime based, for the most part, on little concrete evidence, and overlooked anything speaking to the contrary. The Ingram scandal was reality television, and a sign of things to come.
When, months after their conviction, Charles and Diana Ingram took part in Channel 4's Celebrity Wife Swap, and Charles was forced to spend a week "married' to Jade Goody, they were portrayed as perverse opposites. In truth, they were exactly the same – both swimming in the same metaphorical gene pool, two early stars of a nascent genre, and one that would come to dictate much of how we operate and function in the 21st century. Like so much of life back then, we had no idea how much of it would come back to bite us later on.
Register for free to continue reading
Registration is a free and easy way to support our truly independent journalism
By registering, you will also enjoy limited access to Premium articles, exclusive newsletters, commenting, and virtual events with our leading journalists
Already have an account? sign in
Register for free to continue reading
Registration is a free and easy way to support our truly independent journalism
By registering, you will also enjoy limited access to Premium articles, exclusive newsletters, commenting, and virtual events with our leading journalists
Already have an account? sign in
Join our new commenting forum
Join thought-provoking conversations, follow other Independent readers and see their replies