The Independent's journalism is supported by our readers. When you purchase through links on our site, we may earn commission.
'Quiz': How 'Who Wants to Be a Millionaire' became a huge hit in the US before burning out
As 'Quiz', James Graham's dramatisation of the 'Who Wants to Be a Millionaire?' coughing scandal, airs to rave reviews in the UK, Clémence Michallon explores the game show's turbulent history in the US
Wednesday 15 April 2020 17:08 Comments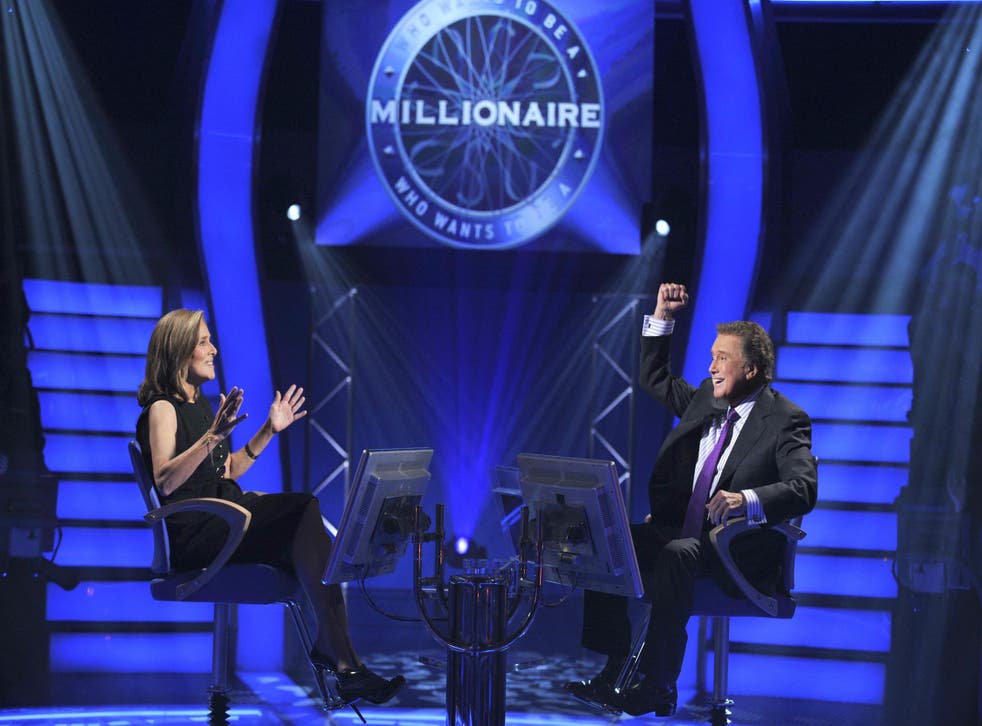 Who Wants to be a Millionaire? is having a moment. In the UK, a TV adaptation of James Graham's theatre play Quiz – itself inspired by the alleged cheating scandal that rocked the game show in September 2001 – is earning rave reviews. In the US, the series, cancelled in 2019, has been revived for an eight-episode season hosted by Jimmy Kimmel, featuring celebrity contestants playing for charity.
The US Millionaire was born out of the British franchise created by David Briggs, Mike Whitehill and Steven Knight. After a 1998 debut in the UK, it crossed over to the other side of the Atlantic the following year, airing for the first time on ABC in August 1999.
Millionaire was an immediate success, its premiere kicking off a two-decade saga that would see the show sweep the Nielsen ratings before a lower-profile 17-year syndication run, and an eventual cancellation in 2019. The latter was a headline-making event, and it also turned out to be temporary: Just eight months after nostalgic headlines announced the game show had come to an end in May last year, ("We're not crying, you're crying," Country Living emoted), ABC revealed its plans to bring it back to its airwaves with Kimmel as the new emcee.
The endurable pull of Millionaire in the American TV landscape seems an inevitability. From the very onset, Millionaire captivated viewers. Less than two weeks after the show's premiere, The New York Times deemed it "the talk of the television world this summer," adding: "It has surpassed the status of mere hit to emerge as a national phenomenon." On Sunday 22 August 1999, Millionaire had drawn 15 million viewers, "its largest audience yet" and "more than for any other show on television in the last weekly rating period".
A September 1999 review by Entertainment Weekly pointed to the show's aesthetics as an essential part of its appeal – rightly so – from the "shiny-steel-girdered, blinking-light set that makes it seem like you're watching people trapped inside a pinball machine", to its "adult-size high chairs and music that sounds like John Tesh on Quaaludes". The Independent's own Dave Maclean witnessed the show's success firsthand during a 2000 trip to the US, aged 15: "I was in Gettysburg with my dad and looked fairly old for my age, so they turned a blind eye to me sitting in the bar. Suddenly, a rumble of shushing rolled over the bar and people went quiet. Silence was demanded at 8pm as Who Wants to Be a Millionaire? aired."
Beyond the show's visual and musical identity, Millionaire's core premise – answer 15 questions correctly and walk away with seven figures – has always held an undeniable, universal appeal. There's a reason it has aired than more 100 countries. Even in France, where this writer grew up, and where wealth is so often a thorny topic – especially if it feels unearned – Qui Veut Gagner des Millions? ("Who Wants to Win Millions?") endured from 2000 to 2016 before rising from its ashes again in 2019.
Perhaps Millionaire's secret is the elusive 15-question ladder, which makes victory seem deceptively within reach: where so many game shows put you through a ringer of rapid-fire challenges, Millionaire lays out a clear path to fortune. But of course, things aren't so simple, and as questions increase in difficulty, participants must also decide when and how to use their three lifelines (50/50, Phone a Friend, and Ask the Audience), which instil the game with enough drama to keep us hooked.
Millionaire would be nothing without a good host to provide the required theatrics, often by way of the ominous: "Is that your final answer?" In the US, hosting duties first went to Regis Philbin. When, despite the show's original success, ratings began to suffer – a surprisingly quick fall from grace, which E! Online has attributed to ABC's "over-reliance on the show", causing "the luster to wear off pretty quickly" – Millionaire moved to syndication, with Meredith Vieira taking over hosting duties from 2002 to 2013.
Vieira's departure led to perhaps the most intriguing period in Millionaire history, with three hosts taking over from one another in rapid succession. Cedric the Entertainer took the reins for one season, departing in 2014.
Access unlimited streaming of movies and TV shows with Amazon Prime Video Sign up now for a 30-day free trial
Sign up
Then, Terry Crews – yes, Brooklyn Nine-Nine's Terry Crews – stepped in for one season, telling The Atlanta-Journal Constitution ahead of his tenure: "Instead of asking why, I've always asked why not. You can always find a reason not to do something. You can always come up with an excuse. I want more. If you want more, you got to do more." Despite this initial enthusiasm, Crews, too, departed after just one season, leaving The Bachelor host Chris Harrison to take over until Millionaire's cancellation in 2019.
Millionaire has yielded 12 top winners (compared to five in the UK – but then again, $1m "only" amounts to £792,555 these days, so there's that). Those winnings, in any case, pale in comparison to the considerable amount of money Disney, ABC's parent company, lost in a dispute against Celador, the British production company behind the show. Back in 2010, Disney was ordered to pay Celador $270m in damages stemming from a conflict over Millionaire revenues. A judge later added $50m in interest and the $319m ruling was upheld in 2012.
The 2020 Kimmel-led reboot premiered in the US on 8 April, its format altered in part: instead of regular people looking to buff up their bank accounts, participants are celebrities playing for charity. The coronavirus added another, unforeseen complication when it turned out the programme had to shoot without a crowd, meaning the Ask the Audience lifeline became Ask the Host.
For Variety, sticking to celebrity-only contestants is a misstep, as it "strips it of the appeal that first made it such a phenomenon to begin with". (The first participant was Modern Family's Eric Stonestreet, and future episodes will feature A-listers such as Jane Fonda, Anthony Anderson, and Anderson Cooper.) "Its fame-driven focus, and inability to recapture the frisson of stress that once made the show such a sensation, makes 2020's Who Wants to Be a Millionaire? more a sign of the times than must-see TV," reads the publication's review of the first episode in the season.
It makes sense, in a way, that a Hollywood-only version of Who Wants to be a Millionaire? would be less tantalising. For two decades now, the show's appeal has resided in its relatability, its very title a purely rhetorical question urging viewers to picture themselves in the participant's seat.
But whenever the questions got too hard, or when a 50/50 lifeline proved shockingly unhelpful, or when a contestant agonised over a six-figure dilemma, it was easy to switch to precisely the opposite sentiment, a sort of "Well, I sure am glad I'm not in their shoes." Perhaps that's what made Millionaire so enjoyable in the beginning: a perfect balance between fantasy and the comfortable satisfaction with one's own life.
Register for free to continue reading
Registration is a free and easy way to support our truly independent journalism
By registering, you will also enjoy limited access to Premium articles, exclusive newsletters, commenting, and virtual events with our leading journalists
Already have an account? sign in
Join our new commenting forum
Join thought-provoking conversations, follow other Independent readers and see their replies