Interview
Rebecca Romijn: 'I wanted to do my trans character justice – and make her as hot as possible'
The supermodel turned actor, who has gone to space for 'Star Trek: Strange New Worlds', speaks to Adam White about playing persecuted women, why she'd not reprise her trans 'Ugly Betty' role today, and her difficulties with Brett Ratner on the set of 'X-Men 3'
Wednesday 05 July 2023 06:30 BST
Comments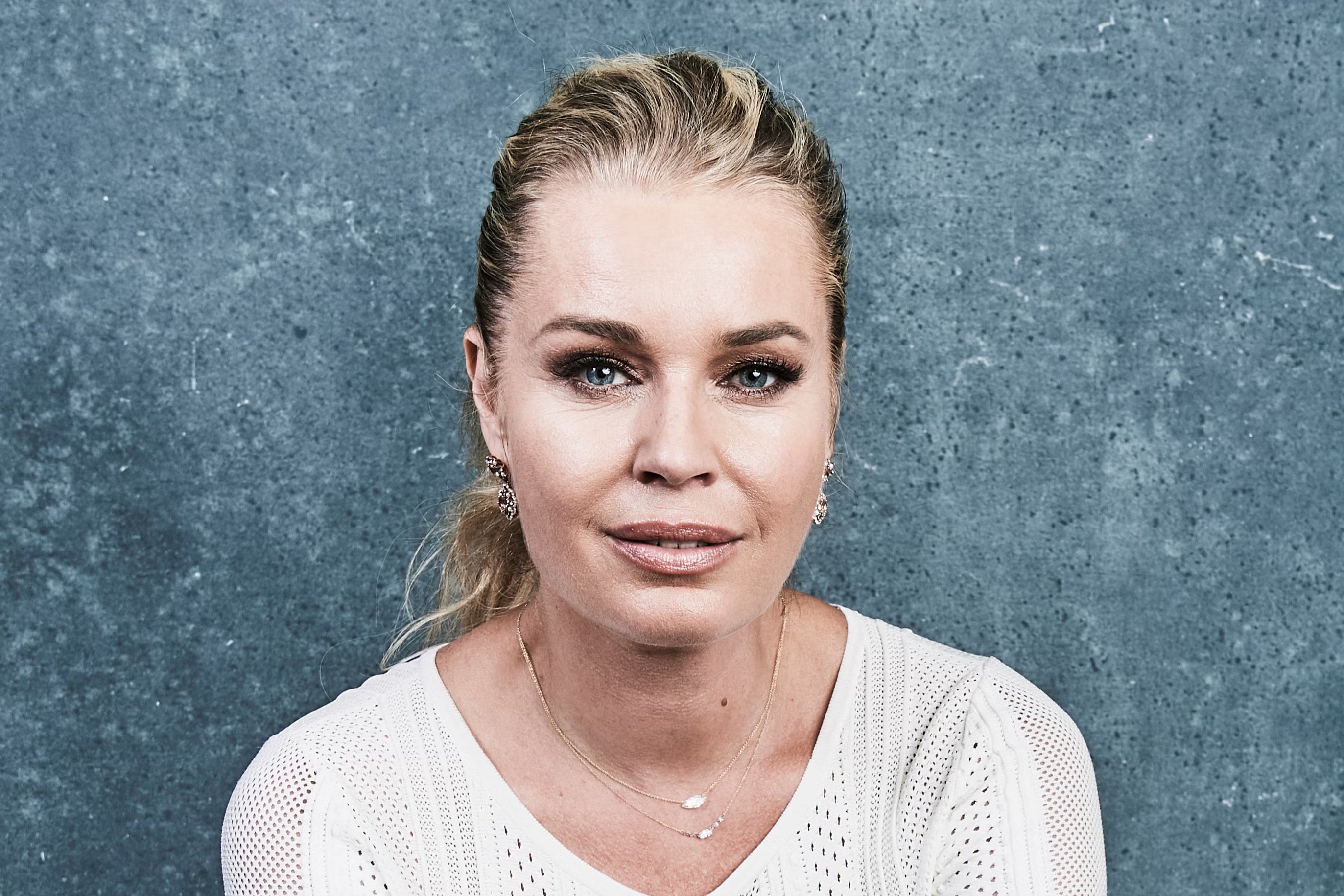 Leer en Español
In 2006, the creators of the then fledgling comedy series Ugly Betty proposed a wild plot twist for the show's first season: the mysterious villain covered in bandages and living in the basement of a fashion magazine publishing house would be revealed as the transgender scion of a media dynasty, who'd faked their death before undergoing gender reassignment surgery. "Alex" would emerge as Alexis Meade, a campy bombshell who'd try to take over the company.
But the creators weren't stupid. This was 2006, and such a risky storyline required a trojan horse. Enter supermodel turned actor Rebecca Romijn, then best known for being the bluest, nudest mutant in the X-Men franchise.
"The executives at the time didn't love the idea of the character," the 50-year-old remembers today. "There was a real boys' club running the show behind the scenes at that point. So to try and make it palatable to the boys' club... they pitched me. And I jumped at the chance." She knew it was a big deal. "I never would be cast in that role today, but I do feel like it helped open doors for the trans community. I'd like to think that, anyway. I don't want to pat myself on the back too much."
I tell her that, regardless of the odd line of bad-taste dialogue about transition, the show's treatment of Alexis has aged relatively well for its era – plus Romijn was a cisgender woman playing a transgender woman (we're not talking Eddie Redmayne in a shoddy wig), and Alexis was just as outrageous and sexy as every other fashionista on that show. "I really wanted to do that character justice – and make her as hot as possible." She erupts into a laugh.
Romijn (it's pronounced like the lettuce, if you were wondering) is nursing an iced water in a London hotel. Dressed in a leather jacket, her hair cut to a dirty-blonde bob, she has a regal if punky energy, plus the height and bone structure of someone who spent much of the Nineties gracing magazine covers. In 1998, Maxim slapped a single word next to a picture of her on the beach: "Goddess".
Back then, you wouldn't necessarily have guessed that Romijn, who'd just taken her first steps into acting, would soon become synonymous with the oppressed and the persecuted on screen, human and inhuman alike. Unusually – and totally coincidentally, she says – her three most high-profile roles swim in similar waters.
In the Paramount+ series Star Trek: Strange New Worlds, a fun, thematically rich new chapter of the long-running franchise, she is Una, lieutenant commander of the USS Enterprise, who has kept secret that she is an alien with augmented (and therefore illegal) genes. "She felt she had no other choice but to hide," a space lawyer argues in a second-season episode, in which Una is placed on trial for concealing her true identity. "Just like the millions before her who had to hide who they worshipped, who they loved, what they truly looked like – all because it made others uncomfortable or afraid."
It's a line, Romijn notes, that echoes one spoken by her X-Men character Mystique, a shapeshifter covered in hundreds of scales. "Why not stay in disguise all the time? [And] look like everyone else?" she's asked in 2003's X2. "Because we shouldn't have to," Mystique replies.
One of the powerful aspects of Star Trek, Romijn says, is that its allegories can be read however you choose to read them. "Una's story is about prejudice and persecution, but it could be religious, it could be racial, it could be about immigrants, it could be about the trans community and trans rights. It very much depends on who you are in the audience and how you receive it."
Access unlimited streaming of movies and TV shows with Amazon Prime Video
Sign up now for a 30-day free trial
Sign up
Access unlimited streaming of movies and TV shows with Amazon Prime Video
Sign up now for a 30-day free trial
Sign up
I have been informed – by people far Trekkier than I – that Strange New Worlds is the best Star Trek series in years, as buoyant and colourful as it is moving. It takes place a decade before the events of the original show, with Anson Mount playing Captain Christopher Pike, the immediate predecessor to Captain Kirk. There is intergalactic intrigue, a young Spock and Uhura, and a seemingly endless supply of distress calls from far-off planets.
For Romijn, the show marks a dream come true: she was a teenage sci-fi nerd who once counted The Empire Strikes Back as her favourite movie, and whose mother introduced her early to the Star Trek universe.
"It sparked my curiosity about the world and about whether we're alone in the universe – which of course we're not!" She rolls her eyes. "That would be so egotistical of us to think." When she was cast in Strange New Worlds, and tried on her gold uniform for the first time, she began to cry. "I lost my mom about six years ago, and I feel like she somehow led me here. When I walked onto the Enterprise set, I just..." She drops her voice to a whisper. "'Mom, look where we are!'"
Romijn grew up in California, a self-described "musical theatre geek" who never intended to model. But when you're 5ft 11in and blessed with a face that can stop traffic, it's sort of inevitable. By the mid-Nineties she was one of the busiest models in the industry, covering everything from Allure to GQ and walking runways for Victoria's Secret. Acting, though, was her real passion. "There hadn't been many success stories of models with big names who'd tried to make that leap," she says. "I knew I had to work hard to be better, to always take chances and always dare to suck and take big swings. I've tried never to play it safe."
She gravitated towards parts that upended expectations. She was a bearded lady in the 1998 comedy Dirty Work, flirted with Austin Powers in 1999's The Spy Who Shagged Me, and memorably played Ross's beautiful but grotesquely messy palaeontologist girlfriend in Friends. "I said no to a lot of arm candy stuff. That was a waste of my time. But the pretty slob? I'm there!" She does, however, regret not fighting for the Bond girl role ultimately played by Denise Richards in The World Is Not Enough. "They brought me in to audition for... what was her name? Christmas Jones? I would have loved that. But it never happened."
There were a few missteps – absolutely don't watch John McTiernan's ghastly remake of the James Caan vehicle Rollerball, for instance – but she otherwise held out for quality work. She's brilliant as a Catwoman-esque jewel thief in Brian De Palma's underrated noir caper Femme Fatale, which still ranks among her personal favourites. "That was a spectacular experience – even though it tanked at the box office," she laughs. "Brian is truly a visionary and a genius. We shot it in Paris, and having modelled in Paris back when I was poor, then going back there to be in a movie – it was like, 'Wahoo!'"
At the same time, Romijn was imbuing Mystique, the right-hand woman to Ian McKellen's Magneto, with other-worldly menace. But the X-Men movies barely skimmed the surface of her character's complex lore. That, she says, was down to the expense of merely having her on set. "The costume took nine hours to apply, so there were only so many hours I could work," she recalls. Every day she had a set of blue, scaly prosthetics applied to her body, which she believes cost $15,000 (£12,000) a pop. "They used a fresh set each time, so we were sort of limited."
Since the original X-Men trilogy came to a close (a prequel franchise that recast Mystique with Jennifer Lawrence launched in 2011), many of its cast have discussed its troubled production history – and off-camera difficulties with Bryan Singer, who directed the first two movies in the series. Alan Cumming and Halle Berry have both spoken of an attempted intervention with Singer over the director's alleged drug use on the set of X2. (In recent years, Singer has also denied repeated allegations of sexual misconduct.)
Romijn is aware that Singer has "had his fair share of stuff" in the years since – "stuff" admittedly doing quite a bit of heavy lifting – and that she's grappled with how to approach her positive memories of him. "He's a fantastic filmmaker, you know? It was amazing watching him work. And you have to decide if you want to try and separate those two things. I know that the other cast confronted him about things. But I was not a part of that. I wasn't there for it, so I can't really speak to it.
"There was drama on set, and I witnessed it and I heard a lot about it. And he sometimes didn't come in prepared. But he would show up and, without any preparation whatsoever, direct the most awesome scene that he was able to put together because he's such a good filmmaker." She adds that she doesn't "want to throw anyone under the bus..." She pauses. "Except for Brett Ratner."
Ratner, the director of films including Rush Hour and Red Dragon, replaced Singer for 2006's X-Men: The Last Stand, which marked Romijn's final substantial turn as Mystique. In 2017, six women – including actors Olivia Munn and Natasha Henstridge – accused Ratner of sexual assault and harassment, claims Ratner at the time "categorically" disputed through his attorney. Elliot Page, who played Shadowcat in X-Men: The Last Stand, also accused Ratner of sexual harassment on the set of the film.
"I was not happy working with him," Romijn continues. "But he's been cancelled. I haven't spoken up about anything with regard to #MeToo, because I had two major issues with two directors I've worked with – and both of them already got theirs, one of them being Brett Ratner." I tell her that I always imagine it's a heavy burden to decide whether to go public with a bad experience on a film set. "Yeah, I kind of just..." She shakes her head. "I didn't feel like I needed to say anything. I know the two people that I worked with had it coming, and they got theirs." She doesn't want to reveal more details. "I'm not gonna... I don't need to say anything else," she insists.
Regardless of how her time as Mystique ended, though, she'd still love to one day reprise the role, as well as that of Alexis in an Ugly Betty reboot. Even if she guesses the latter is unlikely. "I do think Alexis should be cast with a trans actress," she says. "That would be the correct thing to do."
'Star Trek: Strange New Worlds' streams on Paramount+, with season two dropping weekly on Thursdays
Join our commenting forum
Join thought-provoking conversations, follow other Independent readers and see their replies