Ricky Gervais: 'People are waiting for me to fail. If you think it's awful, then just don't watch it'
As the second series of his divisive sitcom 'Derek' hits screens, the comedian tells James Rampton why he'll never bow to the critics who habitually circle his work – and why he loves his 'sweet and funny' protagonist
James Rampton
Thursday 17 April 2014 07:24 Comments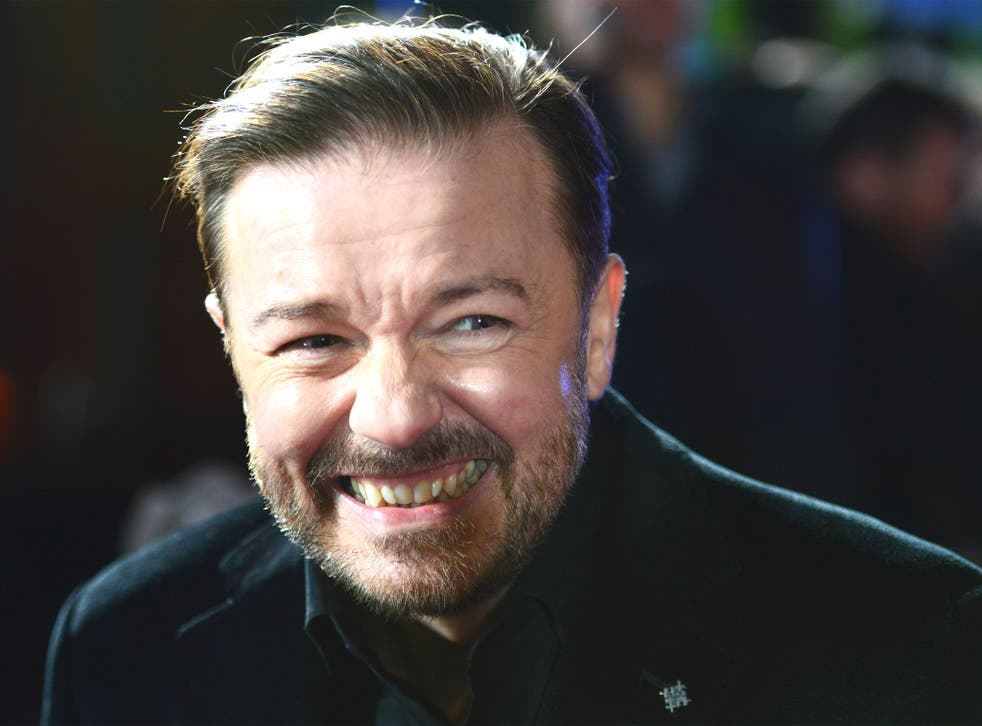 Ricky Gervais is in his element, conducting operations on the set of Derek, his Channel 4 sitcom about a simple-minded, kind-hearted man who works in a care home. Standing in the middle of the set – the day room of Broad Hill Retirement Home, which has been constructed in a derelict warehouse on an unprepossessing industrial estate in East London – the 52-year-old writer-director-star is ebullient, geeing up his crew with a stream of patter.
Dressed in Derek's costume of shapeless blue tracksuit trousers and a grey and maroon patterned zip-up cardigan, the actor is today learning sign language for the purposes of a scene in the new, second series. An expert is demonstrating the similarity between the sign for hello and the sign for making love. "We'd better get that right, or we'll have complaints about bad language," he says, his trademark cackle ringing out around the set.
To say that the first series of Derek divided opinion would be an understatement. Some described the show, which drew audiences of over two million per episode, as big-hearted and brilliant; others dismissed it as a disappointment; many more saw it as a mawkish, bigoted mis-step. In a quiet moment when filming has finished for the day, I sit down with Gervais. He's a thoughtful, articulate, surprisingly softly-spoken man who should not be mistaken for his brash stand-up alter ego – and he's used to being attacked. He is one of nature's polarisers. Everything from his deliberately provocative live persona and hosting of the Golden Globes to Life's Too Short, his last BBC2 sitcom about a deluded actor, has attracted enough flak to have taken down a less resilient artist.
He is more than capable of defending himself against negative reviews, though. Responsible for two of the great sitcoms of this millennium, The Office and Extras, he begins by asserting that, "Everything ever made has had mixed reviews, and why not? Everyone is different. I know people who think that The Office is the best thing they've ever seen, and I know people who think that The Office is the worst thing they've ever seen. Why turn out something safe and homogenised? What's the point of that?
"The more challenging and less anodyne something is, the more mixed its reviews will be. I wouldn't have it any other way. Anything that polarises people is probably saying something. An artist moaning about the critics is like a sailor moaning about the waves. They're there. Deal with them, or don't get on the boat."
He adds, "Whenever I launch a new project, I can hear the bullets hitting the door, and I say, 'Should I open the door?' But I always open the door. I know people are waiting for me to fail – everyone is human. But it shouldn't affect you. Someone not liking my work doesn't mean I have to give the awards or the money back. People who don't like your work have no effect on you. But people who like your work do have an effect on you – they buy your DVDs. When people don't like your work, they don't exist – it's anti-matter."
Hitting his rhetorical stride now, Gervais says that the vehemence of some of his critics baffles him. "I can say to people, 'If you don't like it, then maybe I'll do something different one day, or maybe don't watch it again'. I don't understand people complaining about a show on telly. If you think it's awful, then just don't watch it. There is always that option."
Gervais is often criticised for being cynical in his comedy, a charge that he vigorously rejects. Derek, he says, is the opposite of cynical. Certainly, the character who loves his job in the old people's home and is attached to the residents and his fellow workers, is one of life's blessed innocents. In this series, which is filmed like a "mock doc", he likes – in no particular order – autograph-hunting, animals, Jesus, Deal or No Deal, Million Pound Drop and Britain's Got Talent.
"He has no pretensions. The characters in this series say what they mean. They have no blind spot. We're not laughing at the difference between what they think they are and what they really are." The writer-director ultimately sees Derek as someone to be admired rather than ridiculed. "I adore Derek. He's sweet and funny. But above all he has a wonderful kindness, which trumps everything else." This benevolent outlook has led one critic to dub Gervais "the Tarantino of nice".
Access unlimited streaming of movies and TV shows with Amazon Prime Video Sign up now for a 30-day free trial
Sign up
"Society is so cynical these days, but I see Derek as a really good antidote to that. I have been labelled cynical and a shock comedian, but people confuse lots of things. First of all, they confuse me with David Brent, and they also confuse me with my stand-up persona, which has always been as an arrogant, bigoted fool."
The real Gervais studied philosophy at University College, London and lives in North London with his partner of 32 years, the TV producer and novelist Jane Fallon. One of the reasons that media storms are whipped up so often around him, he says, is that everyone is a critic these days. "People want their voices heard now. Before, it was harder. The man in the street didn't get a voice. But now with blogs and Twitter, everyone's opinion is out there en masse, and people give it too much credence. Who cares? If you're worried about what someone says about you in a blog or a Tweet, you may as well go around every public toilet wall and see if you've got a mention."
He is adamant that the one thing an artist should never do is compromise. A true artist needs to be "a complete fascist" in ignoring other people's opinions, he says. "Don't let the critics get into your head. I'd rather be a bad artist than a good critic. You should never change anything because of what a critic says. You can't believe the five-star reviews and then not believe the one-star reviews. If I start thinking, 'Oh, what did they like last time? I'll do that again', I would get it wrong. Also, why would I want to do the same thing again? You mustn't ever consider anything except your own view."
It's a busy year for Gervais. He will soon be reprising his role as Dr McPhee in Night at the Museum 3, and next month he is touring with Brent's band, Foregone Conclusion. However much of a hit his band may appear to be, it is important that Brent himself still seems a failure, he says. "Even though his band are selling out venues, he's making no money from it and is having to work longer hours as a rep each week. It is vital that he is not successful. I think it's really funny that a fiftysomething rep is singing songs about Lady Di, or travelling around America, or a spaceman coming down and curing racism. He's still always getting it slightly wrong."
After the success of the "Learn Guitar with David Brent" series, which has over 21 million views on YouTube, tickets for the Foregone Conclusion gigs are selling fast. Gervais, who in 1983 reached No 79 in the charts with his own band, Seona Dancing, would be the first to concede that there is a danger of him getting carried away with this late-flowering pop acclaim. "There's Ricky Gervais in there going, 'I'm a bloody popstar!' I have to keep remembering to do the stupid grin and the overbite to remind people that it's David Brent and that I'm not getting off on selling out these venues. This is not Ricky Gervais reliving his failed pop career."
The actor is also currently co-starring as the villain, Dominic Badguy, in the movie Muppets Most Wanted. He can scarcely believe his luck that he got to appear opposite Kermit and Miss Piggy. "Every year I watch The Muppet Christmas Carol, and I'm jealous of Michael Caine getting to hang out with the Muppets. Now I'm getting to do it myself. Making this movie wasn't like a career move – it was like I'd won a prize. I had to keep pinching myself."
Before we part, we return to the subject of Derek. The show offers a very positive view of the elderly. So can comedy ever help to alter social attitudes? "I don't know if comedy can change anything," Gervais reflects. "When it came out, people asked, 'Will The Office change the way people manage offices?' But you watch The Call Centre now, and it's like The Office never existed.
"The idea that you can change the world reminds me of when I used to go to student meetings. They were full of the sons of vicars and oilmen. They all had donkey jackets on and were trying to be militant. I remember one motion demanded that the apartheid regime should free Nelson Mandela. As if the South African government would suddenly say, 'Sorry. Why didn't you ask before? Off you go, Nelson. You're free!'"
The second series of 'Derek' starts on 23 April at 10pm on Channel 4
Register for free to continue reading
Registration is a free and easy way to support our truly independent journalism
By registering, you will also enjoy limited access to Premium articles, exclusive newsletters, commenting, and virtual events with our leading journalists
Already have an account? sign in
Join our new commenting forum
Join thought-provoking conversations, follow other Independent readers and see their replies