Rufus Sewell interview: 'My character is not a monster - he's a human'
Sewell's career has been revigorated since starring as a Nazi in 'The Man in The High Castle', which returns for Season 2 next month, when he will also star in 'Art' at the Old Vic
Gill Pringle
Wednesday 16 November 2016 15:19 Comments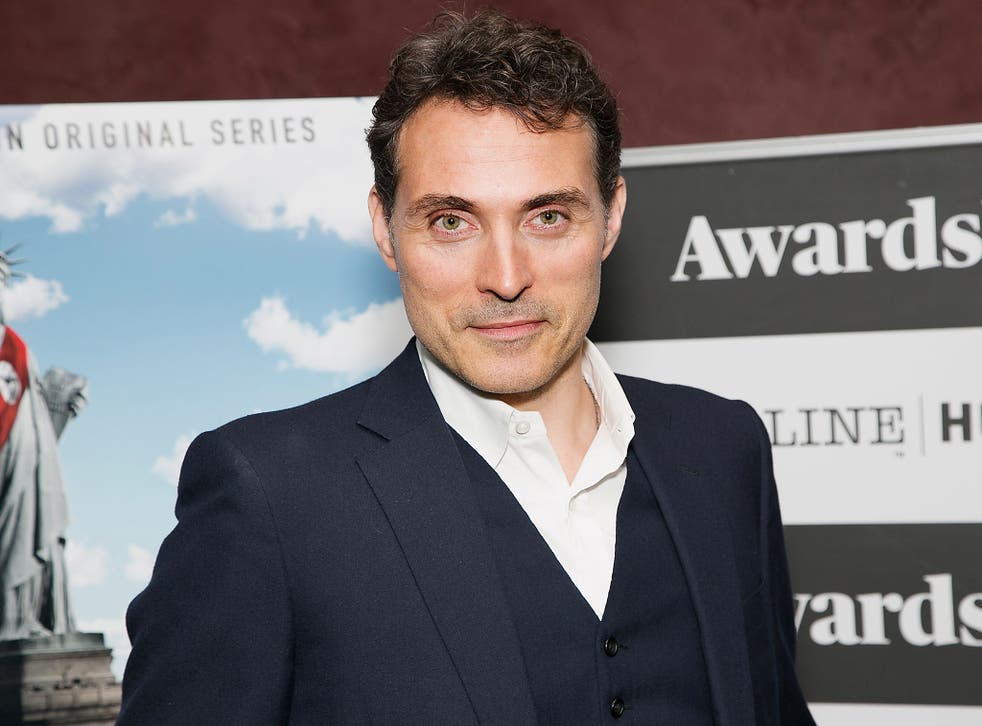 There are many perks of fame. Private jets, red carpet treatment, adoring followers. But Rufus Sewell surely never anticipated amassing a neo-Nazi fan club when he launched his distinguished stage career 25 years ago.
"It was very strange to find myself in Hollywood recently being Sieg Heil-ed through a coffee shop window. He didn't even look like a neo-Nazi, more like a hipster with a bushy beard," he ponders on a rainy day in New York after wrestling through crowds of presumably less militant fans at Comic-Con.
"I had my three-year-old girl with me so I looked away but I think he thought I hadn't seen it, so he did it again," says the father-of-two.
Sewell, 49, has received some of the best reviews of his career for his role as Obergruppenführer John Smith in Amazon Prime's The Man in The High Castle. Loosely based on a Philip K Dick novel, it poses an alternative history of North America if the Nazis had won the Second World War.
It's little surprise that the Donald Trump campaign was one of the main advertisers on the show, about which he says, "I don't think that's an accident."
Sewell's nuanced führer has prompted thoughtful debate about the nature of history's villains. "People have reacted strongly to the role but when you go into a show to play a Nazi, you've gotta know what your attitude is. You can either not take the job or take the job and do it fully. My responsibility is to show that the Nazis were human beings. Not because I'm asking sympathy for the Nazis but because if there's any chance we can ever learn anything from events, we have to quit monsterising things.
"My character is not a monster – he's a human. The only people who do this shit are humans. There are no monsters."
Born in Twickenham to Australian animator William and Welsh artist mother Jo, he was ten years old when his father died. By Sewell's own account, he was an unruly teenager before finding his passion in drama and an early mentor in Dame Judi Dench who directed him in a play at London's Central School of Speech and Drama.
"She came to our drama school for a chat and ended up directing us in a play. She steered a couple of people towards me, one of whom was her agent, who then became my agent, and the other was Tim Pigott-Smith who gave me my first job, and I didn't realise it was her doing for a long time."
Access unlimited streaming of movies and TV shows with Amazon Prime Video Sign up now for a 30-day free trial
Sign up
While their paths have crossed over the years, he's never had the opportunity to thank her. "She's not the kind of person who would indulge that kind of thing, she'd be like, 'Nonsense'. She wouldn't even allow me to mention the subject. She just did me a nice turn."
With a nudge in the right direction his career swiftly took off; by the mid-1990s simultaneously conquering TV, stage and film with a flashy role in Tom Stoppard's Arcadia at The National Theatre, a breakout TV debut in mini-series Middlemarch and notable performances as Fortinbras in Kenneth Branagh's big-screen adaptation of Hamlet and in John Schlesinger's Cold Comfort Farm opposite fellow film neophyte Kate Beckinsale.
Coincidentally, Beckinsale is also at Comic-Con when we meet. "I'm very proud of Cold Comfort Farm, but that was many years ago, Jesus Christ. We were babies. I've bumped into Kate a couple of times since."
If that film was pivotal for both actors – launching Sewell on a film career path which would include Dark City, A Knight's Tale, The Illusionist and The Holiday – then it didn't seem that way at the time, he says.
"You do things that turn out five or six years later to be pivotal but at the time whenever you do anything significant, the immediate result tends to be unemployment. Only when you look back with perspective do things seem important."
He's learned to deal with bumps along the road. "I never really call it unemployment until it's after six months. Up until then, I tend to be 'Oh, I'm just back from... I'm jet-lagged from…' You stretch that out as long as you can. I'm unemployed less now, but generally after I've done a really big and important job in my career, that's when I've not worked for a long time. After Zen, which was a big series, I didn't work for nine months and I bloody wanted to. Sometimes that just happens. It doesn't mean it's going badly, it just means you've got to sit it out and it really becomes about managing your life so you enjoy it and don't waste nine months of your life wingeing when you could be in a garden."
He suddenly laughs, saying, "There was a time when suddenly I got my Australian passport, my green card and I already had my British passport – and it occurred to me that I was unemployed in three different countries. It was like a cosmic joke."
From the early days of his career, women were captivated by his eyes, gravelly voice and rakish demeanour, and he fleetingly dating Kate Winslet, Helena Bonham-Carter and Alice Eve.
His 1999 marriage to Australian fashion writer Yasmin Abdallah lasted just a few weeks and, in 2004 he married producer Amy Gardner with whom he has a 14-year-old son, Billy. The couple divorced three years later.
He currently lives in Los Angeles with an American girlfriend whose identity he prefers to keep private. "Los Angeles is where I call home, even though I now work in England more than I ever did when I actually lived in England – but I leave my socks and trousers and shoes in Los Angeles. That's where my stuff is."
Never more in demand, today sees him effortlessly exchange his smouldering Lord Melbourne in ITV costume drama Victoria for High Castle's fuhrer, all while preparing for his return to The Old Vic next month in Yasmina Reza's Art, a comic drama about three friends who fall out over a painting.
"Art was a big hit for Yasmina about 20 years ago," he says of the play which first premiered in London, going on to win the Moliere, Evening Standard, Olivier and Tony awards. "Matthew Warchus is directing and I'll be working with Tim Key and Paul Ritter, two very wonderful actors."
He finds it perplexing how playing a Nazi has effectively revived his career, refusing to make any comparison between his own thoughtful portrayal and Prince Harry's Nazi costume gaffe ten years ago.
"There's a world of difference between this and dressing up as a Nazi at a party… I'm hoping. There's a taboo to parading up and down to get a laugh from your mates, which is not what I'm doing. I don't think we're taking it lightly and I think that's what's important. I do think its offensive to dress up as a Nazi to get a laugh – well, unless you're Mel Brooks. There's certain people who can do it and certain people who can't," says the eloquent actor who quotes everyone from Oscar Wilde to Marlon Brando during the course of our chat.
He can't help but soak up our Comic-Con surroundings, fan boys indulging their inner fantasies. "Half this business is about taking really evil things and turning them into cartoons and there is an appetite for this. Why is it that Nazis are so prone to being rendered as space Nazis, Zombie Nazis, Vampire Nazis, ghost Nazis... why do they have to be supernatural?" he muses.
"The original Nazis were obviously really misshapen, super messed-up – but then the entire country's population? That's crazy! It all comes down to mind control. It happens everywhere; it happened in Brexit."
Ask how he feels about his resurgence in popularity, he pauses: "I'm too neurotic to be purely excited. I'm excited, bemused, worried – all of those things."
There is no dream role on his horizon. "I don't do dream roles. Whatever is the opposite of what I've already done, is what I want to do."
'The Man in the High Castle' Season 2 is on Amazon Prime Video from 16 December. 'Art' opens at The Old Vic from 10 Dec
Register for free to continue reading
Registration is a free and easy way to support our truly independent journalism
By registering, you will also enjoy limited access to Premium articles, exclusive newsletters, commenting, and virtual events with our leading journalists
Already have an account? sign in
Join our new commenting forum
Join thought-provoking conversations, follow other Independent readers and see their replies