The Countdown
Russell T Davies's 10 best TV shows ranked, from Doctor Who to It's a Sin
The prolific dramatist has returned with 'It's a Sin', a joyous if heartbreaking new Channel 4 series, but where does it rank among his output? Chris Harvey dives into his extensive career so far…
Friday 22 January 2021 19:40 Comments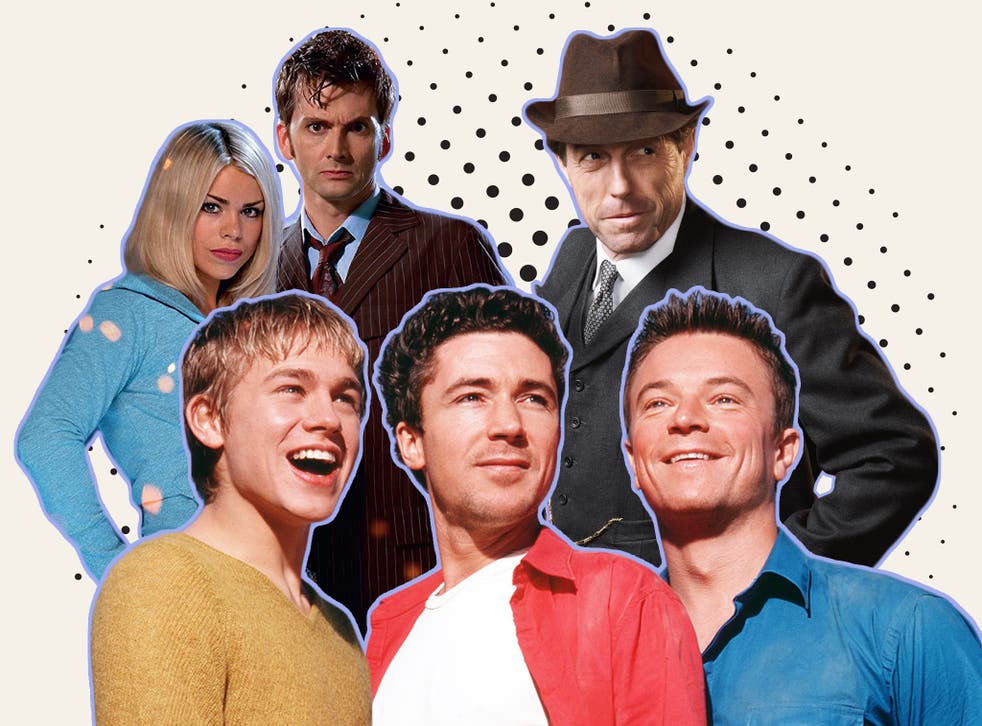 Verve, emotion, and things to say: three reasons why Russell T Davies has been one of our very best television dramatists of the past 50 years. From his early days working in children's TV, to the lessons he learnt writing storylines for Coronation Street in the early Nineties (and you can still see the influence of Corrie on his work), Davies has developed a way of writing big, vital, open-hearted dramas that take an audience with him. As his reborn Mancunian Christ, played by Christopher Eccleston in 2003's The Second Coming, puts it: "Look, the thing is… the minute I start, it's not going to stop, never." And from the moment that Queer as Folk debuted on Channel 4 in 1999, Davies has been unstoppable.
His new drama, It's a Sin, portrays a group of friends in London as the Aids epidemic begins to claim young men's lives in the Eighties. It's gut-wrenching and unmissable, but also full of joy. Davies has been bringing those things to our screens for more than 30 years. This is our top 10 must-sees...
10. Children's Ward (ITV, 1992-95)
Davies's early career included a stint as a writer on this top-drawer example of children's drama, originally created by Paul Abbott and Tony Basgallop, and he would return to write – and win a Bafta for – its 100th episode, which dealt with paedophiles lurking in online chatrooms. It's possible sometimes to see the influence of children's TV in the way that Davies strives to communicate the big ideas in his dramas explicitly. When he has something important to say, Davies rarely hints at it or leaves it open to multiple interpretations.
9. Mine All Mine (ITV, 2004)
The Swansea-born Davies gave full play to his inner Welshman in this quirky drama about a taxi driver (Griff Rhys Jones) who believes that, ancestrally speaking, the city of Swansea is rightfully his. Davies and Rhys Jones have great fun with what happens after the document he produces to prove it is verified as genuine, but at heart this is a family drama, in which Davies borrows heavily from his own family and childhood. An outlier in his work, but a treat.
8. Torchwood (BBC Three, BBC Two, BBC One, 2006-11)
Fans still lament the passing of this fascinating Doctor Who spin-off, which explored different concepts of sexuality alongside science-fiction for an older teenage audience than its family orientated parent show. Davies created the series but wrote only the opening episode of the first two seasons himself. It was clear that he still had a place in his heart for the show, though, when he returned to co-write the third season, Torchwood: Children of Earth, as it made the leap to BBC One. It captured more than 6 million viewers during the summer doldrums – testament to Davies's popular touch, even with strikingly complex material.  
7. Cucumber, Banana, Tofu (Channel 4, E4, 4OD, 2015)
This radical project – named after different stages of erection hardness – consists of two linked sister dramas and an online documentary series. Cucumber follows Vincent Franklin's disaffected middle-aged gay man stepping out on a new sexual path; Banana is an anthology series exploring the wider LGBT+ spectrum; Tofu is an online documentary series focusing on sexual attitudes in the 21st century. It's a typically innovative work that shows how experimenting with form does not diminish Davies's core strengths as a dramatist.
6. Years and Years (BBC One, 2018)
Davies had been planning this series – which follows a family over 15 tumultuous years – for almost two decades before finally writing it. But the set-up – it starts "now" and moves forward – gives it a thrilling impetus as it careens ever deeper into dystopia. That Davies's imagined fate for Britain and the world is so bleak doesn't stop the drama being funny or page-turningly compulsive; that it begins with a second term for President Trump may weaken it slightly, although who can say what might have happened in 2020 had America not been shaken by Covid-19…
5. Doctor Who (BBC One, 2005-10)
What a feat this was. From its magnificent Sixties and Seventies heyday, Doctor Who had fallen away into self-parody by the late Eighties. It was quietly culled by the BBC as a relic of a time when brilliantly written sci-fi shot on cardboard sets could have children enthralled or cowering behind the sofa. Davies revived it, cast Eccleston as a fierce, kinetic Doctor, gave him a pop star – Billie Piper – as a companion, and brought back the Daleks. David Tennant and the Cybermen would follow, as Davies ushered in a new golden age for the show.
4. The Second Coming (ITV, 2003)
Davies wasn't exactly keeping it low key in his subject matter when he decided to write a drama about the Second Coming of Christ, who only realises that he's the Son of God after a big night out in Manchester. He's surely not the first to have had that revelation, but the fact that Davies is able to silence the giggles and make it plausible says a lot about his talent. In fact, it's a breathless tale with huge momentum and a startling denouement. Christopher Eccleston has rarely been more dynamic on screen than as Jesus Christ Mk II, and Davies's script draws great performances from Lesley Sharp, Mark Benton and a young Rory Kinnear.
Access unlimited streaming of movies and TV shows with Amazon Prime Video Sign up now for a 30-day free trial
Sign up
3. It's a Sin (Channel 4, 2021)
Queer as Folk was criticised in some quarters for downplaying the effect of Aids on the gay community, but Davies has more than made up for that with this searing drama. Again, it focuses squarely on the lives of its characters, making the mysterious new virus a creeping threat that destroys so much and so many in a time of unprecedented liberation. It's angry in places, shocking in others, but its deep humanity will stay with viewers for a very long time.
2. A Very English Scandal (BBC One, 2018)
Davies's most mature drama: this telling of a barely credible yet absolutely true story never makes a false step. Davies takes journalist John Preston's account of how the leader of the Liberal Party, Jeremy Thorpe, became involved in a murder plot in the Seventies, and makes its characters live and breathe. It's helped by superb performances from Hugh Grant and Ben Whishaw as Thorpe and his lover Norman Scott.
1. Queer as Folk (Channel 4, 1999)
It's impossible to overstate just how revolutionary this drama about two gay men and a queer teenager in Manchester felt in the Nineties. Sexually frank, hilarious and utterly compelling, it went to places that other dramatists hadn't dared to, dealing head-on with issues like discrimination, drug use and sex without ever losing sight of its flawed, fascinating central characters. It did it all with an energy and wit that few dramatists can match, and made a star of Aidan Gillen, as the reckless, immoral and dangerous-to-know Stuart Jones. (It also outed Davies as a Doctor Who obsessive!)
Register for free to continue reading
Registration is a free and easy way to support our truly independent journalism
By registering, you will also enjoy limited access to Premium articles, exclusive newsletters, commenting, and virtual events with our leading journalists
Already have an account? sign in
Join our new commenting forum
Join thought-provoking conversations, follow other Independent readers and see their replies