the countdown
Ryan Murphy: All 15 of his shows ranked, from Glee to American Horror Story
As Murphy's new thriller series 'Ratched' arrives on Netflix, Ed Power ranks his previous accomplishments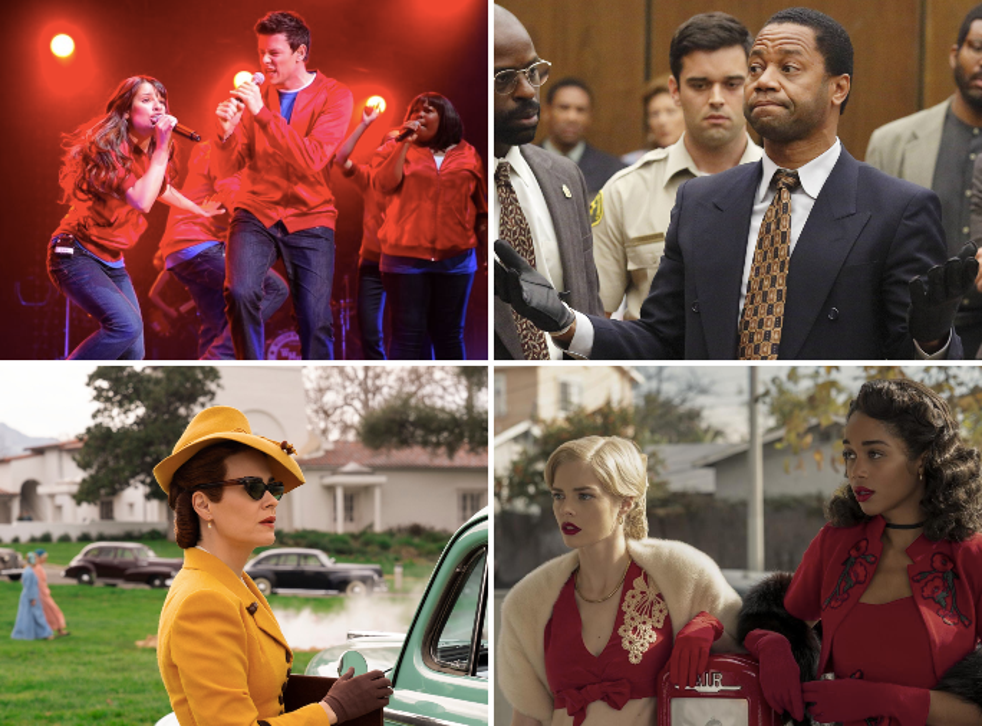 No genre is safe from Ryan Murphy, the TV maximalist who has taken a velvet-lined sledgehammer to true crime, horror and the Hollywood rags-to-riches fable. His biggest success is, of course, Glee – the song and dance dramedy that turned Journey's "Don't Stop Believin'" into a Millennial anthem and sprinkled caustic wit and heart-on-sleeve sincerity into the high-school musical format.
As part of his $300m (£233m) production deal with Netflix, Murphy now brings the world the One Flew Over the Cuckoo's Nest prequel it didn't know that it wanted. Ratched relays the origin story of the despotic nurse from Milos Forman's 1975 Oscar winner. Anticipation is high ahead of the show's arrival on today and the emerging critical consensus is that Murphy has added to his repertoire of television that celebrates the underdog and comes at a familiar subject – in this case a 45-year-old cult film – from a curious angle.
But where does it rank in the context of his previous accomplishments? Read down for a rating of his previous highs and lows.
15. The New Normal, 2012
Did you know Murphy and Super Girl co-creator Ali Adler collaborated on an NBC sitcom eight years ago? Potentially not, as The New Normal was canceled after just one season. Andrew Rannells and Justin Bartha play a wealthy gay couple who decide to have a child and pick Georgia King's character as surrogate mother. She moves in, together with her nine-year old daughter. Chuckles and life lessons ensue – but not in sufficient quantities to keep the series on the air.
14. Popular, 1999
Murphy's first show is a high-school drama that plays out like Glee without the songs. In his early his thirties, Murphy was clearly finding his feet creatively. There are still flashes of innovation and mischievousness, however, as Leslie Bibb and Carly Pope play students from different ends of the popularity spectrum thrown together when their parents marry.
13. The Politician, 2019
A rare misfire from Murphy, his first big Netflix show invited you to root for a selection of deeply unlikeable characters. Season one revisits the high-school milieu of Glee, where Payton Hobart (Ben Platt) seeks to become student president. In season two, meanwhile, he is out in the world and running for the New York Senate – all part of his long-term goal to be president. The issue is that Hobart is slick and loathsome, as is Gwyneth Paltrow as his adoptive mother. Still, you can't object too loudly to the cast that includes Lucy Boynton as his political rival, Bette Midler (in season two) as a political operator, and Zoey Deutch as his running mate.
12. Nip/Tuck, 2003
Murphy's early smash-and-grab attack on television convention, this 2003 drama about gadabout plastic surgeons played out like Mad Men with silicon implants. There was darkness mixed in too – with seasons two and three foreshadowing his interest in anthologies by telling the story of serial rapist and mutilator The Carver.
11. 9-1-1: Lone Star, 2020
This 9-1-1 spin-off is set in Austin Texas and stars Rob Lowe as a firefighter captain battling lung cancer (sustained when he charged into the Twin Towers on 9/11), Liv Tyler as a paramedic captain, and Ronen Rubinstein as Lowe's gay son and recovering opioid addict. That's a heady mix yet, as with 9-1-1 (see below), Lone Star plays it straight down the line.
10. 9-1-1, 2018
Angela Bassett shines as an LAPD police sergeant in this gritty procedural. It's a pivot for Murphy, who leans into police thriller cliches rather than doing what would be obvious for him and seeking to subvert them. So there are few surprises. Just a great cast – including Peter Krause, Connie Britton and, from season two, Jennifer Love Hewitt – playing it by the book.
Access unlimited streaming of movies and TV shows with Amazon Prime Video Sign up now for a 30-day free trial
Sign up
9. Hollywood, 2020
Murphy's television often has a marmite quality. Never was that truer than in this whimsical celebration of the Golden Age of Hollywood. Where Feud was all snark and spite, Hollywood is dreamy wish fulfilment on a pogo-stick. We meet a young Rock Hudson (Jake Picking) and fictional black actress Camille Washington (Laura Harrier), who together star in a feel good, multi-racial epic backed by one of Tinseltown's biggest studios.
This would never have happened in the real 1950s Hollywood and Murphy copped some flack for his utopianism. But that was to miss the point of a show that showed how wonderful the world could be if only everyone could set aside their prejudices. Murphy further draws on Hollywood lore, with Dylan McDermott playing a exaggerated riff on Scotty Bowers, the charming pimp who ran his business out of a Sunset Strip car-wash.
8. Scream Queens, 2015
Every so often, Murphy gives his more serious instincts the afternoon off and rips loose. He never ripped looser than in this wonderfully OTT campus killer caper. There's a career-best turn from Emma Roberts as an alpha mean girl, while Ariana Grande demonstrates her acting chops as she is bumped off early in season one. Jamie Lee Curtis has a small part as the college Dean.
7. Pose, 2018
One of the themes running through Murphy's work has been his advocacy for the shunned, misunderstood and marginalised. That is nowhere more to the fore than in this celebration of African and Latino LGBTQ and gender-non-conforming ballroom culture in Eighties and Nineties New York. It's a charming piece of period drama – but more importantly a galvanising argument why we should celebrate our differences and refuse to let the moral majority shame or shape us. Once again, Murphy assembles a top-rank cast, including Kate Mara, Billy Porter and James Van Der Beek.
6. Ratched, 2020
Sarah Paulson lowers the temperature as a younger incarnation of Louise Fletcher's chilling One Flew Over the Cuckoo's Nest villain. This is Murphy with the pedal all the way to the floor. And while he draws on Milos Forman's 1975 Oscar-winner, he is just as indebted to The Shining and John Carpenter's Halloween. Paulson is compelling as Ratched, and there are also fine turns by Cynthia Nixon and Sharon Stone.
5. Feud, 2017
Alongside his enthusiasm for high-school song and dance clubs and Lady Gaga as a vampire (see below), Murphy has a huge passion for Old Hollywood. He indulged this obsession in the only season (to date) of Feud, which relays the conflict between Joan Crawford (Jessica Lange) and Bette Davis (Susan Sarandon) on the set of 1962's Whatever Happened to Baby Jane? Murphy assembled a top rank supporting casting, including Stanley Tucci as studio boss Jack Warner. But he doesn't let any of that get in the way of whirlwind performances from his leads, who cut a furious swathe across the screen.
4. American Horror Story, 2011
Camp, terrifying, grotesque, impossible to look away from – and that was just Lady Gaga playing boss vampire The Countess in season five. If Glee was Murphy in feel-good mode, AHS was where he let his Grand Guignol tendencies off the leash. Each season features roughly the same cast – but with a different setting and premise. The thread running through it all is Murphy's ability to make us sit bolt upright and spit out our popcorn. Series one – Murder House – was a haunted mansion romp built around a wonderfully over-the-top turn by Jessica Lange. And that was just a jumping off point for nine subsequent seasons – with a further three to follow from next year.
3. Glee, 2009
Murphy's greatest hit and a series that was divisive from the start. Fans adored its mix of singing, dancing and melodrama (with bonus Gwyneth Paltrow as a serenading substitute teacher in a part written for her by Murphy). Haters – and there were a few – despaired of its surface gaudiness. But that was their loss. With career-making turns from Lea Michele, Chris Colfer and Darren Criss, Glee was a feel-good show that doubled as a celebration of underdogs everywhere.
2. The Assassination of Gianni Versace: American Crime Story, 2018
Always ducking and weaving, Murphy risked controversy by ripping up the formula that had proved so effective with The People V OJ Simpson and coming at a historical subject from a different angle with season two of American Crime Story.
This retelling of the seemingly random July 1997 gunning down of fashion kingpin Versace (Edgar Ramirez) by sociopathic fantasist Andrew Cunanan (Darren Criss) had a dreamlike, elevated sensibility. Where his Simpson season was about America and racial injustice, here the mystery was inside the head of the manipulative and pathologically deceptive Cunanan.
There were no clear answers as to why he murdered Versace in 1997. Murphy instead took the creative decision as to show us what happened and let us make up our own minds. The series was buttressed by solid performances from Penélope Cruz as Donatella Versace and Ricky Martin as Gianni's partner Antonio D'Amico.
1. The People v OJ Simpson: American Crime Story, 2016
With Cuba Gooding Jr as OJ, David Schwimmer as his lawyer best pal Robert Kardashian (father of Kim), John Travolta as shark-like defence attorney Robert Shapiro and Sarah Paulson as prosecutor Marcia Clark, season one of American Crime Story turned the Simpson story inside out.
Demonstrating arguably uncharacteristic subtlety, Murphy uses the trial to explore racial strife in America, both in the Nineties the present. In that respect, the key performance is that of Courtney Vance as buccaneering Simpson attorney Johnnie Cochran.
In 1995, this larger-than-life addition to OJ's defence team was presented as a master of smoke and mirrors. But Murphy sees through all. He frames Cochran's defence of Simpson in the context of the decades of institutional oppression of African Americans in Los Angeles. The results are simply devastating.
Join our new commenting forum
Join thought-provoking conversations, follow other Independent readers and see their replies