Search Party is the painfully funny mystery show that leaves millennials feeling 'personally attacked'
Katie Rosseinsky on the brilliant US sitcom that blends mystery, satire and silliness, which Britain criminally missed out on – until the BBC picked up all five seasons and put them on iPlayer
Sunday 08 January 2023 08:06 GMT
Comments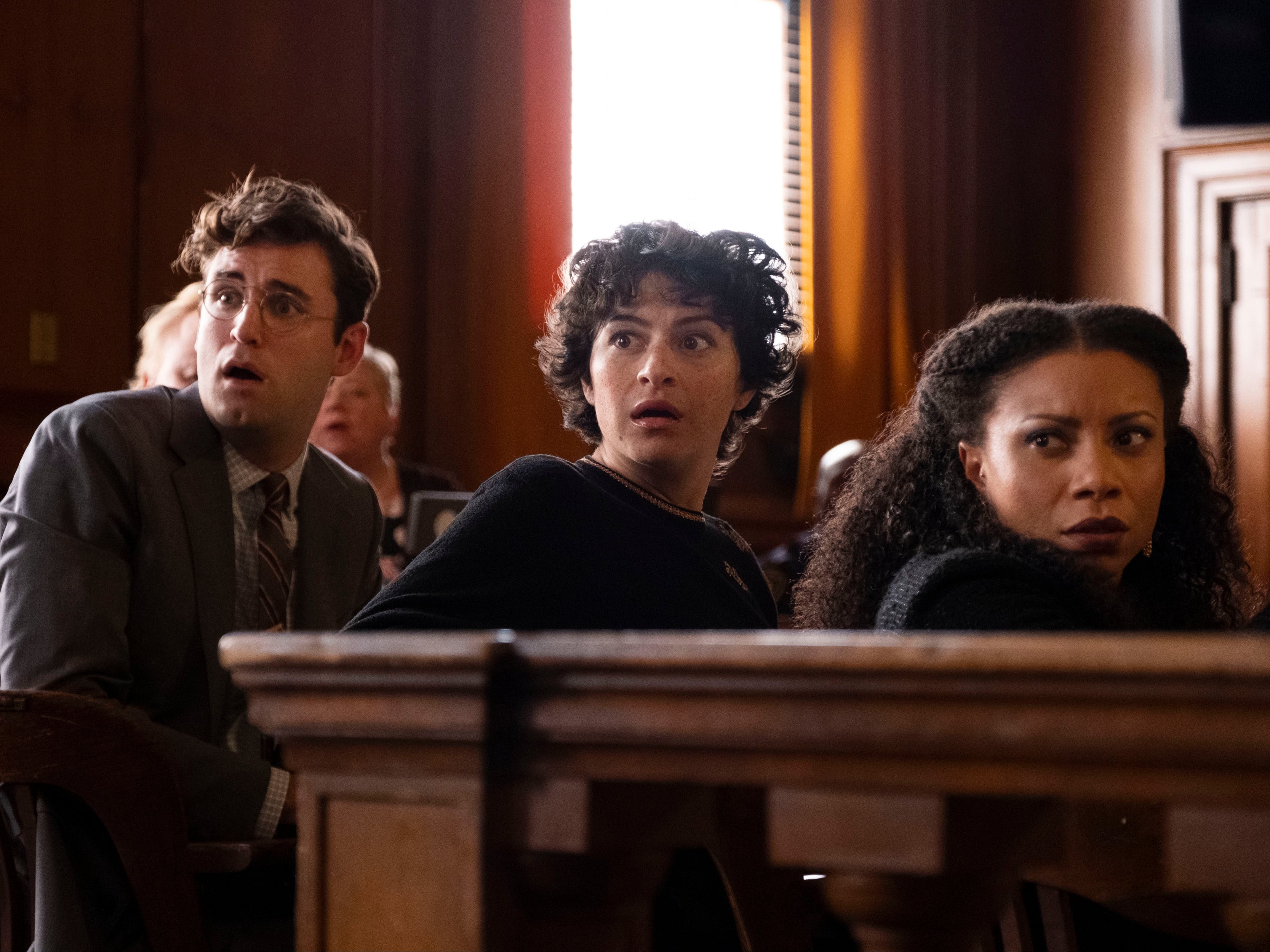 It begins, like so many TV shows, with a missing girl poster. In the opening moments of Search Party, restless twenty-something Dory (Alia Shawkat) walks past a sign tacked to a phone mast in her New York neighbourhood, announcing the disappearance of a young woman named Chantal Witherbottom. A flash of recognition prompts Dory to make an about-turn, so she can better contemplate a face she seems to recognise.
So far, so generic crime story – until we cut to a Brooklyn brunch spot, where Dory shares the news with partner Drew (John Reynolds) and their friends Portia (Meredith Hagner) and Elliott (John Early) over mimosas and Bloody Marys. Chantal, it transpires, was on the outskirts of the group's social circle at college, but Dory's myopic pals are resolutely uninterested in her vanishing act. "She sucked… she had nothing to offer," Elliott declares, speaking fluent, scathing hyperbole while tapping out an elegy ("In shock. Sad news about a sweet girl. Keep an eye out people") to post online and insert himself into a potential trending tragedy.
From this moment on, Search Party manages to expertly skewer the narcissistic millennial mindset, while gleefully hopping between genres. One minute it's a whodunnit, as Dory turns amateur investigator and attempts to work out what happened to her tenuous acquaintance; the next it's social satire, needling the characters' self-delusion and self-promotion (the very blonde, very white Portia is an aspiring actress who describes herself as "ethnically ambiguous" and cinches a role as a Latina cop, while Elliott is a pathological liar undone by his own vanity); later, co-creators Sarah-Violet Bliss and Charles Rogers ramp up the suspense to go full Hitchcock thriller.
But despite building a cult following in the US and earning consistently glowing reviews (The New Yorker described it as a preeminent "sitcom noir" when it debuted on American broadcaster TBS in 2016; by the time its fifth season landed on streamer HBO Max last year, Den of Geek hailed it as "one of the best and most fearless comedies of all time", Search Party remains criminally overlooked on this side of the Atlantic.
Just as some of the show's best twists prove that the reality behind the biggest mysteries can often be pretty banal, rights reasons are probably to blame here. All4 briefly streamed the first two seasons shortly after the US release, but British broadcasters then failed to pick up the ensuing instalments – until the BBC cottoned on to this hidden gem and added all five seasons to iPlayer at the start of this month.
Comedy as hyper-specific as Search Party isn't always built to last, but although microtrends may have moved on since 2016 (blame the vibe shift, whatever that means), time hasn't blunted its sharp one-liners – or the way Bliss and Rogers nail the meandering aimlessness of life after graduation, giving voice to a lurking sense of loneliness and insecurity ("Would anyone even care if something happened to me?" Dory asks at one point, again using Chantal's disappearance as an opportunity to wallow in her own solipsism).
When we first meet Dory, she is, to borrow the aspirational language of Instagram quotes, yet to find her purpose: she works as a helper-slash-companion for wealthy alcoholic Gail (Christine Taylor), and when she attempts to seek more gainful employment (by applying for a mentoring programme, the tautologically titled Leading Women to Lead) a vicious interviewer subjects her to a character assassination.
Hunting for Chantal becomes a way of satisfying her desire for meaning and validation ("I think you've decided that this matters to you because you have nothing else," Dory's ex-boyfriend Julian, played by Brandon Micheal Hall, says in another devastating appraisal) and her sleuthing work briefly helps her shake off her mid-twenties' malaise. In a brilliant end-of-season twist, Dory is eventually forced to question the story she's been telling herself – but until then, living out a whodunnit fantasy allows her to feel like she's in control, the driving force in her own true-crime podcast.
Genre-hopping mystery shows populated with millennial characters like Apple TV+'s The Afterparty and Disney+'s Only Murders in the Building (which parodies the true-crime format, cleverly drawing attention to the way it packages tragedy for consumption) are now ubiquitous, but Search Party got there first. As the story progresses into later seasons, when Dory eventually goes on trial in a cause célèbre, it shifts genres again, putting a new spin on the courtroom drama to explore internet infamy, as an army of stans and haters rises up to weigh in on her guilt.
Access unlimited streaming of movies and TV shows with Amazon Prime Video
Sign up now for a 30-day free trial
Sign up
Access unlimited streaming of movies and TV shows with Amazon Prime Video
Sign up now for a 30-day free trial
Sign up
If that all sounds too weighty and worthy, rest assured that Search Party's silliness is one of its strengths: this is a show where an a capella rendition of "Since U Been Gone" by Kelly Clarkson is performed at a vigil, where Elliott suggests they "get brekky somewhere cute in Montreal" while on the run from a potential murderer and where Dory tries to guilt-trip Portia by reminding her: "How many times have I come over because you thought there was an owl in your house?"
Search Party takes on an increasingly surreal tone towards the end of its 50-episode run, with plots involving near-death experiences, cults and a billionaire obsessed with bringing enlightenment to the world's population – with catastrophic consequences. And yet, even against a backdrop of near-total social collapse, the group are still obsessed with how they are perceived and whether their restaurant choice is basic or not. "I think that's psychologically maybe more honest than TV shows that are obsessed with making their characters grow," Early told Vanity Fair last year.
He's right. Living through a crisis doesn't always turn us into better people. Dory, Drew, Portia and Elliott remain their terrible, lovable selves to the end – and while Search Party's satire might leave you feeling, as the latter would probably put it, "personally attacked", with results as painfully funny as this, it's hard to look away.
'Search Party' seasons one to five are on BBC iPlayer now
Join our commenting forum
Join thought-provoking conversations, follow other Independent readers and see their replies