Sesame Street at 50: How the cultural trailblazer charmed the world across the decades
The iconic show's engagement with real life and issues such as bullying, homelessness and poverty is what makes it so powerful, writes Martin Chilton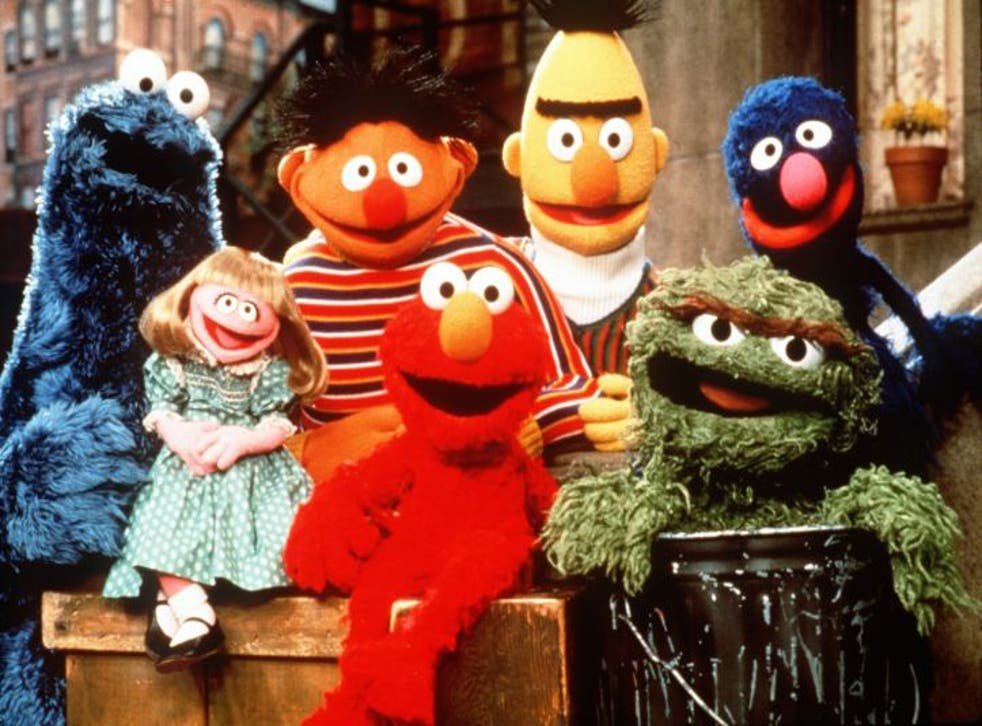 Sally, you've never seen a street like Sesame Street. Everything happens here. You're gonna love it!" That line, from the character Gordon Robinson, was the first spoken on an ambitious show that premiered on National Educational Television on 10 November 1969.
Over the next 50 years, the groundbreaking children's programme became a global success and a cultural trailblazer. Guests as eminent as Muhammad Ali, Burt Lancaster, David Beckham, Beyoncé, BB King, Robin Williams, David Bowie, Ed Sheeran and Taylor Swift have relished appearing alongside the show's famous puppets, Bert and Ernie, Big Bird, Cookie Monster and Kermit.
Sesame Street, which was later shown on PBS and HBO, went on to win a record 189 Emmy awards – and 11 Grammys. It has been watched by an estimated audience of more than 100 million people in more than 150 countries, something that would have been unimaginable to psychologist Lloyd Morrisett and television producer Joan Ganz Cooney when they chatted about children's television at a dinner party in 1966.
Morrisett asked Cooney, one of the first female executives in television, whether she believed the power of TV could be harnessed for educational good. Three years later, after extensive academic research and some shrewd fundraising, their newly formed Children's Television Workshop had developed a show for that purpose. As the big broadcast day neared, however, they began to worry. Early promotional materials simply referred to the show as a "pre-school educational television show". They did not have a name.
The 10 best celebrity Sesame Street cameos

Show all 10
"We were just frantic for a title," Cooney, who turns 90 this month, recalled on The Sesame Workshop website. "Our publicity people were going nuts. How were they going to promote a show that had no name?"
At an emergency meeting, proposed names included "The Video Classroom", "Fun Street" and "1-2-3 Avenue B" (the latter was rejected in case it alienated viewers outside New York). Virginia Schone, one of the show's writers, suggested "Sesame Street". Despite concerns that children would not be able to pronounce the title, the former daycare teacher won the day by assuring them that children enjoyed saying the fabled command "Open, Sesame!" from The Arabian Nights. "We went with it because it was the least bad title," admitted Cooney.
The first episode opened with a view of the now iconic green and yellow street sign hanging on a lamp-post. The setting resembled an urban, inner-city American neighbourhood, complete with a corner store, subway station, brownstone stoop, graffiti and garbage cans. The ethos of the show was clear: to help teach children the alphabet, instil a love of reading and arithmetic and develop vocabularies.
Sesame Street was also promoting the values of empathy and tolerance. The producers picked a mixed-race cast – a move that prompted a ban from television stations in prejudiced Mississippi – and banked on Jim Henson's brilliant Muppet creatures to win over children. "Kids love to learn," said Henson, who was just 53 when he died in 1990. "And the learning should be exciting and fun."
Puppeteer Henson created Kermit in 1956 and the frog was initially used on Henson's inventive television show Sam and Friends. Sesame Street gave Henson the perfect platform to showcase Kermit, in addition to newer characters such as Oscar the Grouch, the voracious Cookie Monster, Bert and Ernie and Big Bird, to a bigger audience. His characters won the hearts of a generation of children. They also had the wit and charm to appeal to adult viewers, who enjoyed the wordplay in sketches such as "The Taming of the Shoe" and "The Old Man and the C".
Access unlimited streaming of movies and TV shows with Amazon Prime Video Sign up now for a 30-day free trial
Sign up
The show attracted viewers of all ages and backgrounds. In her 2019 autobiography Face It, Blondie singer Debbie Harry said she was an avid fan of Henson's work, admitting she had been desperate to appear with the Muppets after seeing her jazz hero Dizzy Gillespie perform on Sesame Street. "Jim Henson had a cleverly twisted sense of humour and was giving smart motives and observations to his characters," said Harry.
Music was a major part of the show's appeal, from its indelible theme tune to the songs written for the show by musical director Joe Raposo. His compositions, including "Sing", "You Will Be My Music", "There Used to Be a Ball Park" and "Somebody Come and Play", struck a chord with the public – and with professional musicians. Singer Van Morrison was watching Sesame Street with his daughter Shana when he heard Kermit (voiced by Henson) singing Raposo's song "It's Not Easy Bein' Green". He decided to record a version for his 1973 album Hard Nose the Highway. "If somebody doesn't like you just because you're a certain thing, then maybe they're seeing the wrong thing," said the Northern Irish star, explaining why a Sesame Street song about tolerance had such an impact on him. In October 2019, actor Wendell Pierce chose Kermit's version for Desert Island Discs. Frank Sinatra, Diana Ross, Ray Charles and Imelda May have also covered Raposo's song.
Sesame Street was an instant hit. "The reception was incredible. It may be the only programme in history that got such an immense reaction from all over the world," Cooney said in an interview for The Archive of American Television. "Jim's Muppets were an overnight sensation. There were people who were sure we were destroying the minds of children but they were absolutely drowned out in this period, because the show was so popular with the public."
From the start, writers, actors, musicians and sports stars were keen to appear on the show. The list of guests over five decades reads like a who's who of modern celebrity. In the second episode, aired on 11 November 1969, actor James Earl Jones recited the alphabet in the rich, sonorous tones he would later use for voicing Darth Vader in Star Wars. One of the most popular shows in the 1970s was when droids R2-D2 and C-3PO appeared alongside Big Bird.
What is striking about clips down the years is how much fun the guests were having, even when stars of the calibre of Tom Hanks, Julia Roberts, James Gandolfini, John Hamm, Benedict Cumberbatch, Claire Danes and Julie Andrews were being sent up. Johnny Cash kept being interrupted mid-song by Oscar the Grouch; Danny DeVito appeared covered in trash; Robert De Niro even pretended to be a dog while explaining the art of acting to Elmo.
The show has its serious side, though. Sesame Street has been pioneering in its attitude towards inclusion and representation, providing progressive role models to a young audience. In 1975, it cast a child with Down's syndrome and went on to introduce children to Kami, a child living with HIV, to visually impaired Aristotle and to Katie, a cheerful, upbeat person in a wheelchair, who calls herself "Super Katie" in reference to her active, superhero lifestyle.
'Lily' becomes Sesame Street's first homeless muppet
Sesame Street has shaped several generations. It has prompted more than a thousand research studies that have examined the impact of the show on American culture since 1969, with the majority agreeing on its significant positive educational impact on viewers.
The show has delivered standout storylines about important issues such as bullying, homelessness, poverty and death, about the families of those in the military and about children with incarcerated parents. This engagement with real life is what makes it so powerful. In 2017, after years of research, Sesame Street introduced a girl called Julia, who is on the spectrum. She has hopefully helped to increase understanding of autism for millions of 21st-century children.
It is no surprise that such an influential show has aroused interest from the world of politics. In 2013 Michelle Obama followed in the footsteps of previous first ladies Barbara Bush, Hilary Clinton and Laura Bush by appearing on the show. "Being on Sesame Street is probably the best thing I've done at the White House," Obama said, after recording a segment about healthy eating.
It is unlikely that Donald or Melania Trump will be making a cameo appearance alongside Cookie Monster. The current incumbent at the White House has been mocked by the show for three decades, beginning in 1988 with a sketch about a scheming landlord called Donald Grump who tries to evict Oscar from his trash-can in order to build Grump Tower. In a special 25th birthday episode in 1994, Trump was portrayed by the actor Joe Pesci, who was wearing orange makeup and an absurd-looking wig.
Twenty-five years on, the show's landmark birthday was last night marked with HBO's Sesame Street's 50th Anniversary Celebration. The tribute show was hosted by Joseph Gordon-Levitt and the guest stars included Whoopi Goldberg, Norah Jones and Nile Rodgers. Touchingly, Elvis Costello joined Kermit for a new rendition of "It's Not Easy Bein' Green".
The special coincided with the start of the show's 50th season. By the time that concludes in July 2020, there will have been 5,035 episodes of Sesame Street. It is hard to argue with five decades of fun-based learning. As the famous theme tune says: "Come and play/ Everything's A-OK."
Register for free to continue reading
Registration is a free and easy way to support our truly independent journalism
By registering, you will also enjoy limited access to Premium articles, exclusive newsletters, commenting, and virtual events with our leading journalists
Already have an account? sign in
Register for free to continue reading
Registration is a free and easy way to support our truly independent journalism
By registering, you will also enjoy limited access to Premium articles, exclusive newsletters, commenting, and virtual events with our leading journalists
Already have an account? sign in
Join our new commenting forum
Join thought-provoking conversations, follow other Independent readers and see their replies