The Saturday Interview
Sharon Horgan: 'It's f***ing annoying it took a sexual assault apocalypse to make female stories sell'
The busiest woman in TV talks to Ellie Harrison about 'Modern Love', motherhood, anxiety and why 'it's not a bad thing to sound a bit messy'
Friday 11 October 2019 18:09 Comments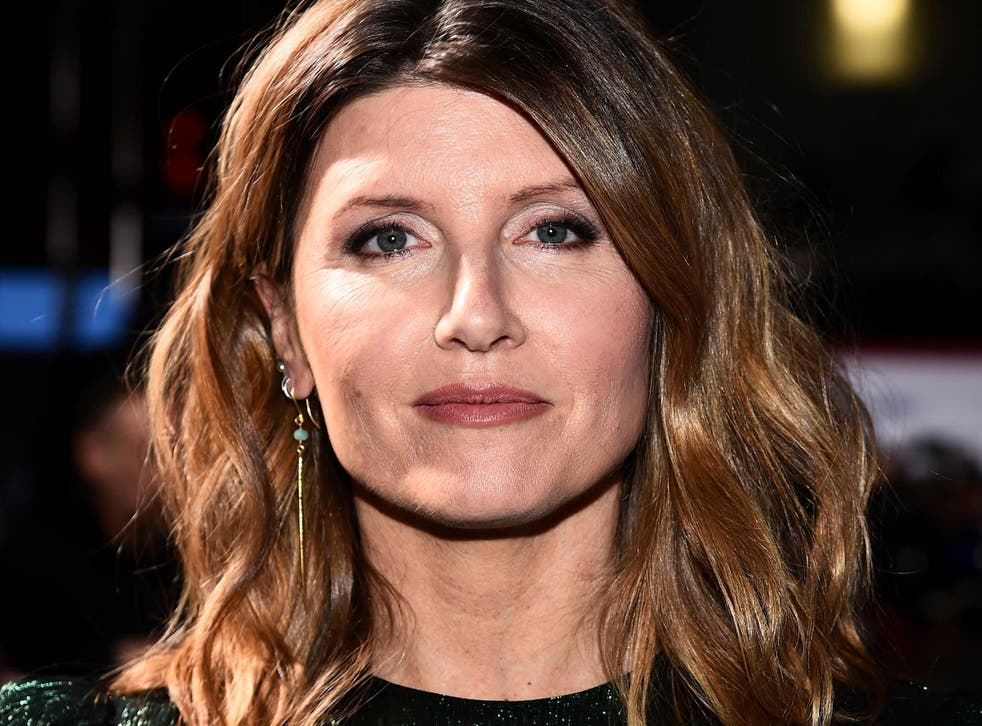 Sharon Horgan is hungover. "I'll have a mint tea, please," she tells the waiter in the dining room of an east London members' club, her fingers pressed to her temples. "You know what? I'll have a green juice," she adds. "Can I have a green juice as well? The green whatever it is. Thank you. I'm trying to fix myself."
The Irish writer-director-actor-producer is a regular at the private club where we meet, and so, it appears, is a very sweaty Richard Madden, whom I glimpse jogging through the lobby before Horgan and I enter the too-dark, too-small lift. I expect Horgan, with her acerbic wit and refusal to take anything seriously, to mock the luvvie venue a bit, but when I tell her it's my first time visiting, she is genuinely surprised: "I thought everybody came here."
Horgan, 49, is the busiest woman in British television. In the past 15 years, she has written the TV series Pulling, Dead Boss, Catastrophe, Divorce, Motherland and Women on the Verge. She has starred in four out of six of those, as well as Psychobitches, BoJack Horseman, Disenchantment and the films Game Night and Military Wives. And those are just the highlights.
She is best known for Catastrophe, the hilariously ribald sitcom co-starring and co-written by comedian Rob Delaney, about a pair of thirtysomethings whose week-long fling results in accidental pregnancy and then marriage. Her character, also called Sharon, has an edgy, colourful wardrobe, and when I tell my Irish mother I'm meeting Horgan, her reaction is, verbatim: "Jeez, where and when and what are you wearing?!" Today, Horgan is embracing clashing patterns with checked trousers and a stripy vest top. Her jewellery bears the names of her two daughters, a necklace for the eldest, Sadhbh (pronounced Sive), and a ring for Amer.
Horgan is a fidgeter. Twiddling her hair and necklace constantly, she gets her chain completely tangled at one point. "It gives me something to do," she shrugs, amused.
Modern Love is Horgan's latest project, an Amazon anthology series based on eight essays submitted to the eponymous New York Times column. It has a terrific cast, from Anne Hathaway to Andrew Scott, and under showrunner John Carney (Sing Street, Once), Horgan has written and directed one episode: "Rallying to Keep the Game Alive". It follows a couple going through marriage counselling and playing tennis together, portrayed by Tina Fey and John Slattery – "the funniest f***ers", according to Horgan, who proceeds to show me a selfie of Slattery on the set of his new show Mrs America, sporting a comb over and brown teeth. She hoots with laughter at the ridiculous image.
So many of Horgan's shows revolve around strong, passionate yet deeply fractured relationships, and she admits she is somewhat of a "watcher". "In a slightly creepy way, I'm always watching couples," she says. "I find the whole dynamic pretty compulsive viewing."
Horgan also uses herself as a "weird sort of muse". The most obvious example of this is in Catastrophe, in which Horgan and Delaney both use their real names. In the show, she has an extremely competitive relationship with her brother Fergal, which draws from her own experience of growing up with four siblings on a turkey farm in Ireland.
10 best black comedy films of all time

Show all 10
The second of five children, Horgan went to convent school, which she has said in the past she "didn't enjoy at all". She told The Guardian: "If you're taught about the wrath of God when you're little, it's not good, especially if you're a bit of a brat and you think you've sinned."
Access unlimited streaming of movies and TV shows with Amazon Prime Video Sign up now for a 30-day free trial
Sign up
One of her two brothers, Shane, was an international rugby star. She describes her siblings as "magic, brilliant people who are ridiculously successful in their lives".
In previous interviews, Horgan has spoken about wanting to appear accomplished so her parents would have something to tell their friends, which she believes must be partly rooted in growing up in such a big household. "We're all incredibly needy," she admits, with a grin. "We all know how much we want that praise, that attention. It's kind of crazy to be the age that I am and still really desire it, still really go out of my way to make my parents proud.
"I don't think it's a failing, it's pretty handy. I have my own drive for myself though, too, a natural competitiveness with myself and with other people. A sort of, 'What are you going to do next? Is it as good as what you just did? Or better?'"
With Fergal in Catastrophe, Horgan explains, she wanted to explore the idea of the Irish son, the golden boy. "How can you ever really compete with that?" she asks. "You just can't, and you just have to let it be and keep waving your arms around in the background, saying, 'Look at me.'"
Has she ever felt afraid to use her personal life as material for her work? "The only thing that bothers me about it is sometimes I feel like I've got one foot in real life and one foot on a page," says Horgan. "That's not great. It doesn't happen all the time and it does make me sound like a bit of a sociopath, and I don't think I am." She corrects herself, "I know I'm not. But sometimes I've had to catch myself and go, 'What the f*** are you doing?'"
Mining her own experiences for her work does have its benefits in breaking taboos, however. "Not being afraid to have dark thoughts and say them out loud, people really appreciate that," she muses. "People have friendships and relationships, but weirdly seeing someone on a TV screen in the same situation and dealing with it badly or honestly or truthfully, that's the thing that makes people think, 'I'm not a monster.'"
A classic line in Catastrophe, for example, sees Sharon's friend suggest she treat her pre-cancerous cervical dysplasia with homeopathy, prompting Rob to scream: "If I thought for a second that I could just rub a blueberry on her vagina and fix her, I would, but I can't because it's BULLS***."
Horgan contrasts the positives of showing the harsh realities of life on TV to the negatives of people only sharing an "idealised version" of their lives on social media. "You never see the s*** fits in between the picture-perfect moments," she says. "You see people picking blackberries with their kid and these gorgeous moments of unity and harmony but you don't see the kid going apes*** five seconds before. That can really affect people and make them go, 'What's wrong with me? Why doesn't my life look like that?'"
Horgan, who has a teenage daughter, says that for adolescents, this feeling of inadequacy "manifests 100-fold" as they strive for the "perfection" they are under pressure to achieve.
Apart from childbirth, Horgan says it's the experience of raising a teenager that makes her think about her mother the most. "I was a real s*** of a teenager, complicated and wild, and yet I don't ever remember it stressing her out to the extent that she fought back," she says. "Whereas I fight back…
"I think and hope I'm a good mother, but I know that my work is a big part of my life and sometimes I've made choices that haven't always necessarily been the best for the family. Not often, but occasionally."
A few days before we meet, Horgan posts an Instagram picture of herself on the front cover of a weekend supplement, with the caption: "Here I am wearing a couple of good suits and sounding on the verge of a breakdown. I'm not, but f*** it, some days happen to be tougher than others and sometimes you happen to be talking to a journalist on those very same days."
She has mixed feelings about it now. "I suppose my slightly paranoid brain was like, I don't mind sounding like a f*** up because I often am, but I don't want to sound incapable… I was just suddenly protective of myself and what it is that I do," she explains. "But then at the same time it's not a bad thing to sound a bit messy, because often it is all about looking nice in your photographs and actually there's all sort of s*** going on up here," she says, pointing to her head.
There does seem to be a lot of solipsistic angst pinballing around Horgan's mind, and it's this that defines the self-questioning, guilt-ridden kind of comedy she is famous for. For example, a character in Horgan's Women on the Verge reminds her friend, who is considering getting back with her ex: "You used to fantasise about him dying in an avalanche. You used to encourage him to go climbing on his own. Without his phone. You told him ropes were for wimps, remember?"
Horgan, who had a supporting role as a therapist in that show, tells me she feels "less and less comfortable" acting – which she ideally wants to spend "20 per cent" of her time doing – because she doesn't "love looking at myself on screen much anymore".
The reason for this is a "mixture of insecurity and vanity because I shouldn't necessarily give a s***", she says. Horgan is especially unnerved when she is starring in a show or a film and has no say over the final edit.
"The decision about what is the best, funniest take is out of your hands and you're not in control," she says, trying to escape from a knot she's somehow managed to tie in her hair. "It just makes me a bit anxious. But I still am addicted to acting, because, in a way, it's really nice to pretend to be someone else. You're in this little make-believe world for a while. You can get it from your writing, go into a world that takes you away from day to day life and that is escapism, but there is something about putting on a costume and being braver, smarter, cooler – just not being yourself for a while – that is addictive."
She may find it hard watching herself these days, but Horgan believes 2019 is a great time for "women of a certain age carrying films and TV series". Not so much behind the camera, though. A producing partner recently sent her an all-male list of directors for a new project, "and just to be f***ing contrary, I sent my list and it was all-female".
When gender equality's in the spotlight, she continues, "everyone's on their best behaviour, but as soon as the spotlight is taken off it, things go back. It's about perseverance now, not resting on your laurels and continuing to be an a******e about it because it's so easy for the lazy lists to come back around.
"Female stories sell now and really it does come down to that, economics, which is incredibly positive. It's just f***ing annoying that it took a sexual assault apocalypse to create that change."
Our conversation turns to Phoebe Waller-Bridge's recent $20m deal with Amazon. "I just f***ing love female creators making that kind of money," she says. " Apart from Shonda Rhimes, it's the guys that make the big Marvel movies who are associated with that kind of money, so yeah, fair play to her." Horgan herself signed a two-year overall deal with Amazon in 2018.
She is "gutted" her production company Merman didn't get in there with Waller-Bridge early enough to make TV together. They met just as Waller-Bridge was starting Crashing and "I knew we'd come in too late", she says.
As we get up to leave, Horgan tells me she's still feeling a little worse for wear. "It was my business partner's birthday drinks," she explains, "but I'd been out with someone from Channel 4 just before so I got half tanked with him, then I met her and we finished on whiskies and I had to get up at half six to get my kid to school, and I tried to get back to sleep but it was a fractured and awful sleep, then I remembered I was meeting you and had a panic attack at 9.30am."
Horgan sighs. "But I'm glad it got me up and moving."
Modern Love arrives on Amazon Prime on Friday 18 October
Register for free to continue reading
Registration is a free and easy way to support our truly independent journalism
By registering, you will also enjoy limited access to Premium articles, exclusive newsletters, commenting, and virtual events with our leading journalists
Already have an account? sign in
Join our new commenting forum
Join thought-provoking conversations, follow other Independent readers and see their replies