Sherlock's Amanda Abbington admits partner Martin Freeman is one of her favourite actors
For actress Amanda Abbington, joining real-life partner Martin Freeman in the latest series of Sherlock was far from elementary, she tells James Rampton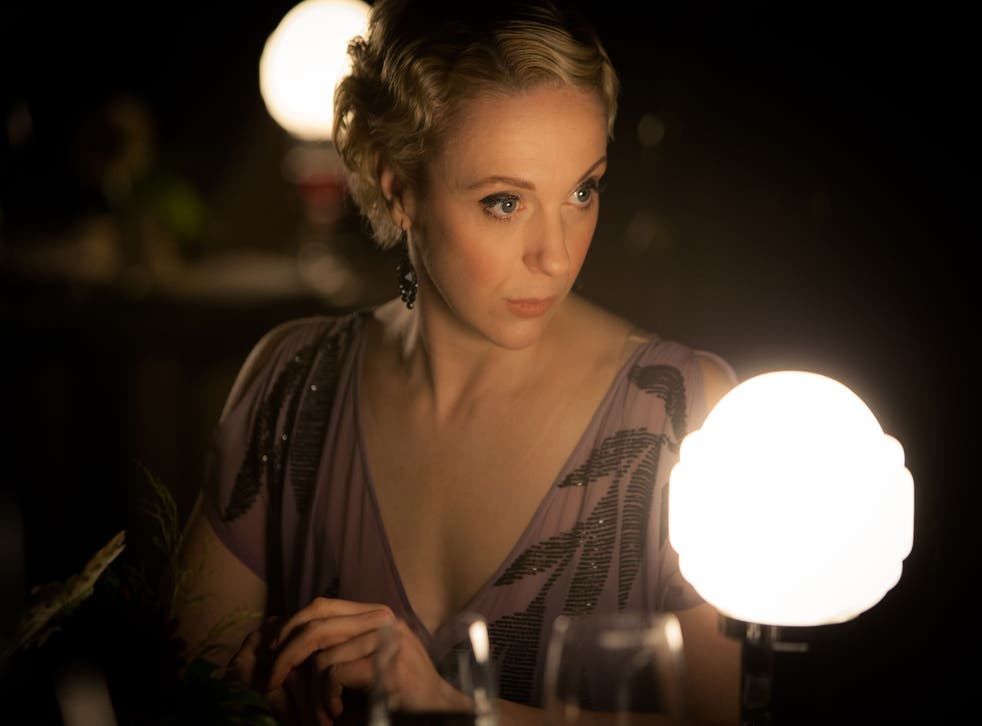 Amanda Abbington did not land her latest role - as Mary, John Watson's new wife, in Steven Moffat and Mark Gatiss' modern-day re-imagining of Sherlock Holmes - through a conventional casting process.
The sparky, self-deprecating 39-year-old takes up the story of how she was recruited to play the fictional wife of her off-screen partner, Martin Freeman: "We went round to Mark's house to watch The Hound of the Baskervilles. When it was over, Steven and Mark said, 'Let's go and have a chat in the kitchen about the next series. We want to introduce a new character called Mary. Why don't you come and sit in with us, Amanda?'
"I thought they were going to ask me, 'Do you have any ideas for this part? Which actress do you think works well with Martin? What about Penélope Cruz or Gwyneth Paltrow [two of Freeman's previous co-stars]?' In fact, what they said to me was, 'We'd like you to play Mary'. I probably got quite emotional at that point."
Then, Abbington recalls with a grin, "I immediately started to talk myself out of the job, saying, 'Are you sure? Don't we have millions of actresses who could do this job better than I could?'"
But Moffat and Gatiss stuck to their guns and gave Abbington the role. But even here, the actress's natural self-effacement kicks in. Over a cup of mint tea in a central London hotel, she tells The Independent that, "Mark and Steven thought it would be easy for Martin to play opposite me and that we would have a natural shorthand together - how wrong they were!"
The actress, who met Freeman on the set of TV movie Men Only in 2000, smiles that, "It's shocking. It'll be the end of the series - there won't be another Sherlock, all because of me. It's the curse of Amanda Abbington. There's a little spin-off show right there - a new four-parter about the downfall of all the shows I've been in!"
Of course, her on-screen relationship with Freeman in fact crackles with life. Mary pulls Watson out of the doldrums after the apparent demise two years ago of his best friend, Sherlock Holmes, played by Benedict Cumberbatch.
Later on in the first episode, entitled "The Empty Hearse" and broadcast on BBC1 at 9pm on New Year's Day, Mary offers her shocked husband support after Sherlock reappears out of the blue. She is also John's rock as the detective duo go on to tackle an urgent terrorist threat.
Dropping the jokey demeanour, Abbington reflects that in reality, "I think Martin and I bounce off each other very well. He is one of my favourite actors.
Access unlimited streaming of movies and TV shows with Amazon Prime Video Sign up now for a 30-day free trial
Sign up
"He's so easy to work with and so creative. He brings something different to every single take. He is so on top of his lines that he can dig down and find a different angle every time. That really keeps you on your toes. Both characters go on a wonderful journey, and to do that with Martin was such fun."
All the same, the actress, who was born in North London, the only child of Patsy and John, a taxi driver, admits it was a challenge initially to be the "third wheel" in the well-established relationship between Freeman and Cumberbatch.
"Ben and Martin have real chemistry, and I had to hold my own in the scenes with them. It was daunting - not necessarily to come between them, but to arrive as another dynamic."
Abbington carries on that, "I had lots of scenes with just the two of them, and that was quite a bit of pressure. For instance, in the scene where Sherlock 'comes back from the dead' and reveals himself to John, I really had to up my game."
Ah, yes, the miraculous resurrection of Sherlock - the issue that has set the internet alight since the sleuth appeared to jump to his death off the top of St Bart's Hospital in London almost two years ago.
So, I attempt to ask as casually as possible... just how did Sherlock fake his own demise, then? "I can't possibly tell you," Abbington laughs at the sheer absurdity of the question. "The producers would have me killed - they have that power!"
Sherlock series three in pictures

Show all 17
In the New Year, Abbington will also be seen in another popular returning drama, ITV1's Mr Selfridge. In the second series, which is set on the eve of the First World War, she plays the lovelorn head of accessories, Miss Josie Mardle, in the famous Oxford Street department store run by the charismatic Harry Selfridge, portrayed by Jeremy Piven.
The drama is shot on a gorgeous set custom-made in a former carpet warehouse in one of the less prepossessing part of north-west London. Abbington, who lives in Hertfordshire with Freeman and their two young children, says that, "When you're wandering around the glamorous shop-floor set, you forget you're in Neasden. Then at 7pm, you step outside and think, 'Oh, now I remember. We're actually in a shabby car park.'
"Last year, a lot of pigeons were living in the warehouse. One day I was doing a scene, and this big pigeon poo landed just in front of me. I thought, 'My first review is in. You didn't like it, did you? Come on, don't sit on the fence!'"
As you can see, Abbington's career continues to go from strength to strength, and the fact that she has major roles in two huge mainstream dramas will only boost her profile.
But again, the actress's natural modesty asserts itself as she jokes that, "It will either be good for my profile or people will say, 'Every time I turn on my telly on a Sunday night, it's her again!'"
However, Abbington's increasing fame doesn't mean that she's now in the market to appear on reality TV shows such as I'm a Celebrity... Get Me Out of Here! "Why would you want to be in the jungle for three weeks and eat testicles with Joey Essex for money? It's like going back to Bedlam, watching people doing horrible things for entertainment.
"The only thing I'd love to do is Strictly Come Dancing. I love the idea of learning something. This is an official application. But I'm sure me being on it would be its downfall. The curse of Amanda Abbington strikes again!"
Finally, does Abbington foresee a long run in Sherlock? "I hope there will be a big future for Mary - unless I upset Steven and Mark! In fact, it all depends on this interview. Just be careful. Don't ruin it for me!"
The new series of 'Sherlock' begins on New Year's Day at 9pm on BBC1. 'Mr Selfridge' returns to ITV in 2014
Join our new commenting forum
Join thought-provoking conversations, follow other Independent readers and see their replies