Simon Nye on adapting Gerald Durrell's Greece memoirs for the small screen, but it's far from 'heritage porn'
Simon Nye has adapted Gerald Durrell's much-loved Corfu trilogy for ITV and in the process broke the golden rules by working with animals and children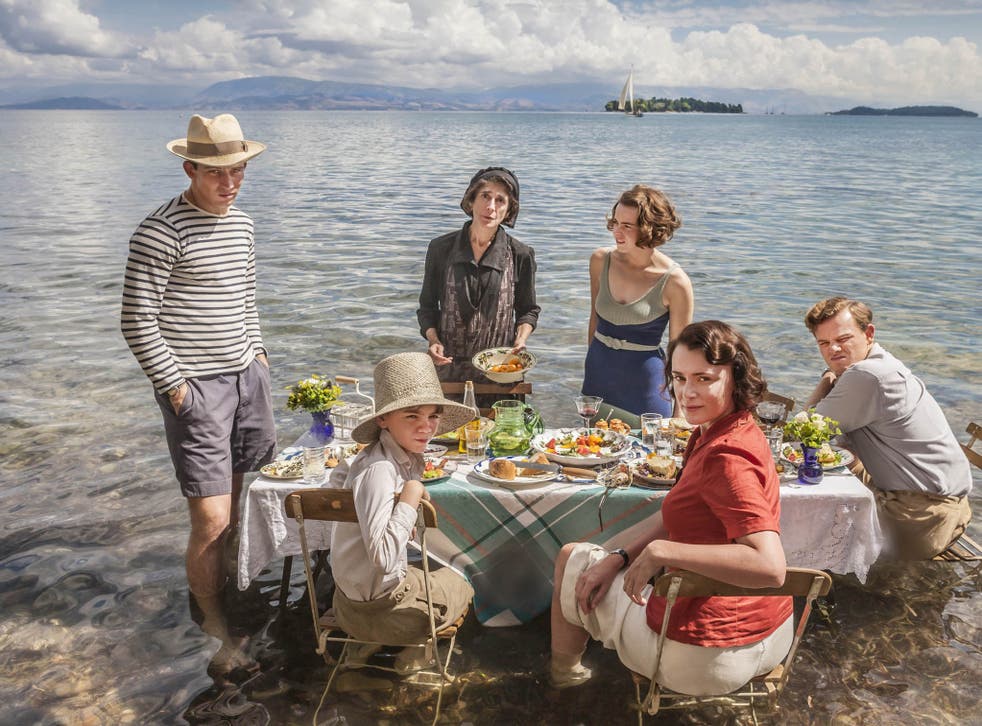 Simon Nye has always loved Gerald Durrell's Corfu trilogy – My Family and Other Animals, Birds, Beasts and Relatives and The Garden of the Gods.
So when the television writer was invited to adapt the books for a new six-part ITV drama, The Durrells, he says, "I didn't need to reach for my Writer's Book of Excuses – e.g., 'I'm concentrating on movies' or 'I'm in a grittier place right now' or 'Children and animals…'"
Durrell's much-loved works chart the extraordinary true story of how the widowed and impoverished Louisa Durrell (played in the drama by Keeley Hawes) fled the stifling atmosphere of 1935 Bournemouth and moved with her four fractious children, Larry (who went on to become the acclaimed author Lawrence Durrell), Leslie, Margot and Gerry, to a remote house without electricity in Corfu.
What appealed to Nye primarily is that even though these books are a celebration of pre-war innocence, they are never cosy. The characters can be as spiky as the insects with which Gerry is obsessed.
Nye, 57 and perhaps best known for the boisterously successful sitcom, Men Behaving Badly, explains that as they are English, the family go to great lengths to conceal their love for each other. "If you deconstruct it – and let's not – the Durrells argue 95 per cent of the time. They support each other, but in a very grudging way."
Nye, who also adapted My Family and Other Animals for the BBC a decade ago, particularly enjoyed writing the scenes of family acrimony. "I don't like hugging, certainly not in the 1930s, which was before there was hugging." Despite that, he says, "The gorgeous Greek locations seep into this family and undercut the tension."
Even though the characters wear terrific hats, The Durrells is not a "bonnet drama", he says. "Or heritage porn – although I like the sound of that. It's about a normal family struggling to survive."
Hawes, 40, and a mother of three says she was drawn to the authenticity of this portrayal of a family frequently at war. "This drama could have gone into saccharine territory and been quite twee. But the thing that constantly cuts it is that the moment everything looks lovely, somebody shouts 'Arsehole!' at another member of the family.
"This is a costume drama and quite often in costume dramas, the characters are very polite to each other. But even in the first episode of The Durrells, they're screaming at each other and driving each other mad.
Access unlimited streaming of movies and TV shows with Amazon Prime Video Sign up now for a 30-day free trial
Sign up
Films to watch in 2016

Show all 30
"Anyone who has a family will know that you're not polite to each other, whatever decade you're in. The Durrell children drive their mother crazy, and she's quite irritating to them, too. I totally buy that. You can really believe in this family."
The drama also avoids the trap of sentimentality by depicting the hardship the family endure when they arrive on the Greek island without a penny, living in a derelict house with no heat or lighting. "I haven't got the statistics to hand," says Nye.
"But Corfu was certainly more risky and wilder than Bournemouth in 1935. So that gives the series an underlying, ready-made sense of jeopardy."
"The more I think about it, the more I'm in awe of Louisa," adds Hawes. "If you tried to do what she did now, you would have social services on you. She was a single mother with four children and no money. She made a trip which back then would have felt like going around the world. There was no easyJet in those days.
"It was a much bigger leap than we can imagine. They had no electricity and no way of earning money. What was she thinking? It was kind of crazy, but I love the fact that she did it all the same. It is as far away as you can get from my own upbringing.
"She did it all on her own for the sake of her children, to give them a better life. What a selfless act. It required so much courage to take that leap. Could I see myself doing that? No, I don't think that would go down very well."
The other principal character in The Durrells is Corfu itself. The drama will certainly appeal to any stress-ridden urbanite who has ever dreamt of an idyllic escape to the country. After such recent darkly compelling dramas as Happy Valley, Murder and Stag, this series will also cast a welcome shaft of sunlight.
"People will try to buy the Durrells' house," predicts Nye. "I made discreet enquiries, but it was rather out of my price range." He clearly had a ball writing it and didn't even mind that the series contravened the first law of film-making: never work with children or animals. Gerry, who in later life became a pioneering conservationist, was fascinated by the natural world and was constantly taking home animal waifs and strays.
"The wildlife," Nye sighs. "Yes, not always easy. I sometimes wished Gerry was interested in model trains rather than hard-to-get and even harder-to-film animals."
The production had to find everything from a pelican, which had to be flown in from two countries away, to dogs, tortoises, turkeys, goats, bats and insects. And a seagull to play Gerry's pet bird, Steven Seagal.
Nye also enjoyed working with the human local talent. "It's fair to say we hoovered up most of Greece's best actors, although we finished with them just in time for the Greek panto season."
One element that might have stymied the production was the ongoing Greek financial crisis. "We felt very loved," demurs Nye. "The Greek tourism industry is doing fine. Greece will always survive because it's a fantastic country."
So would the writer be keen to spend more time with the Durrells? Absolutely. "There are still an awful lot of stories to write about," he says. "The material is certainly there – we have Gerald Durrell to thank for that.
"The family were there five years – it wasn't just a two-week holiday. What will happen to them in the future?" He pauses, before joking: "It will get very violent. Oh yeah, no one will survive."
'The Durrells' goes out on ITV next month
Join our new commenting forum
Join thought-provoking conversations, follow other Independent readers and see their replies