Slow Television: The latest Nordic trend
Boring TV? Don't knock it until you've tried it – millions are settling in for hours to watch mundane events such as knitting or a train journey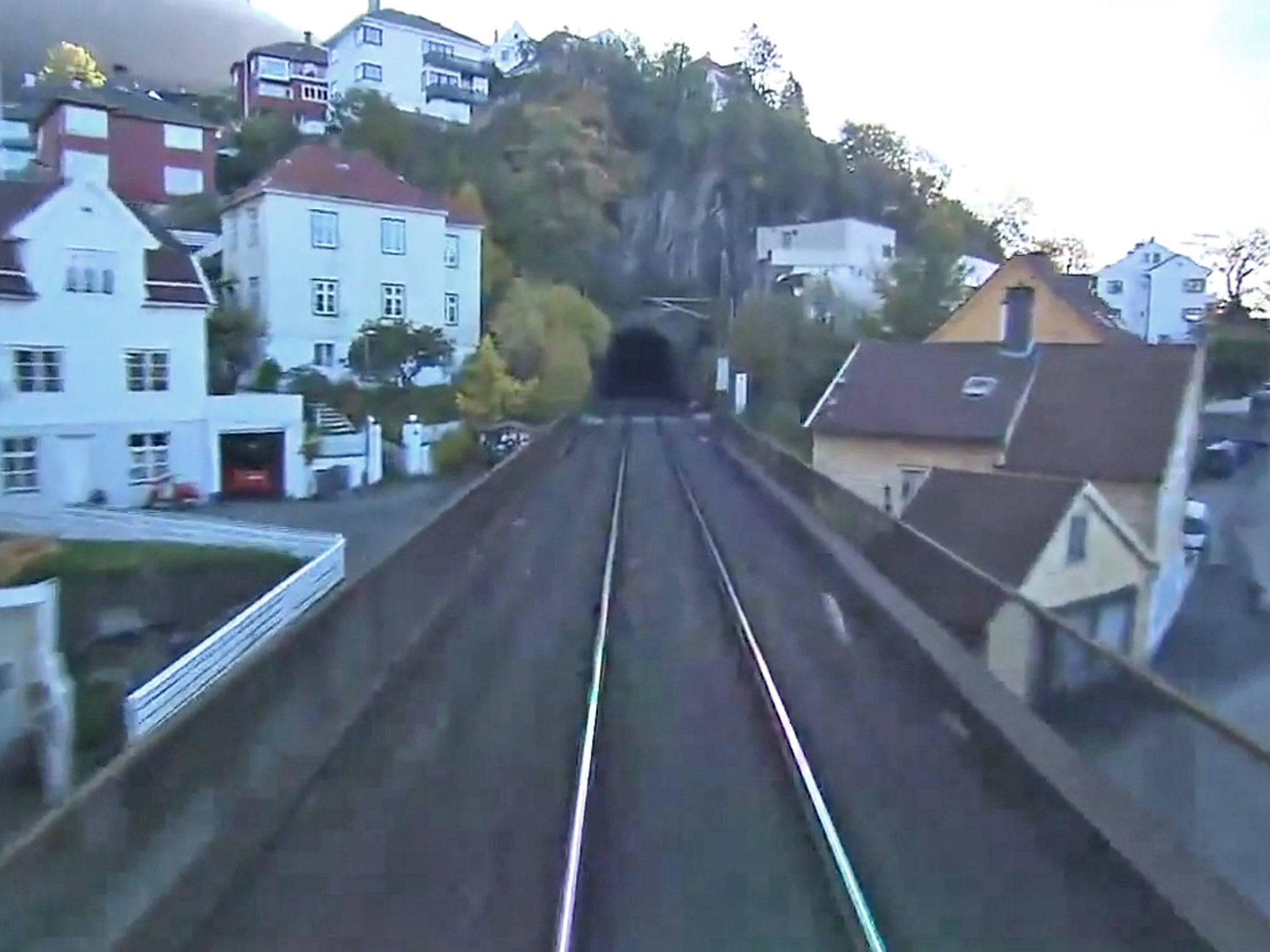 There is a treat in store for British fans of Nordic Noir next month as the pacy new subtitled drama Mammon begins on More4. This pulsating conspiracy thriller has been made by the Norwegian state broadcaster NRK, the same service, as it happens, that provides the perfect antidote to such jugular-grabbing fare – the latest evolution of a soothing genre known as Slow Television.
Characterised by hour upon hour of continuous coverage by fixed cameras on one subject, Slow TV has been championed by NRK 2, Norway's equivalent of BBC 2. It all began in 2009, when a live broadcast of a seven-hour train trip from Oslo to Bergen attracted an audience of one million – or 20 per cent of Norway's population. As if to prove that this wasn't a freak statistical blip swollen by trainspotters, there followed the even longer broadcast of a cruise ship sailing Norway's fjord-heavy west coast. More than half the country tuned in to this 134-hour epic. The programme was also shown online, with UK viewers accounting for 4 per cent of those who watched outside Norway.
NRK's marathon broadcasts are now booming – or whatever constitutes a boom's unhurried equivalent. On offer last year were 18 hours of salmon swimming upstream, 100 hours of chess played by a Norwegian grandmaster and an epic "sheep-to-sweater" view of knitting. "They allow you to go far deeper, to enjoy more details," a viewer told the German broadcaster Deutsche Welle. Not that Germans are new to Slow TV, because the Berlin-based Bahn TV followed train rides across Germany from 2003 to 2008.
The British cameraman Peter Middleton did something similar 20 years earlier, when he created Video 125 (named after British Rail's high-speed trains) with the intention of recording the driver's-eye view of the entire British rail network.
New European drama coming our way
Show all 11
But the roots of Slow TV go even further back, at least as far as Andy Warhol's 1963 conceptual movie Sleep – which featured six hours of a snoozing poet, John Giorno. Warhol's "anti-film" inspired New York City television station WPIX to produce, at Christmas 1966, Yule Log, a looped footage of a log burning in a fireplace accompanied by festive music, which has since become a seasonal institution. Norwegian TV did something similar last February when it hosted "National Firewood Night", a 12-hour broadcast of logs being cut and burned – although, this being 2013, it introduced a social-media element, inviting Facebookers to submit advice on how to position the wood. Viewers apparently became uncontrollably excited about when the next log was going to be laid.
And it's not just a Norwegian thing. America recently imported the aforementioned Oslo-to-Bergen train journey to show on more than 100 television stations online. So what is going on here? Are viewers seeking refuge from the relentless pace and connectivity of our online globalised culture? Or is all just a bit of fun, like dancing cats on YouTube?
It has been observed that, of the millions of Norwegians who tuned into NRK's cruise-ship epic, most watched only small segments. Others ask why people don't just reach for a book if they want a break from TV? But then television drama has been becoming more book-like since The Sopranos and The Wire, and it's no coincidence that detractors of Mad Men describe it as being like watching paint dry. Now there's an idea...
Scandinavia also has form here, with the first series of The Killing ditching the neatly wrapped-in-60-minutes genre format and following the investigation of one murder over 20 hourly episodes. In Britain, the increasing use of webcams, as well as live feeds from the Big Brother house, have inured generations of young people to a lack of pace and incident, although some of their elders can claim to have discovered Slow TV first. I'm talking, of course, about televised Test cricket.
Join our commenting forum
Join thought-provoking conversations, follow other Independent readers and see their replies