Stephen Mangan interview: From posh buffoon to pregnant dad, the actor has quite a range
Mangan is currently starring at the National Theatre in Rules for Living
Gerard Gilbert
Thursday 28 May 2015 01:16 Comments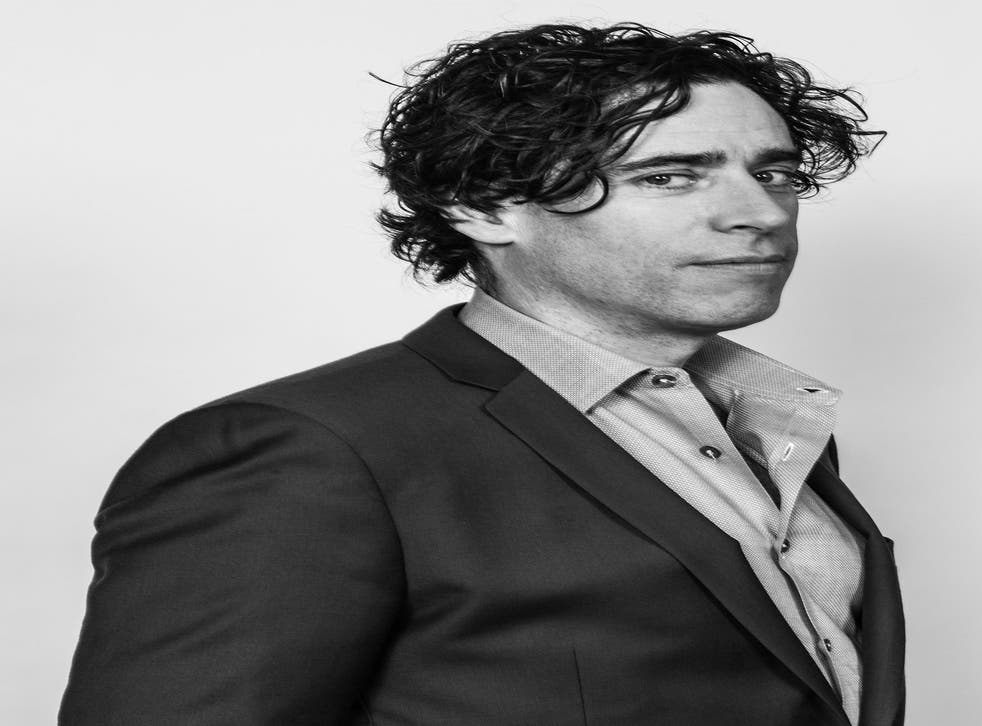 Halfway through our interview I notice that Stephen Mangan has swung his legs over the arm of his hotel armchair. The posture – relaxed, informal, friendly and also perhaps a bit weary –does speak of the man. After all, he's in the middle of run at the National Theatre of the Ayckbourn-esque drama Rules for Living.
For Mangan, who has had a string of West End hits, including the title role in The Norman Conquests at the Old Vic and Bertie Wooster to Matthew Macfadyen's Jeeves in Perfect Nonsense, this is, surprisingly, his first taste of the National. "It's lovely because it's a building full of other actors and directors," he says. "In the West End it's your little tiny gang and that's the only interaction you have – whereas here you're constantly bumping into Ralph Fiennes or Chiwetel Ejiofor."
In Rules for Living, Mangan is back playing the sort of role that first made his name – arrogant, selfish and sarcastic womanisers such as Guy Secretan in the Channel 4 medical comedy Green Wing, or the boorish recovering alcoholic Keith Merchant in the BBC2 sitcom Never Better. Mangan himself is in fact one of the nicest actors I've met – something that came as a surprise when I first interviewed him, in 2008, before shows such as Dirk Gently and Episodes showed him in a more sympathetic light.
"I don't mind being a hate figure because I know it's not me," he said then. "I come from an Irish working-class background but went to a posh school [Haileybury in Hertfordshire, alma mater of Clement Attlee, Alan Ayckbourn and director Christopher Nolan], and any type of pretension was quickly mocked at home. I've always had a keen eye for pretension."
When we met in 2008, Mangan's wife, the actress Louise Delamere, had just given birth to their first son, Harry, the proud father unaware that four years later he himself would be giving birth – every night in front of a paying audience. In Joe Penhall's Royal Court black comedy Birthday, Mangan played Ed, a man who (through some largely unspecified medical breakthrough) is able to become pregnant.
Penhall's play has now been filmed by Sky Arts, with Anna Maxwell Martin as Ed's wife, Lisa. "The joy of doing the TV version is that on stage you've got the bed right in the middle of the stage with me and my massive belly, you can't get away from that image," he says. "What's lovely about the TV version is that you can get much more intimate... close-ups of faces."
Mangan can't understand why female writers haven't jumped on the experience of childbirth and hypothesises that maybe "women don't tell each other what it's like, it's a gender coping mechanism". We both agree that Penhall's stroke of genius is the role-reversal. "By switching the genders, we definitely get a new take on what it's like, the physical humiliations," he says. "How odd it must be to be that person at the centre of the whole process and yet not to really be in control of what's going on. The body has been taken over. I know my wife felt like she'd been taken over by this thing, that it wasn't much to do with her."
In one of many gruesomely funny scenes, the painful indignities routinely endured by pregnant women is brought home when Ed is induced by having an implement pushed up his anus. In fact Mangan is familiar with such interventions as, since the early death of his mother, Mary, from bowel cancer, he regularly has "a camera shoved up my backside" as part of a research study being undertaken at Northwick Park Hospital in Middlesex. "Geraldine James has a similar medical history in her family and she put me on to it," he says.
Mangan's parents were from County Mayo in the west of Ireland. They emigrated to England at the age of 17, his father (who also died of cancer, aged only 63) working as a builder and his mother in a pub, and by the time Mangan was 11 they had made enough money to be able to send their son to public school. "It was more my decision than theirs," he says. "They were very upset that it was a boarding school, but I quite fancied a bit of freedom. My two sisters chose to go to the local state schools."
Access unlimited streaming of movies and TV shows with Amazon Prime Video Sign up now for a 30-day free trial
Sign up
Mangan went on to study law at Cambridge, where his contemporaries included Rachel Weisz and Sue Perkins, but where he "spent more time in the theatre or the pub", nurturing an ambition first kindled by reading theatrical biographies and "dreaming of living in digs in Darlington". And when his mother died soon after he graduated, Mangan took time out to nurse her, and to reassess his life.
"She died at 45 and her mum died at 47, and you can't help but think, 'I'm in my early twenties and I might only have another 20 years left to me, what's the best use I can make of it?'."
Mangan himself turned 47 on 16 May and has fully vindicated his decision. The sitcom Episodes, in which he and his Green Wing co-star Tamsin Greig play married British comedy writers at large (and largely at a loss) in the American network television jungle, is currently on its fourth series on BBC2.
The sitcom is scripted by Friends creator David Crane and his writing and life partner Jeffrey Klarik, and stars Friends star Matt LeBlanc as a fictionalised version of Matt LeBlanc. How fictionalised, I wonder. "Matt's astute about people, he's a smart guy," says Mangan. "I think you can tell watching it that he doesn't take himself too seriously.
"My fears when I took the job – that he would be the work, dealing with him – have not come to pass. He's a joy and has become a proper friend. He was over recently doing press for Episodes and he came to see the play, and we went out several times; and I stay at his house when I'm in LA. If I can put up with all the chat about cars and motorbikes. Matt's a petrolhead."
Co-starring with LeBlanc in a successful sitcom must have raised his profile in Hollywood, I suggest. "It's watched, understandably, by a lot of people in the industry in LA, and a lot of them think of it as a documentary rather than a comedy series," he replies. "They love the take because it's written by two Hollywood insiders who clearly know what they're talking about. So, yes, it's certainly given me a profile.
"Episodes will probably finish next year and [has] opened up the opportunity to do something else."
Let's hope, I tell him, that he has time for more Have I Got News for You – he's one of the best hosts, naturally funny, and not try-hard. "That's kind of you to say so. I love doing it."
When he was last on, in April, Nigel Farage was a guest. "That was really interesting. It's quite strange to meet someone who is quite a strong presence in our culture, and to have him sitting four feet away from you, and ask him about the Nazi songs he sang at school [Farage has strongly denied this]. I mean, I'm not Jeremy Paxman but it does make the hairs stand up on the back of your neck."
'Birthday' is on Sky Arts 1 on 9 June, 'Episodes' continues on BBC2 and 'Rules for Living' is at the National Theatre until 8 July.
Register for free to continue reading
Registration is a free and easy way to support our truly independent journalism
By registering, you will also enjoy limited access to Premium articles, exclusive newsletters, commenting, and virtual events with our leading journalists
Already have an account? sign in
Join our new commenting forum
Join thought-provoking conversations, follow other Independent readers and see their replies