The Comeback: Lisa Kudrow's ratings flop is making a comeback tonight
Sex And The City creator on reviving a turkey that became a cult classic
Sarah Hughes
Thursday 05 February 2015 12:41 Comments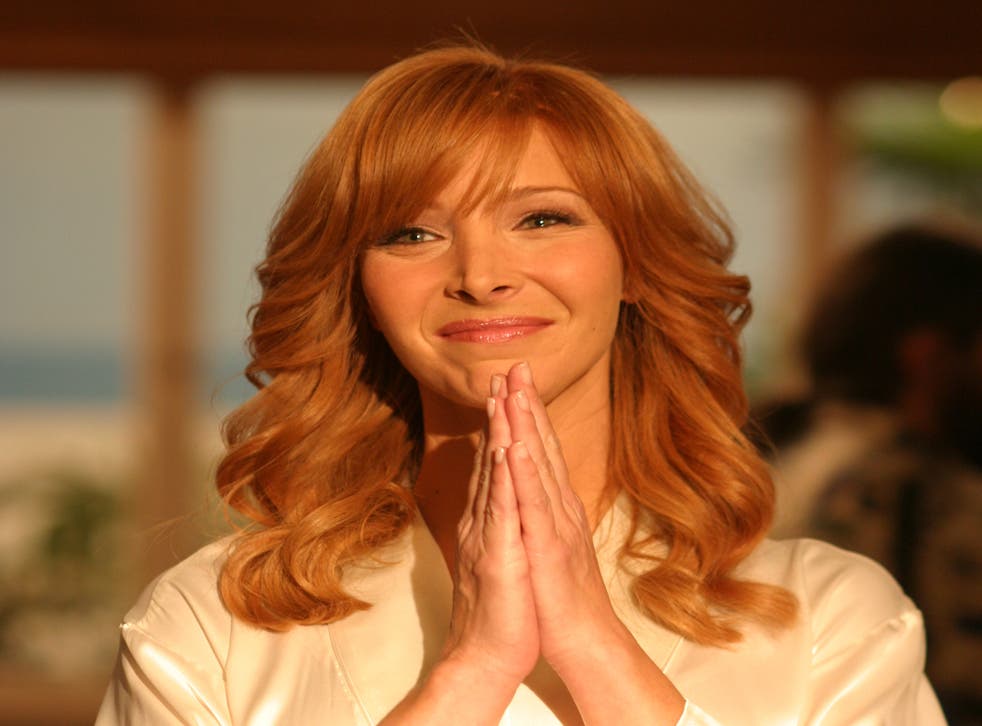 Few television shows are as aptly named as cult comedy The Comeback, which starts its second series on Sky Atlantic today a decade after its critically acclaimed but low rated first season, which centred around the trials and tribulations of faded sitcom star Valerie Cherish, was prematurely cancelled by HBO.
"When Lisa [Kudrow, the show's star and co-creator] and I first got the call from HBO saying would you be interested in bringing The Comeback back, we weren't sure because that show had meant so much to us and after it ended we went through years of confusion and sadness about the cancellation," admits the show's co-creator, Michael Patrick King. "We knew it had become its own cult and that people talked about it and kept it alive and occasionally there would be articles but we didn't entertain thoughts of reviving it because it felt too precious."
There was also the question of how to take the show forward after all this time. The 2005 version of The Comeback was King's first project after giving Carrie Bradshaw her happily ever after in Sex And The City and Kudrow's first television role since audiences said goodbye to those much loved Friends. It was hyped as a collaboration between two comedy heavyweights at the top of their game yet couldn't have been more different from either of those shows.
The story of the washed-up but perpetually game Valerie, a woman who will endure almost any humiliation for her 15 seconds in the spotlight, The Comeback's first season carefully picked apart reality television and the desire for fame, not so much commenting on an era as pointing a warning finger at what we would become. "When the first series aired there was no Real Housewives, Valerie with her willingness to grind herself up to be on television predates that," says King. "Now nine years later we're really comfortable with people humiliating themselves on television so we knew we had to look at it in a different way."
The best way to do that, King and Kudrow decided, was to bite the hand that feeds. In the nine years since we last saw Valerie she's failed to be become a Real Housewife, done the odd commercial and remains desperate to prove she's still in the entertainment industry. After another failed attempt at a reality show she ends up playing herself in nemesis Paulie D's bleak HBO comedy about his terrible experiences working with her in the first season. It's a commentary not just about what Valerie is prepared to do to succeed but also about cable comedies themselves with their warts-and-all protagonists and obsession with boundaries being pushed.
"We knew that if we were bringing Valerie back then we wanted an emotional arc," admits King. "We wanted to look at what show business cost Valerie and reality TV didn't seem like the right fit for that because that ship has sailed. And what you've got now are a lot of a premium cable snob hits, you know dark shows with movie star casting and limited runs, very male driven… The Comeback has always been about the reality of show business so we thought why not reflect the reality of HBO and have her play a version of herself on a very prestigious cable network show and look at what that would mean."
The result is one of the best comedies of the year, by turns excruciating and emotionally involving, anchored by a clever script which never laughs at Valerie despite the many small daily deaths she faces and a wonderful central performance from Kudrow who somehow manages to make self-obsession seem both necessary and touchingly brave. "It's more interesting to look at someone who hasn't really made it but yet keeps trying," says King. "The question is when do you give up the dream and what does it cost you? We have no limits when writing Valerie because she's the hero but the show examines how men limit her – Paulie looks at a woman of Valerie's age and sees her in only two ways: she's the clown in the tracksuit or she's completely naked. The audience knows that's not the case so it's interesting to explore."
For King, who also currently oversees the brash, broad network sitcom 2 Broke Girls, The Comeback also offered a welcome chance to flex different muscles. "2 Broke Girls is a broad, burlesque kind of show and filmed in front of an audience while The Comeback is a more private experience. It's a wonderful opportunity to do both because the traditional sitcom requires you to be a really strong joke writer with lean storytelling. It's a hard, disciplined job. The Comeback is more like a creative plane ride in that it goes between light and dark and I get to direct as well and edit to its own rhythm. It's more creatively free."
Best celebrity cameos in Friends

Show all 20
And what of the show that made his name? In the decade since Sex And The City finished there have been two movies and talk persists of a third despite the second's poor reviews. "As far as I'm concerned those characters are still very much alive and I think there's an audience for it but it will depend on the ladies because without them nothing exists," says King, adding that the show's continued influence still takes him aback at times. "You still catch episodes on TV in America – it was such a unique phenomenon because it made clear that the voice of the single girl was not a leper voice. What worked was the combination of those four character and four amazing actresses plus – and this is key – the relationships were never bitchy or jealous. They might criticize each other at times but those friendships were deeply loving and because of that people liked those ladies and felt they were their friends. They related to their hopes and dreams."
Similarly The Comeback owes its revival in part to the buzz created by a new generation of fans discovering the first series through clips on YouTube – "I was stunned when I found out there were all these 20-year-old kids who were obsessed by the show," King admits. "No one served it up to them, they found it themselves and I think that's increasingly the case. Viewing is very splintered – just look at YouTube stars, there are whole masses of people obsessed with these people and older people have no idea who they are."
He pauses before coming up with a metaphor of which Carrie Bradshaw herself would be proud. "It's like how everyone used to go to Macy's to buy their clothes but now they go straight to Alexander McQueen - they don't want to go to Macy's even if they stock McQueen's clothes. They want to go to direct to the source."
The Comeback starts today on Sky Atlantic at 10.15pm
Register for free to continue reading
Registration is a free and easy way to support our truly independent journalism
By registering, you will also enjoy limited access to Premium articles, exclusive newsletters, commenting, and virtual events with our leading journalists
Already have an account? sign in
Join our new commenting forum
Join thought-provoking conversations, follow other Independent readers and see their replies