The Duchess: Why Katherine Ryan's new Netflix show is quietly revolutionary
Katherine Ryan's series about single motherhood is flawed but unwavering in its commitment to a simple premise: a heroine who does not need a man, writes Clémence Michallon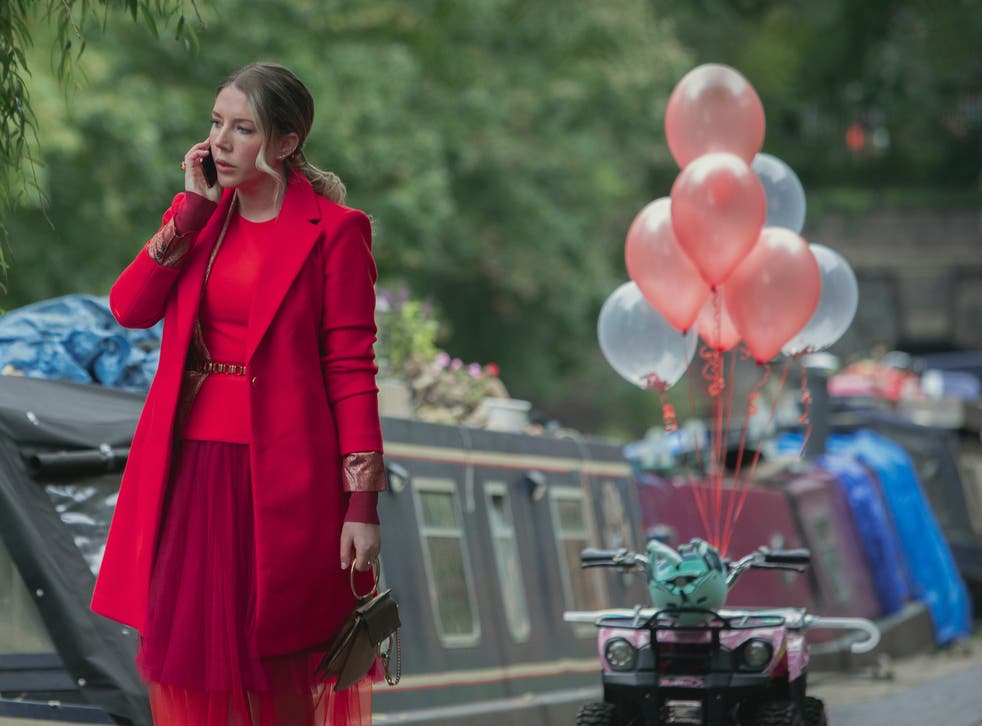 The Duchess, Katherine Ryan's new Netflix show, is at first glance everything you would expect of a Katherine Ryan Netflix show. It has a lot to say about single motherhood, men, and how useless the latter are in the context of the former. It's loud and purposefully rude and the outfits are both excellent and pretty much unwearable in the real world. It echoes Ryan's standup material in many ways, in that it's sharp and witty and the stuff of quick comebacks. It's funny and flawed and probably not for everyone.
Upon closer examination, The Duchess does something, episode after episode, that proves quietly revolutionary. Its main character Katherine (who shares Ryan's given name, yes) is a single mother to nine-year-old Olive (Katy Byrne). Because she loves her daughter and thinks her offspring is pretty awesome, she wants Olive to have a sibling. As a single mother, Katherine needs to figure out the logistics of conceiving a baby by herself. Among her options are her ex Shep (Rory Keenan), who used to be in a boy band and who repels her, her current love interest Evan (Steen Raskopoulos), a nice dentist she's not ready to actually have a child with, and adoption.
This premise puts Katherine in an interesting position. One way of describing her predicament would be to say that she needs a man, if only for biological purposes, but nothing would be more inaccurate. More than any TV heroine in recent memory, Katherine doesn't need a man. That much is clear as we progress through the series and watch her raise her daughter (whom she actually likes, in addition to loving her), manage a pottery business with her friend Bev (Michelle de Swarte), and make her way in the world in a way that makes it clear she has absolutely run out of f***s to give.
Katherine might entertain the idea of a man. She might even like one (her affection for Evan does feel genuine). She might get sad over one. She might lust after one, or daydream about one. But need? Nope. That's not in her repertoire. What's innovative about the show is its unwavering commitment to this one central idea: Katherine will be fine, but if she isn't fine, it won't be because of a man.
That quality doesn't mean The Duchess always sticks the landing. A scene in which an adoption agent visits Katherine's home definitely hits the wrong notes. And Katherine's antics – her lack of a filter, her foul mouth – haven't exactly been a universal hit with critics. Some have deemed them annoying rather than entertaining, too aware of their own perceived boldness to feel daring. I can see that. But The Duchess succeeds where so many other programmes have failed, in giving us a heroine who treats the opposite gender like so many fictional men have treated their female counterparts: as a means to an end.
The Duchess doesn't box in the same category as some of the breakout female-led programmes of recent years, nor does it try to. It's not as powerful as I May Destroy You, not as bittersweet as Fleabag. Katherine, though, does bring something new to the "flawed heroine" genre. She is, truly, content with herself. Happy, even. It might sound banal, but it's a rare thing to see a female character who almost never pines for a love interest (or only briefly), and has no problem dismissing them from her life. Even outside the world of romance, think of how many female protagonists run around with something missing, something within them that needs to be fixed.
Katherine isn't waiting to be fixed. She wants a second child, yes, but not because she doesn't feel whole without one. She wants a second child because, well, she does. Because she thinks it would be nice to have one. Because she thinks it would make life better for her and her daughter. But The Duchess never gives the impression that she will consider herself irreparably broken if her quest fails.
The Duchess is an imperfect, at times absolutely wild romp. More importantly, it's a portrait of a woman who knows what she wants, and pursues what she wants without questioning her worth. In 2020, this is still radical.
Register for free to continue reading
Registration is a free and easy way to support our truly independent journalism
By registering, you will also enjoy limited access to Premium articles, exclusive newsletters, commenting, and virtual events with our leading journalists
Already have an account? sign in
Register for free to continue reading
Registration is a free and easy way to support our truly independent journalism
By registering, you will also enjoy limited access to Premium articles, exclusive newsletters, commenting, and virtual events with our leading journalists
Already have an account? sign in
Join our new commenting forum
Join thought-provoking conversations, follow other Independent readers and see their replies