'The Kissing Booth': The stealth hit of the summer is an American high school romcom... written by a Welsh 15-year-old
Netflix's teen movie has been a word-of-mouth sensation among young fans – and appeals to older ones too, thanks to the casting of Molly Ringwald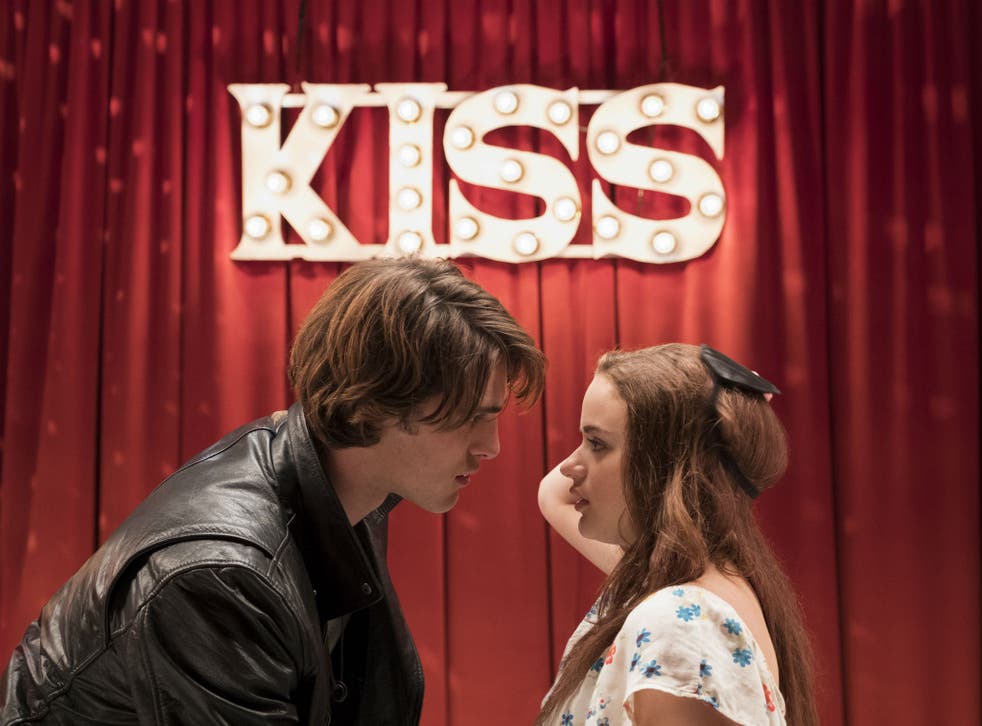 It may be one of this summer's most popular movies, but The Kissing Booth is not playing at a theatre near you. Netflix released the teen romcom on its streaming service with little fanfare in May, and it quickly swelled into a stealth sensation.
"Fans found it, liked it, and decided to pass it on to other people," says Vince Marcello, the film's writer and director. "You can run commercials, you can do all the conventional stuff, but none of it is as powerful as people on their Twitter feeds saying, 'Oh my God, check this out, it gave me all the feels.'"
Netflix specialises in the soft sell, expecting viewers to stumble across its original films while scrolling through menus of suggestions. "We weren't aggressively marketing the film," says Ian Bricke, the service's director of independent film.
"But when people find a movie like this on Netflix, they feel like they've discovered it for themselves and there's a degree of ownership and investment that translates into word of mouth [recommendation]."
This user-generated strategy seems fitting given the DIY origins of The Kissing Booth. In 2011, Beth Reekles, a 15-year-old in Wales, started posting chapters of the story on Wattpad, an online platform that allows amateur writers to read and comment on one another's work.
"It was easier to share it with total strangers online than people I knew," Reekles, now 23, says in an email. "I was – and still am – quite self-conscious about my writing."
Readers responded with surprising ardour to the simple story: An awkward Los Angeles high schooler, Elle, falls for her lifelong best friend Lee's bad-boy older brother Noah after he is responsible for her first kiss, in the fairground attraction of the title.
The twist: Elle and Lee adhere to a strict set of rules for their friendship, and one is that dating each other's relatives is verboten.
"When I first wrote the story, Twilight had become popular and all of the young adult stories I could find were paranormal romances," Reekles says. "I just really wanted to read a regular high school romance, and when I couldn't find that, I wrote my own."
Access unlimited streaming of movies and TV shows with Amazon Prime Video Sign up now for a 30-day free trial
Sign up
After Marcello – who directed four films inspired by American Girl dolls – adapted the novel into a screenplay, Netflix became involved. "We liked the idea that it landed somewhere between an R-rated teen film and younger-skewing fare like Disney Channel movies," Bricke says. "The trend in teen movies has been towards edgier, raunchier fare, and it felt like there was a pocket that wasn't being spoken to."
That audience swooned for The Kissing Booth, with many watching it multiple times. Netflix never releases the equivalent of ratings but it does report that of the viewers who have watched, one in three have seen it more than once, which is 30 per cent higher than the normal rate.
Joey King (Ramona and Beezus), who plays Elle, says there is something addictive about the movie. "Young people on Instagram made these fan accounts and started hanging out with each other because they love and relate to it so much."
The movie has resonated with an older audience as well, Marcello says: "They're making comments like, 'I'm not sure I should be admitting this online, but I've watched this movie six times, and I'm 42 years old — oh God, help me.'"
That was part of the plan all along. Marcello intended The Kissing Booth to be a nostalgia-evoking homage to the teen comedies of the Eighties and Nineties. So he cast Brat Pack queen Molly Ringwald as Lee and Noah's mum and used a cover version of "Don't You (Forget About Me)", from the soundtrack of The Breakfast Club, in a prom scene.
"The John Hughes films and movies like 10 Things I Hate About You were formative for me," Marcello says. "Hollywood hasn't been making those kinds of films in recent years, and that's the reason we're so hungry for them."
Not everyone has devoured The Kissing Booth with this kind of enthusiasm, however. On review aggregator site Rotten Tomatoes, the film has received only one positive notice out of eight. IndieWire slams it as "a sexist and regressive look at relationships that highlights the worst impulses of the genre".
The movie's star shrugs off the criticism. "The problem with critics, not to bash on them, is that when they're watching a movie, they're looking for very specific things," King says. "They are forgetting what it's like to watch a movie and not have to think about how happy you feel. The Kissing Booth just makes you feel good."
King's real life romance with Jacob Elordi, the Australian unknown who plays Noah, has fuelled fans' frenzy for the movie. "It's exciting for people to know what they saw on screen was real," King acknowledges. Marcello adds: "You never plan for that, you don't expect it to happen, but they're so great together, and it shows in every scene."
The actors' off-screen chemistry has also raised their profiles online, where they have posted pictures of themselves canoodling. Since the film's release, King has gone from 600,000 to 5.4 million followers on Instagram while Elordi's fanbase on the same platform has skyrocketed from 15,000 to 4.8 million.
Such popularity leads to the question: Will there be a sequel?
"I'd love there to be, but who knows?" Reekles says. "I know all the fans of the movie and the book would like one." On Wattpad, Reekles has posted The Beach House, which she describes as "a novella to my book The Kissing Booth" and which follows Lee and Elle over the summer.
If that happens, the writer might finally make her first trip to Hollywood. Though The Kissing Booth is set there, Reekles says, "I've yet to see California."
© The New York Times
Register for free to continue reading
Registration is a free and easy way to support our truly independent journalism
By registering, you will also enjoy limited access to Premium articles, exclusive newsletters, commenting, and virtual events with our leading journalists
Already have an account? sign in
Register for free to continue reading
Registration is a free and easy way to support our truly independent journalism
By registering, you will also enjoy limited access to Premium articles, exclusive newsletters, commenting, and virtual events with our leading journalists
Already have an account? sign in
Join our new commenting forum
Join thought-provoking conversations, follow other Independent readers and see their replies