The Night Manager: Why the BBC's £30m blockbuster John Le Carré adaptation was worth the 20-year wait
Tom Hiddleston and co are a refreshing break from Sunday evening 'cosies' such as Downing Abbey and Call the Midwife
Gerard Gilbert
Sunday 27 March 2016 16:16 Comments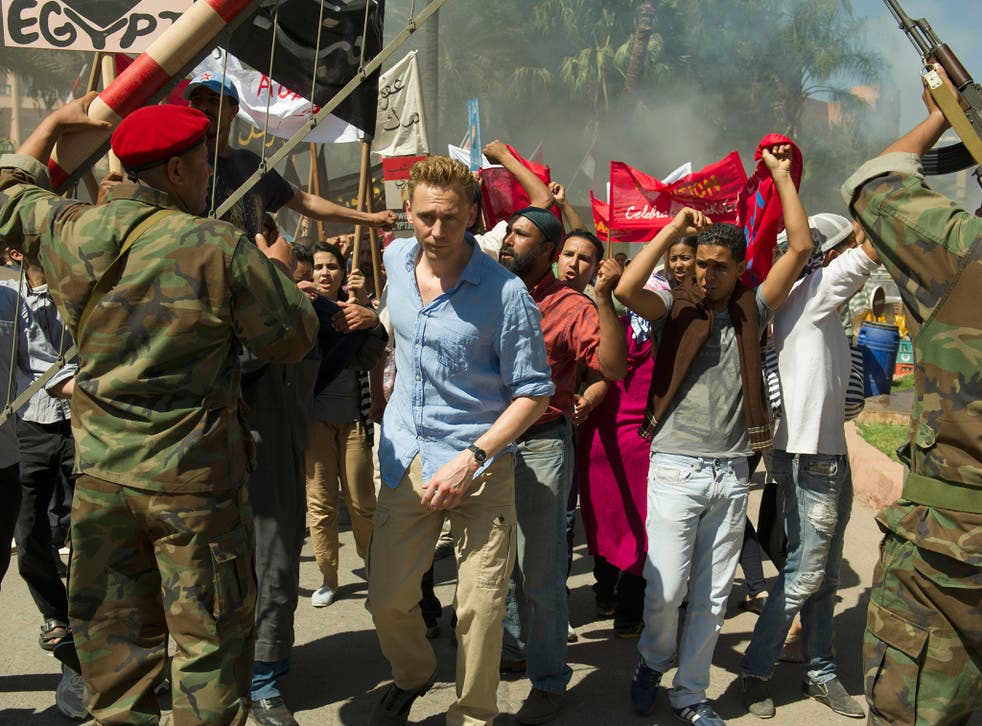 There is little doubt as to what is going to be the most avidly watched television-drama denouement of the Easter weekend – and it's not whether Mary Thorne and Frank Gresham will be allowed to pursue love's young dream in 19th-century Barsetshire. For Doctor Thorne, Julian Fellowes's foray into Anthony Trollope and his follow-up to Downton Abbey, has been comprehensively trounced in the ratings by David Farr's adaptation of John Le Carré's The Night Manager. Eight million of us, it seems, prefer bullets to bonnets. This time round at least.
Both shows feature Tom Hollander, of course – paternal, loving Tom Hollander in Doctor Thorne, and camp, caustic, evil but loving (well he worships his boss, Hugh Laurie's Richard Roper) Tom Hollander in The Night Manager – and there's no question which one we prefer. Hollander's 'Corky' Corkoran has been the devil with the best tunes, all the more shame that... well... Anyone not watched last Sunday's episode yet?
So will Jonathan Pine (Tom Hiddleston) get the girl (the swan-like Australian beauty Elizabeth Debicki as Jed) and have his revenge on arms dealer Richard Roper (Hugh Laurie finally shedding the suspicion that he is more Bertie Wooster than Gregory House) for his involvement in the murder of Pine's lover in Cairo? And will the heavily pregnant Angela Burr (a heavily pregnant Olivia Colman) get one over on Whitehall and nab her man?
Of course if you're one of those who had pre-ordered their blue-ray box-set of The Night Manager, and found it on their doormat before this week's final episode airs (a mistake, it seems, and the episode has inevitably been uploaded online), then you will know what happens. But then presumably anyone who has read Le Carré's 1993 source novel will also have a fair idea.
The Night Manager has been the BBC's first Le Carré dramatisation in over 30 years, but you can bet the licence fee that it won't wait another three decades before the next one – even if a mooted Night Manager 2 will be an entirely new story that won't be based on the author's published work.
It will, like the first series, be produced by Le Carré's sons, Simon and Stephen Cornwell, under their London and LA-based production banner The Ink Factory. Their father's involvement, as in the first series, is likely to be limited to an on-screen cameo (which was in the scene in episode four, in case you blinked and missed it, where Corky threw a drunken tantrum in the restaurant; Le Carré played one of the diners).
The tortuous journey of The Night Manager from book to screen began immediately after publication in 1993, with Hugh Laurie himself attempting to buy the rights. "Within about three chapters of reading it I resolved to try and option the book in the role of producer," he told me recently. "I didn't get anywhere with it".
Paramount unsurprisingly beat him to the rights, buying it for Sydney Pollack to direct from a Robert Towne script, but even the magician responsible for Chinatown, Marathon Man and the first two Mission: Impossible films couldn't wrestle the novel into 90-minute screenplay. "And five years ago Hollywood tried again", Stephen Cornwell told me. "This time Brad Pitt was going to play the night manager, but it didn't happen. At that point the rights came home."
Laurie had originally wanted to play Pine, but these days he's a bit saggy of tum and bald of crown to be able to strip down quite as alluringly as Hiddleston, who is now wisely distancing himself from "rumours" that he might be the next James Bond.
Access unlimited streaming of movies and TV shows with Amazon Prime Video Sign up now for a 30-day free trial
Sign up
In fact, I'm not entirely convinced by Hiddleston as Pine or as a putative Bond – he's seems a bit on the soft side for the role, too much of the old Etonian and not enough Fettes – the Edinburgh college that the future 007 (and Tony Blair) attended. And I've lost all faith in his martial abilities after he was nearly bested in hand-to-hand combat by the Hollander's five-foot-six Corky (mind you, Pine eventually delivered a couple of killer blows to the throat).
Nevertheless, it's refreshing that a topical geo-political thriller can become a popular watch on a Sunday evening timeslot so often dominated by "cosies" likes of Downton Abbey and Call the Midwife. And while Hiddleston probably will not be the next 007, the Oscar-winning Danish filmmaker Susanne Bier has put down her marker as a potential future Bond director.
From the sleek and sexy opening credits juxtaposing luxury and weaponry (the work of Patrick Clair, who also created the award-winning opening credits for True Detective) to the gorgeous cinematography of Michael Snyman, just about every penny of The Night Manager's £30 million budget is up there on screen – never more so than in last Sunday's episode when Roper showed off his weaponry to a prospective buyer.
Roper's comment in that scene, that there's "nothing quite as pretty as Napalm at night", might owe rather too much to Robert Duvall's Kilgore in Apocalypse Now ("I love the smell of napalm in the morning"), but it would seem that Bier fully agrees. Made in conjunction with Mad Men and Breaking Bad makers AMC, who will distribute The Night Manager in the US and other markets, the series is the priciest drama per episode of any commissioned by a UK broadcaster. Money well spent, most of us would agree.
The final episode of The Night Manager is on tonight at 9pm on BBC1
Register for free to continue reading
Registration is a free and easy way to support our truly independent journalism
By registering, you will also enjoy limited access to Premium articles, exclusive newsletters, commenting, and virtual events with our leading journalists
Already have an account? sign in
Join our new commenting forum
Join thought-provoking conversations, follow other Independent readers and see their replies