The real Pink Panther jewel gang is still at large and the inspiration for a new TV series
​The stuff of fiction? A daring real-life cadre of diamond thieves found their calling during the Balkan wars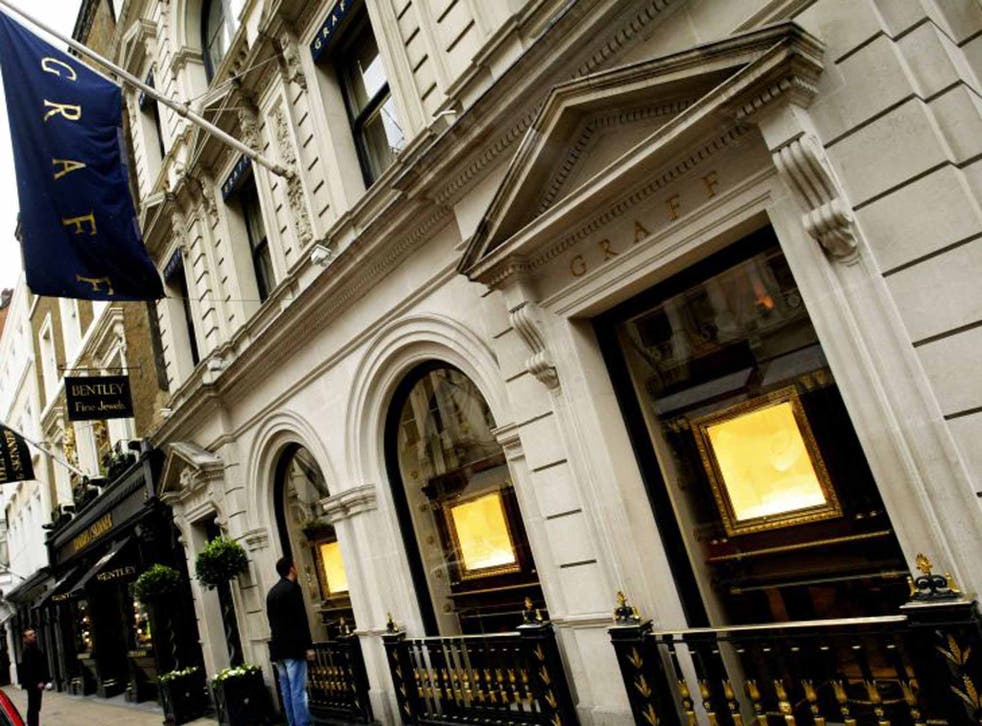 Later this month, eight Britons accused of the Hatton Garden jewellery raid, in which more than £60m-worth of goods were looted from safe deposit boxes in London's jewellery district over the Easter holiday weekend, will stand trial. While the facts will only be established at trial, police believe that the burglars entered through a communal entrance to the building before disabling the lift and climbing down the shaft to the basement. From there, they drilled though the concrete vault walls.
As jewellery heists go, the raid may have lacked the sophistication (and the yield) of the world's largest single diamond theft – the 2003 raid on the Antwerp Diamond Centre which netted an estimated £100m in loot – but it appears to have been unusually refined compared to the straightforward method used by the world's largest and most prolific network of diamond thieves – the so-called Pink Panthers.
The group comprises a loose-knit network of Serbian and Montenegrin nationals that Interpol has likened, for its cell-like nature, to al-Qaeda. It got its name from the British press, which spotted a parallel with Peter Sellers' famous Inspector Clouseau film: following the 2003 robbery at jewellers Graff on New Bond Street, after which the police raided the Bayswater flat of one of the suspects, a Montenegrin man, one of the gems was discovered (as in the Clouseau movie) concealed in a pot of face cream.
The raiders' modus operandi was – and remains – quite simple: a plain old smash-and-grab following an intense reconnoitre. This might involve reversing an Audi into a store front (as they did in a shopping mall in Dubai in 2007), or designing their own electrified hammer heads able to crack the ever-strengthening glass on display cases, before making their getaway by speedboat (in St Tropez) or bicycle (in Tokyo), but usually by car – invariably an Audi; best to know the idiosyncrasies of your getaway vehicle. It's the stuff of movies, or TV drama at least – and one channel has now fictionalised their exploits. The Last Panthers, which starts on Sky Atlantic next week, stars Samatha Morton and John Hurt and has been written by Jack Thorne (Skins, This Is England) with the assistance of French journalist Jerome Pierrat.
Pierrat, who writes about organised crime for the French weekly magazine, Le Point, is the only man outside of the gang who knows the identity of one of the Pink Panthers' leading lights – an individual he calls "Centre Forward". And it was Centre Forward who, at the turn of this century, first questioned the elaborate nature of diamond robberies. (Until then, the Panthers and others had tended to carry them out nocturnally.) "He said 'Why go by night? By day, the most important stones are in the window, in front of us. So, by day, bring hammer... wham!... take it in 30 seconds and we will be rich'. That's the Pink Panther method. It's a stupid method – it's the opposite of the Ocean's Eleven – [but] it worked."
It worked so well that the Pink Panthers multiplied. It's now estimated that, since they found infamy in the past decade, 200-220 loosely affiliated people have pulled off more than 350 armed robberies in 27 countries, dressed as golfers for one job, Hawaiian tourists for another – before making their way back to Serbia, where corrupt police have turned a blind eye. In fact, says Pierrat, diamond theft was originally state sanctioned. Tito, the communist dictator of Yugoslavia until his death in 1980, used precursors of the Panthers to assassinate the regime's enemies in western Europe.
"The Tito government gave them passports and weapons and said, 'When you come back never be worried, invest your money, but you have to kill some guys for us'."
One of these career criminals was the late Zeljko Raznatovic, who was 28 when the dictator died in 1980. He later became better known as Arkan, leader of the murderous Serb paramilitary force dubbed "Arkan's Tigers", during the Balkan wars of the 1990s. It's easy to see how deeply the roots of the Pink Panthers are intertwined with those of the Serb security forces, and why the thieves have so little to fear on their home ground.
It was during the wars of the 1990s, when, under Western sanctions, inflation in Serbia rocketed to a monthly rate of 313,563,558 per cent (by comparison, at its the worst the infamous hyper-inflation in Weimar Germany reached a mere 32,400 per cent), that many young Serbian men became criminalised by the ensuing black market. Many sought their criminal fortunes abroad. They also developed a hatred of the West for the sanctions and UN-led military action that had ruined Serbia. Such theft is almost a patriotic pursuit.
Access unlimited streaming of movies and TV shows with Amazon Prime Video Sign up now for a 30-day free trial
Sign up
Centre Forward was among them, says Pierrat, who met the veteran Pink Panther through his underworld contacts in French prisons. Centre Forward is 38 years old now and retired .
Most of the Serbs and Montenegrins who have picked up the baton are in their early twenties. "Now you have very young guys and lower-quality raids because security is improving year on year," says Pierrat, who also cites the creation, in 2007, of Interpol's Pink Panther task force as a reason for the higher arrest rate. Approximately half of those held in western Europe come from the same city in Montenegro, Cetinje. A large proportion of other new recruits, says Pierrat, are hooligans associated with Belgrade football clubs.
It's estimated that the value of the goods stolen by the Pink Panthers since 1996 is anything up to half a billion pounds, although the Panthers themselves take only 15 per cent of the eventual haul. But then their dreams are relatively modest.
"They just want to buy a little shop or a restaurant", says Pierrat. "And 30,000 Euros from one raid is enough for that."
For the middlemen and the dishonest dealers (mostly in Antwerp) who handle the rocks, the risks of being caught are considerably lower. The diamond business is well known for being conducted on a handshake, and gems easily disappear into the system (often to New York via Israel), before being recertified as "new". Many will never be sold, just used as barter – now that money-laundering is more tightly regulated – to buy cocaine or heroin.
Only one Panther has spoken to the police, and no diamonds have ever been recovered. However, increased security means that they have to roam ever more widely (hence raids in Tokyo and Dubai); and Pierrat thinks that eventually they will have to revert to more sophisticated tactics. "Because they put false stones on display, now you need to return to old methods... by night", he says. Jewellery shop workers of the world may breathe a sigh of relief.
'The Last Panthers' begins on Sky Atlantic on Thursday 12 November at 9pm
Join our new commenting forum
Join thought-provoking conversations, follow other Independent readers and see their replies