The view from The Bridge: Sofia Helin on weird sex and playing TV's most awkward copper
As the Nordic noir hit 'The Bridge' returns to our screens, its star Sofia Helin reveals all about Swedish sexual mores – and why she's grateful to be scarred for life
Susie Mesure
Sunday 29 December 2013 01:00 Comments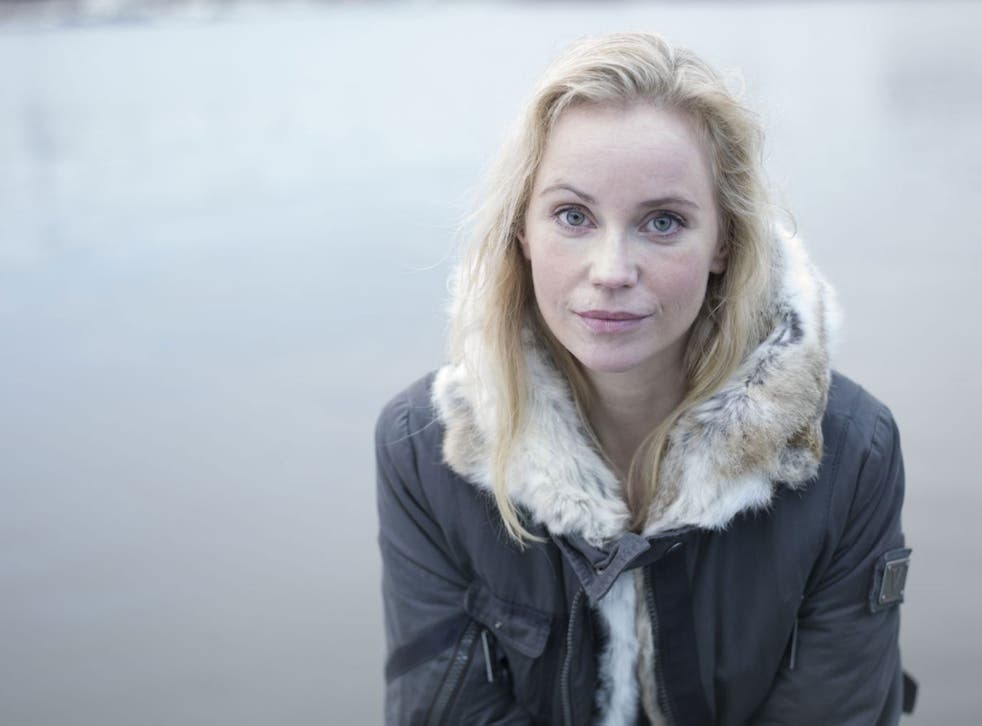 Saga Noren ticks every box. Swedish? Check. Sleuth? Check. Socially backward yet sexually forward? Check and mate.
Yet the mystery-solving female lead in The Bridge, the BBC's latest hit import, which returns this week for a second series, isn't just another crime-solving Scandi sister. There are the leather trousers, for starters – removed only for sex, natch. And the car; that vintage green Porsche, which Sofia Helin, the actress who plays her, says defined Saga right from the off. "When I came, the first time, to the office, they [already] had the car and the colour," she recalls. "So I had to create in my mind, 'She's into Porsche. She knows everything about it.' It's hopeless to drive, though, because it's so old. The gears are very sensitive."
Not that you'd guess from the way Saga whips between Sweden and Denmark, across the Oresund Bridge that is gradually turning Malmo into a satellite of the Danish capital, Copenhagen. It's too bad I don't get a ride, but I have at least crossed the bridge itself, by car and train, which for nerdish Nordic-noir fans is worth the cost of a return plane fare alone.
I digress, but it's justifiable given that the bridge is arguably Helin's biggest co-star. The show's premise hinges on crimes committed smack in the middle of the Oresund, the channel between the two countries, requiring Swedish Saga, Malmo's lead homicide detective, to team up with her Danish counterpart Martin Rohde to find the perpetrator. In the first series, a body was dumped exactly halfway across the bridge, in two halves no less, while season two, which starts this Saturday, kicks off with a ship crashing into, yes, the middle of the bridge. What's more (teeny spoiler alert), Saga finds five Danish teenagers chained up in the depths of the Swedish vessel. Neat.
Ah, Saga: so much more than just another Sarah Lund in funkier clothes. How many actors can claim that playing someone has rewired their brain? "I think if I would scan my brain now, it would look different than before Saga," Helin, 41, says, in an accent that is as pleasingly Swedish as her admirers would wish.
Saga, for the uninitiated, has Asperger's, not that it's spelt out; The Bridge is far too subtle for anything that crude. This, naturally enough, means Helin is not at all like her character – something she says shocks "foreign journalists" unable to believe she is just acting. "I could say, I'm almost the opposite of her," Helin adds, in case I'm struggling. She initially found it hard to get to grips with the part: "I couldn't understand anything and I found her not sympathetic and I didn't like her. But then I figured if I started thinking backwards, it solved a lot of the problems that I had with her, and then I found I had a good time with her suddenly."
Thinking backwards? "Yes! Exactly that! When I'm speaking to you now, I try to sound nice," Helin explains. "But if I would speak to you, and think to say only the correct things, I wouldn't care at all if you think I was nice. It's another way to relate to the world." For correct, read blunt, straight-shooting, direct, which sums up Saga and took its toll on Helin, who, for the record, is categorically not wearing leather trousers.
"Now, I feel more like myself, but in autumn, when [the second series aired in Scandinavia and] I did a lot of interviews, I thought, 'I don't know [myself] any more.' I felt I was a bit like her. She has affected me a lot." Hence Helin found herself reacting more like über-rational Saga to certain situations and closing down emotionally in response to others. "But now I sense that I've opened up again, so I'm more like myself again." She laughs: "I'm happy!"
In an elegant second-series twist, rather than cause offence, Saga's bluntness is the antidote her sleuthing partner Martin needs. In the 13 months since the characters last saw one another, Martin, played by Kim Bodnia, has had a total breakdown caused by… no, I won't say and risk spoiling the brilliance of the first series for anyone still wishing to catch up. Suffice to say, Saga's the first person to get through to Martin since the thing-that-shall-not-be-named happened; it's a touching scene.
Access unlimited streaming of movies and TV shows with Amazon Prime Video Sign up now for a 30-day free trial
Sign up
Helin, who has now shed her giant fur-trimmed coat after our shoot and is sitting in the bar of Stockholm's Grand Hotel, thinks the duo's relationship – "between Martin's dark history and Saga's strange behaviour" – goes a long way towards explaining the show's appeal. Well, that and the sex; or specifically Saga's approach to sex. In one scene last time round, the leather-clad detective walks into a bar, sods the small talk, and asks a man who smiles at her if he would like to have sex. Another time, she finishes up in bed and promptly pulls out some particularly gruesome autopsy shots.
Helin finds it amusing that we prudish Brits made so much of Saga getting straight down to it; audiences at home barely blinked. "No one noticed. It's not so strange here." Women's sexuality is just not a big deal in Sweden, she adds, although this doesn't necessarily mean Swedes are "more liberated in our private lives".
Season two, she tells me, is largely about sex. It's an admission that is all the starker given that all I was trying to discern was the sorts of Swedish societal ills we could expect to learn about, given that Scandinavian crime fiction essentially exists to expose the region's hidden dark side. But I must have fluffed my question because Helin talks first about the show's "environmental theme" and then how this is overshadowed by the action. "It's becoming more and more about sex, actually." No wonder it was "even more popular" at home this time round.
But back to Saga. "I have a favourite scene. I won't…." Helin trails off, not wanting to "spoil it". I implore and she caves. I'm not convinced this counts as a spoiler so here goes: "She will masturbate watching her boyfriend. At the same time, her mother-in-law is in the room." Just in case I start to get any ideas about her fellow countrymen – and women, this is politically correct Sweden, after all – Helin stresses: "That's strange to Swedish people, too."
Or perhaps I should not say countrymen at all, but rather "countryfriends". Helin, who is married to a church minister and has two kids, is indulging my vision of Sweden-as-utopia by describing the Stockholm "gender daycare school" her daughter, aged four, attends. "That's their theme. When they are talking to the children, they never say, 'Come here girls, come here boys.' They say 'Come here friends.'" She tries to reinforce this at home but it seems nature will out. "Now I have a daughter who just wants to be in the pink world and my boy [who is 10] just wants to be in the football world!"
Not that she minds. Rather, she says it's about "giving them the confidence that they can do whatever they want; that they're not limited by being a boy or a girl. I don't refuse to give my daughter pink just because it's pink. That's not what it's all about."
I have, however, got the utopia thing all wrong, she insists, despite admitting she is "really grateful" to be a woman in Sweden. The daycare system, for example, makes it easy to "be at home with your children and then go back to work". But the political swing to the right means Sweden's famous social-welfare system "isn't as safe as it used to be". And although mums and dads do divvy up the parenting, "It's not equal. I'd say, the first child, men stay home. Then for the second and third, they stay home less and less." The upshot is that Swedish women bitch about their menfolk just as much as Brits, it seems. "With my friends we always complain about having to do too much, planning much."
Even feminism, which is practically constitutionally enshrined in Sweden, is not as clear-cut as I might assume. "Sweden has become a bit…" She pauses. "I don't know how to explain really." Too politicised? "Yes, sort of. In some senses, but I would choose that before not having it. But it's like some things you're not allowed to say, in some ways. But I hope that things like our daycare with the children will spread to your countries as well. Because I'm really happy [to have it]."
If she could, she'd like to see a lot more of this country in particular, saying she'd "absolutely love" to work in Britain. "Just give me something, and I'll come," she says. Theatre; radio; TV: she's not fussy, "I'll just see if it turns me on."
I'd be curious to hear what she makes of cycling around London: the scar on Saga's top lip is no visual trick to make her seem even more interesting, but the result of a horrific bike accident Helin had about 16 years ago. On a bridge, no less, if not the bridge. "My bicycle broke, and I woke up in the ambulance. My teeth were broken. I was lucky but I was wounded really badly." Working in a trade where looking the part can be all, she was initially devastated. But she adds: "I've been very grateful for it. Since I looked quite like a nice girl – ish, when I was younger at least – it's been good for me and it also shows more about who I am than before. It's more me; I can identify myself with my scar."
She'll be interested to see what happens as she gets older; it seems feminism is no solution to ageism even in almost-perfect Sweden. "I actually said to the [Bridge] writer, 'Can you come back to me when I'm 55, please?' And he said, 'Yeah, yeah. Good idea!'" Cue sharp inhale from us both that he hadn't thought of it himself. "Isn't that typical? And it's so boring."
If this means we can look forward to The Bridge series 10 – and yes, they are already working on a third season – so much the better.
'The Bridge' returns on BBC4 on Saturday
Scandi-licious: Three more Nordic series on their way
The Legacy
Not everything has to be about crime, which will become clear when this 10-part series about an artist's family airs later this year. Based on the life of the fictional Danish artist Veronika Gronnegaard, the narrative traces how her four adult children's lives have been affected by her eccentric countercultural child-raising philosophy.
1864
The most expensive series ever made in Denmark and a rare chance to show the country can do historical drama. The subject, the Schleswig-Holstein War, may seem obscure, but contemporary Britain was obsessed and the show will feature Queen Victoria (not to mention the familiar faces of Borgen's Sidse Babett Knudsen and Soren Malling).
Crimes of Passion
Set in the 1950s and with The Killing's Birger Larsen at the directorial helm, it's no wonder that this Swedish six-parter is being billed as Mad Men-meets-Nordic noir. The BBC will air each 90-minute episode, which are classic whodunnits set in Bergslagen in southern Sweden, based on novels by crime writer Maria Lang.
Register for free to continue reading
Registration is a free and easy way to support our truly independent journalism
By registering, you will also enjoy limited access to Premium articles, exclusive newsletters, commenting, and virtual events with our leading journalists
Already have an account? sign in
Join our new commenting forum
Join thought-provoking conversations, follow other Independent readers and see their replies