The Walking Dead: 10 greatest characters from season 1 to season 10, ranked
As the TV drama celebrates its 10th anniversary, Jacob Stolworthy counts down its best creations
Wednesday 04 November 2020 12:37
Comments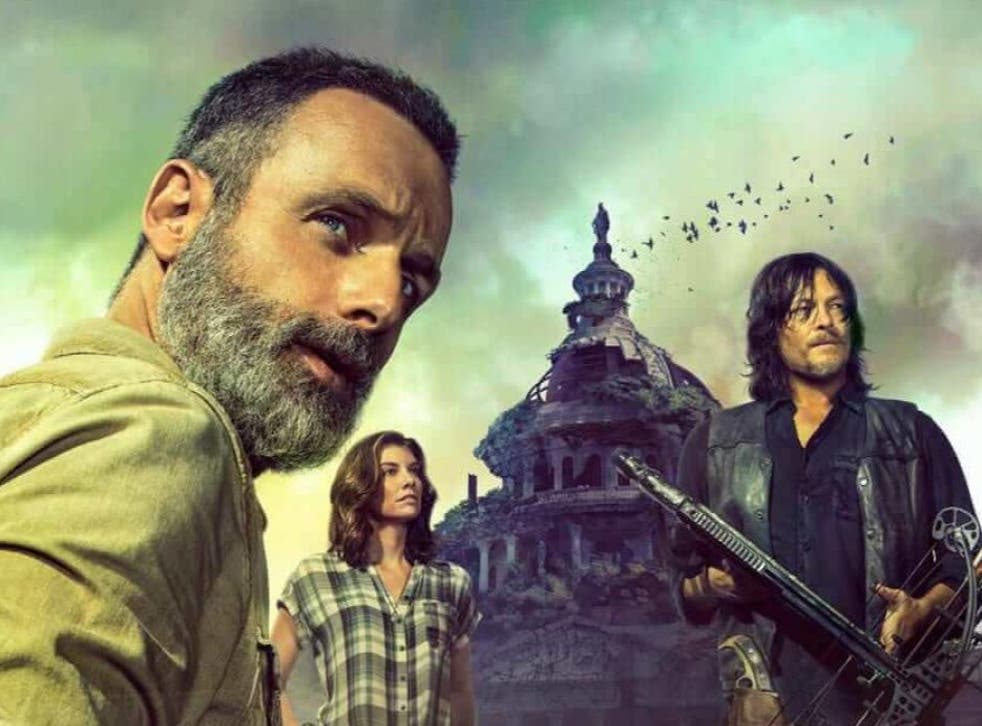 Ten years ago, on Halloween night 2010, The Walking Dead crawled its way onto television screens.
What started out as a six-episode debut season, watched by a modest 5.35 million viewers, eventually became one of the world's most successful shows – and the biggest on cable television in the US. To date, the show has had two spin-offs; a further two, as well as a trilogy of films, are in the works.
Considering the series is based on Robert Kirkman's graphic novels of the same name, The Walking Dead has always had a steady stream of characters to choose from. In all, there have been 46 prominent characters played by one of TV's most diverse casts – some met grisly ends, others are still knocking about (for how long? Who knows?).
To celebrate The Walking Dead's anniversary, we've ranked the 10 best characters to have featured in the show since it began.
10. Michonne
Played by Danai Gurira
In the early days, Michonne was a dream – an enigmatic, endlessly cool creation detached from the main group. An elevated status detracted from this mystique in those later seasons – she became a bit of a drag after the departure of Rick (Andrew Lincoln) – but there's no denying that seeing Michonne lop off zombie heads with her katana was always a thrill.
9. Shane Walsh
Played by Jon Bernthal
Shane's deteriorating mental state, sparked by a rivalry with his former best friend Rick, brought his character to life – ironic considering this locking of heads is what eventually led to his demise. Thanks to the unpredictability of Bernthal's performance, Shane injected the second season with most of its tension; he was essentially a ticking time bomb waiting to lash out at those around him.
8. Carl Grimes
Played by Chandler Riggs
Chandler Riggs was more shocked than anyone when Carl was killed off; it was believed his character would lead the show into a new generation. Perhaps this is why Carl's death cast his legend in stone. It was certainly helped by his evolution from terrified child to stoic young warrior. His heart-wrenching death saw him go out on a high, and he's been missed ever since.
7. The Governor
Played by David Morrissey
The Walking Dead has had varying success with its villains, but The Governor ranks highly. While the eyepatch-wearing, trigger-happy leader of Woodbury wasn't visually as scary as others (see: hulking Whisperer Beta), his quiet intensity and hidden maniacal tendencies, which were never too far away, made for as compelling a bad guy you can get.
6. Glenn Rhee
Played by Steven Yeun
Oh, Glenn. He was a favourite right up until he was bludgeoned to death in the show's most brutal moment. Admittedly, that scene wouldn't have packed half as much of a punch if Glenn hadn't been such a breath of fresh air amid the show's doom and gloom, but it's testament to the morality conveyed by Steven Yeun that his death scene prompted millions to switch off.
5. Negan
Played by Jeffrey Dean Morgan
It's taken a few years, but finally, Negan can be classed as a great character. For his first two seasons, Jeffrey Dean Morgan''s scenery-chewing bad guy led the show into an era fans didn't want. Thank goodness for the five-year time-jump, then, which reintroduced him as a reformed ally of our heroes and a far more interesting character to boot.
Access unlimited streaming of movies and TV shows with Amazon Prime Video Sign up now for a 30-day free trial
Sign up
4. Hershel Greene
Played by Scott Wilson
The kindly farm-owner Hershel was not only the show's moral compass – he was its most underrated character. Dishing out wisdom when Rick needed it most, Hershel was exactly what the group needed, which made his mid-season decapitation all the more devastating.
3. Carol Peletier
Played by Melissa McBride
The character arc of Carol is nothing short of astounding. When the show started, she was meek, repressed and a victim of domestic abuse. She's now the one character you would not want to mess with. Melissa McBride has conveyed Carol's transformation – which has taken many surprising twists and turns over 10 years – with such skill and grace that it's a travesty she hasn't received a single Emmy or Golden Globe nomination.
2. Rick Grimes
Played by Andrew Lincoln
Rick Grimes was the show's raison d'être for nine years. His many traumatic experiences shaped what he became with each new season and, via Andrew Lincoln's committed performance, it felt as if these events were never forgotten. From the very first episode, Rick felt believable, which was necessary for him to be successful as the engrossing protagonist of this long-running TV series. News of the actor's departure sent shockwaves around the show's fan community in 2018, and while the series is holding its own without him, it's no surprise that Rick's memory (and legacy) looms large.
1. Daryl Dixon
Played by Norman Reedus
Through Daryl, Norman Reedus has given us a character for the ages. Starting out under the shadow of his racist brother, Merle, Daryl spent seasons attempting to free himself of those shackles in order to find his belonging. He succeeded with aplomb. Yes, Daryl will always be a man of few words – and one who can make his point much clearer with his crossbow – but he has grown in front of viewers' eyes to become one of the show's most caring, loyal and dependable characters (intriguingly, he was a completely new creation for the show). Daryl Dixon is a different kind of hero to what has been seen on TV before – and it's this that makes him distinctly special.
Register for free to continue reading
Registration is a free and easy way to support our truly independent journalism
By registering, you will also enjoy limited access to Premium articles, exclusive newsletters, commenting, and virtual events with our leading journalists
Already have an account? sign in
Register for free to continue reading
Registration is a free and easy way to support our truly independent journalism
By registering, you will also enjoy limited access to Premium articles, exclusive newsletters, commenting, and virtual events with our leading journalists
Already have an account? sign in
Join our new commenting forum
Join thought-provoking conversations, follow other Independent readers and see their replies