The Walking Dead actor Michael Cudlitz: 'True fans don't want to know who Negan killed'
Producer Gale Ann Hurd also discusses the likelihood of future spin-offs
Jacob Stolworthy
Tuesday 30 August 2016 11:36 Comments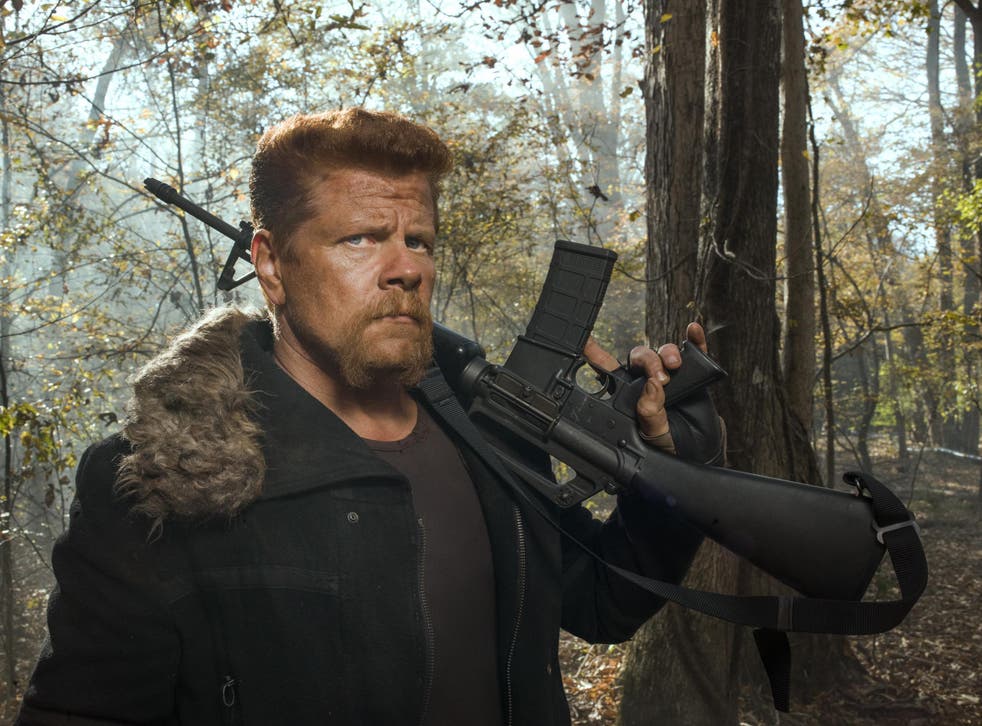 Michael Cudlitz joined the cast of The Walking Dead during the latter stages of its fourth season and has since steered his character of Sgt. Abraham Ford into the hearts of viewers.
The last time we saw the character - who in season 6 evaded the death he meets in Robert Kirkman's graphic novel counterpart - he was on his knees at the mercy of Negan (Jeffrey Dean Morgan), the new baseball bat-swinging antagonist who bludgeons one character to death.
We spoke with Cudlitz and producer Gale Ann Hurd - about that agonising cliffhanger, future spin-offs and what Jeffrey Dean Morgan will bring to the show.
The Walking Dead season 7 trailer
What's it been like being part of one of the most discussed cliffhangers in recent memory?
Gale Ann Hurd: All I know in my day it was "Who killed JR?".
Michael Cudlitz: It's been amazing. The whole experience thus far has been amazing.
Have you been continually prodded by your family and friends to find out who Negan killed?
MC: Not really. I believe that people who are truly fans of the show don't really want to know. People like to [ask] because they like joking but really would be devastated if they had the answer and not because of who it was but because they have the answer. I think people want to see it in real time.
What was it like filming that climactic scene?
MC: It was intense, yeah. It was one of the situations where the entire group was there going through an extremely emotional event together. Everyone was in the scene - it was a shared experience. We were literally on our knees for eight hours. and at that time of year in Georgia, it's very cold at night.
GAH: That's what people don't realise; they think of Georgia as being warm. It hit below zero celsius.
MC: You can see the breath. The breath doesn't lie. It's not added, that was all real.
GAH: And they're not wearing heavy anoraks or anything, and the ground's frozen.
MC: And where possible I'm not actually wearing pants.
Generally speaking, what do you think the addition of Jeffrey Dean Morgan will bring to the show?
MC: Generally speaking, one more fantastic actor.
GAH: I could not imagine a better actor to bring Negan to life; he has that quality that makes the character a game-changer which is that you love to hate him - you want to watch him in spite of yourself because he's got so much charisma. He's larger than life. We're very very lucky because Jeffrey Dean Morgan is fun, enthusiastic and fit right in - which is difficult when you think that a lot of these actors have been together for six years. He was immediately a part of the family.
The Walking Dead season 7 character posters

Show all 11
Gale, Fear the Walking Dead is currently airing its second season. Is there a possibility of more spin-offs in the future?
GAH: You know at this point there's only so much bandwidth. I'm never going to say never but at this point obviously we have the challenge on Fear the Walking Dead where we're filming in Mexico so we've added another country to our quiver. It's wonderful to examine what the zombie apocalypse is like in a different culture.
Access unlimited streaming of movies and TV shows with Amazon Prime Video Sign up now for a 30-day free trial
Sign up
What surprised you most about Abraham this season?
MC: I think it's that he didn't have the answers. He was truly confused. I think the audience got to see him through this confusion of his love life, of all the unlikely characters to be experiencing this love crisis. I think we very much got in touch with his humanity and what it meant to not just live day to day but what it meant to desire a future for himself. He got very much outside of what his usual parameters are, and his usual parameters are taking care of the people - he's usually serving. But to actually see someone experiencing what it's like to actually fall in love and to potentially - hopefully -- have a future with someone for me was kind of awesome to see. We literally see him at a loss for words.
How's the Abraham goatee changed your life?
It's made me much more recognisable on the street. It's harder to hide. It also means I'm able to enjoy meals hours after I've had them.
The Walking Dead season 7 will air on FOX from 24 October. Season 6 will be available to own on Blu-ray and DVD on 26 September.
Register for free to continue reading
Registration is a free and easy way to support our truly independent journalism
By registering, you will also enjoy limited access to Premium articles, exclusive newsletters, commenting, and virtual events with our leading journalists
Already have an account? sign in
Register for free to continue reading
Registration is a free and easy way to support our truly independent journalism
By registering, you will also enjoy limited access to Premium articles, exclusive newsletters, commenting, and virtual events with our leading journalists
Already have an account? sign in
Join our new commenting forum
Join thought-provoking conversations, follow other Independent readers and see their replies