Pandemic award shows aren't great – but Tina Fey is a great choice to co-host the Golden Globes
With a dry, sardonic wit and a longstanding ability to make the truth funny, the comedy writer turned movie star is the ideal choice to host a socially distanced awards show, says Rachel Brodsky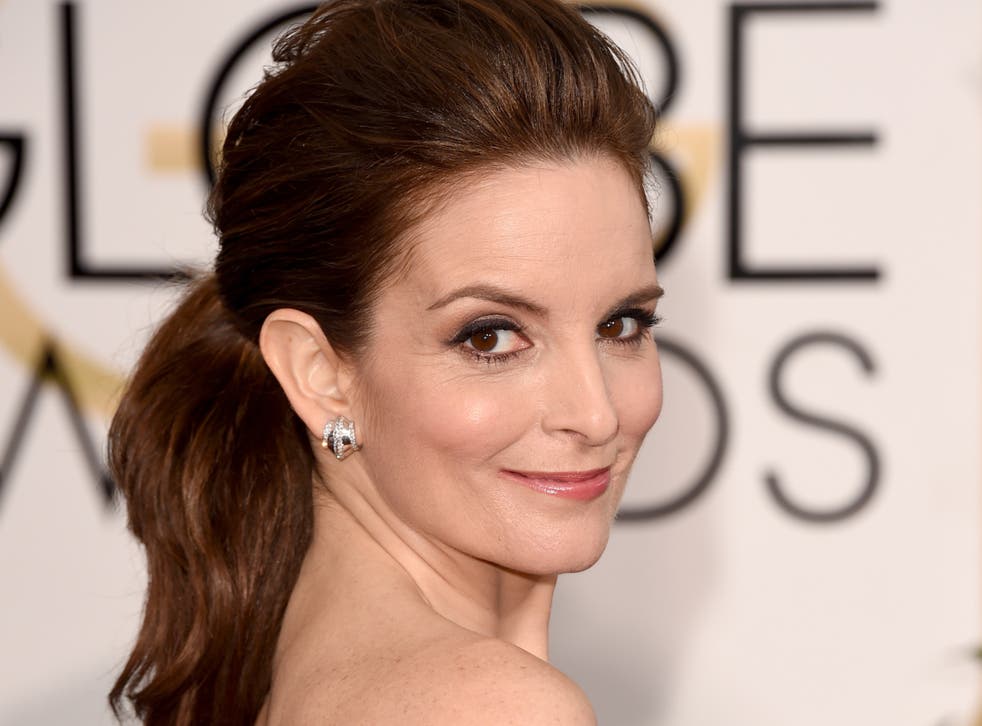 Some comedians like to make themselves the butt of every joke; others more regularly take society to task. For almost 25 years, comedy titan, former Saturday Night Live head writer, Mean Girls creator, and 30 Rock star and showrunner Tina Fey has done both; no one and nothing is safe from her dry, sardonic wit, least of all herself. After all, as the famously self-deprecating Fey noted in a 2013 visit to her alma mater, the University of Virginia, "Only the truth is funny."
That same year, when Fey co-hosted the Golden Globes, the Los Angeles Times aptly observed that Fey "somehow manag[ed] to project both oblivious security and hyper-alert insecurity with the same expression". That's an on-point take – Fey's trademark mix of self-flagellation and shrugging nonchalance is a one-of-a-kind formula that she's been building on since her earliest days as a cerebral geek-chic presence on the "Weekend Update" desk.
Born in the Philadelphia suburb of Upper Darby, Pennsylvania (something she has regularly worked into her comedy, often poking fun at her regional accent on<em>SNL</em> and later as Liz Lemon on 30 Rock), Fey will soon tackle her fourth Golden Globes co-hosting gig alongside longtime friend, frequent collaborator, and former SNL colleague Amy Poehler. Unlike her first run hosting the Globes from 2013 through 2015, however, 2021 will present a new challenge: due to the coronavirus pandemic, the pair will co-host from opposite coasts, with Fey hosting from the Rainbow Room in Manhattan, and Poehler hosting from the ceremony's usual spot at the Beverly Hilton Hotel. 
If anyone can nail this historic, socially distanced hurdle, though, it's Fey: she's part of what E! once dubbed "the gold standard of hosts". Plus it helps that she's made a career out of breaking new television ground, not to mention comedy's glass ceiling. As the first-ever female head writer for Saturday Night Live, Fey, who had previously been a player in Chicago's esteemed improvisational comedy group the Second City, was originally hired as an SNL writer in 1997 but got bumped up to head writer in only two years. 
One might assume that in her lofty new position the now-50-year-old performer would be on top of the world as SNL head writer and "Weekend Update" co-anchor. But, as she has spoken about in the years since, just because she'd been made the boss, that didn't morph the infamous boys' club atmosphere of SNL into a feminist utopia. In 2018, when asked if the female-to-male ratio had improved much after she took over as head writer, she said bluntly, "No, actually it wasn't great. There were only four of us and a lot of women performing on the show had to write for themselves." 
Another time, a fellow cast member, who was later revealed to be Colin Quinn, called Fey a "c**t". "I had the weirdest reaction," she wrote about the experience in her 2011 memoir, Bossypants. "To my surprise, I blurted, "No. You don't get to call me that. My parents love me. I'm not some Adult Child of an Alcoholic that's going to take that s**t." (The pair have since reconciled.) 
Indeed, Fey would go on to base her Emmy Award-winning NBC sitcom 30 Rock on her experience as head writer on SNL. Playing main character Liz Lemon, the head writer of a late-night comedy show, The Girlie Show, Fey satirised her own time as a high-profile TV boss. As Liz Lemon, Fey juggled the hijinks of an overly conservative boss (Alec Baldwin), diva best friend and TGS player (Jane Krakowski), and a brilliant but unpredictable movie star (Tracy Morgan). All the while, Fey leaned into her character's hyperfunctional workism, lack of social skills, and anxious obliviousness to how other see her. In short, she was just playing a version of herself. And not only could female viewers relate, they hoisted Fey and Lemon up as feminist icons of the Obama era. "I have learned that every woman is responsible for being a feminist example," Fey laughed in an interview with TV Guide. "I don't know. I still don't know, but I have had the pleasure of meeting a lot of women who identified with Liz, and that's been great."
Other years, by publicly parodying "the truth", Fey launched herself into new dimensions of fame, most memorably in the eternal meme factory ofMean Girls (2004), where she portrayed high school as she remembered it, then in the underrated Baby Mama (2008), where she plays a single workaholic who is considering hiring a surrogate (Amy Poehler), and even in a rare turn as an impressionist, skewering former Vice Presidential candidate Sarah Palin, for which she won a Primetime Emmy. Fey's likeness to Palin was so succinct, even the former Alaska governor could appreciate it. "I watched with the volume all the way down and I thought it was hilarious... I didn't hear a word she said, but the visual was spot on," she said at the time. Later, Fey would expand her film CV to include roles in Date Night (2010), This is Where I Leave You (2014), Sisters (2015), Whiskey Tango Foxtrot (2016), Wine Country (2019), and most recently, Pixar's Soul (2020).
As a comedian, Fey offers unapologetic commentary around the world as she experiences it (something she has said is directly inspired by Chris Rock's observational comedy technique), and legions of women – both on SNL and off – have followed in her stead. Without Fey, 30 Rock, and Mean Girls, there would arguably be no Bridesmaids, Trainwreck, or Insecure.  
Now, as she heads into yet another awards season, and pandemic-exhausted souls across the US limp toward their television sets for a dose of entertainment as comfort food, it's likely that Fey will handle a Zoom ceremony with as the sort of repartee and insouciance that colours everything she does. "It will never be perfect, but perfect is overrated," as Fey wrote in Bossypants. "Perfect is boring on live TV."
Register for free to continue reading
Registration is a free and easy way to support our truly independent journalism
By registering, you will also enjoy limited access to Premium articles, exclusive newsletters, commenting, and virtual events with our leading journalists
Already have an account? sign in
Register for free to continue reading
Registration is a free and easy way to support our truly independent journalism
By registering, you will also enjoy limited access to Premium articles, exclusive newsletters, commenting, and virtual events with our leading journalists
Already have an account? sign in
Join our new commenting forum
Join thought-provoking conversations, follow other Independent readers and see their replies