Toby Jones interview: Britain's most versatile actor discusses Conrad, Sherlock and Brexit
'I find I'm always observing. There is a side of my personality that is interested in why people do what they do'
Gerard Gilbert
Thursday 14 July 2016 10:25 Comments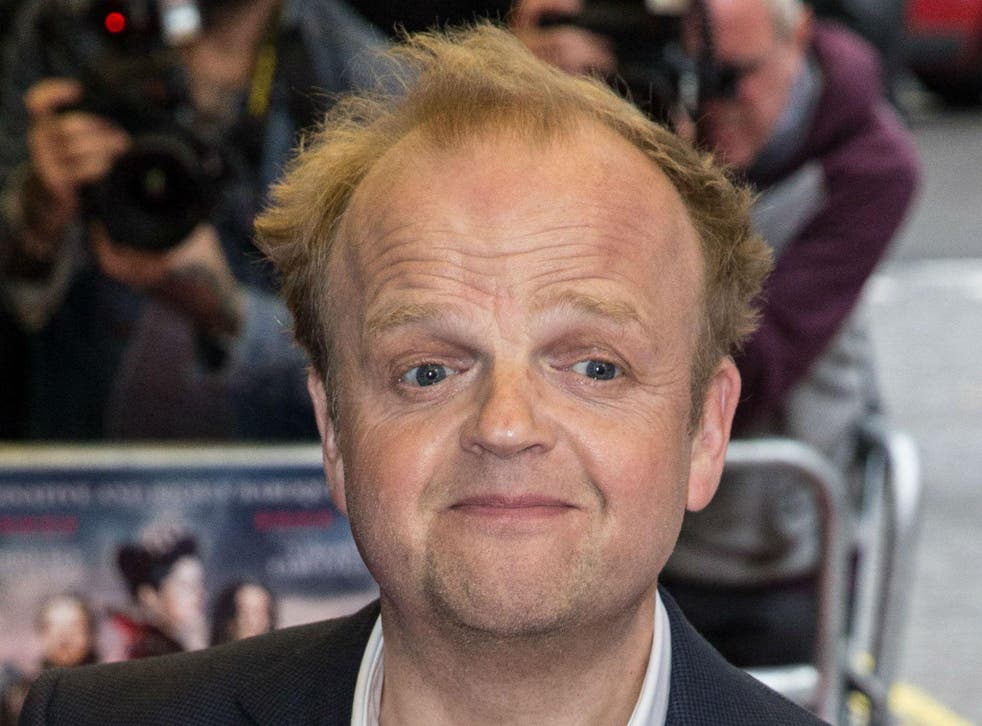 Most actors would give their eye teeth to land a part in Sherlock, such is the kudos of being associated with BBC's world-beating updating of the Arthur Conan Doyle detective stories, not to mention the fabulous lines they get to utter. So how amazing would it to be told that the show's creators had written a major role as the new chief villain – and Sherlock baddies tend to get the best lines – with you specifically in mind?
But then Toby Jones is that sort of inspirational performer. The immensely versatile 50-year-old British thespian's roles have included Alfred Hitchcock (The Girl) and Truman Capote (Infamous) along with Captain Mainwaring in this year's Dad's Army film, while also popping up in blockbusters such as Captain America and The Hunger Games. Mackenzie Crook wrote the role of Lance for him in his Bafta-winning BBC4 comedy Detectorists, and now in the new series of Sherlock, due in New Year 2017, Jones plays the successor to arch fiend Moriarty, Culverton Smith.
"I know Mark Gatiss a bit and he texted me to say, 'we've written this part for you and I think you're going to like it'," says Jones in his usual understated manner. "So I was excited to read it and he's written such a fantastic character, it was kind of un-turn-downable really."
Culverton Smith, an expert in tropical diseases turned poisoner, appears in the Conan Doyle story The Dying Detective, but Jones, who finished filming his scenes with Benedict Cumberbatch and Martin Freeman last month, has signed a confidentiality agreement about disclosing any details of the updating of a story originally written in 1913. He does however offer an opinion on the popularity of the BBC series.
"I know everyone talks about the genius of Mark Gattiss and Steven Moffat, but the updating and the adaptation of the stories is so cleverly and wittily done, and the audience is flattered into understanding", he says. "It's the opposite of being patronised, they're being told that they're clever enough to understand very complicated things and I think the audience loves that. Even if they don't understand, they're being expected to."
Before the updated Sherlock, Jones can be seen in the sort of costume that Holmes and his creator, Conan Doyle, would recognise – in the BBC's adaptation of Joseph Conrad's 1907 classic The Secret Agent, in which Jones takes the title role of the spy-cum-agent provocateur Adolf Verloc.
"I read the book at school but I had forgotten it", says Jones, the son of veteran actor Freddie Jones (most memorable as the sadistic ringmaster Bytes in David Lynch's The Elephant Man, but still going strong at the age of 88 as a regular in Emmerdale).
Verloc is another of the losers that the younger Jones seem to inhabit so well – this one a particularly unpleasant deadbeat who draws his wife's vulnerable younger brother, Stevie, into the plot to blow up the Observatory ("the grooming of Stevie is redolent of the way vulnerable young people are co-opted to go to Syria", says Tony Marchant, whose has adapted Conrad's novel into three hourly episodes). How does Jones manage to engage our sympathies for such a despicable individual?
"Empathetic is really the word", he says. "Trying to put yourself in someone else's position." And it's a philosophy that has served Jones well over the years. His career-changing performance as Truman Capote in Infamous may have been overshadowed by Philip Seymour Hoffman's Oscar-winning turn in Capote, but a lot of people thought that Jones's was the more nuanced. The same goes for Jones's Alfred Hitchcock over Anthony Hopkins's more mannered impersonation of the Psycho director.
Access unlimited streaming of movies and TV shows with Amazon Prime Video Sign up now for a 30-day free trial
Sign up
Infamous changed everything for the then 40-year-old actor, and he has hardly drawn breath since. Apart from The Secret Agent he has several films in the pipeline, including Anthropoid, about the wartime assassination by the Czech resistance of Nazi general Reinhard Heydrich, in which Jones co-stars with Cillian Murphy (Peaky Blinders) and Fifty Shades of Gray's Jamie Dornan.
September sees the release of Morgan, a sci-fi thriller with Kate Mara and Paul Giamatti, "about genetic engineering going terribly terribly wrong and I'm a Faustian figure who sold his soul to the experiment", while he also appears in the directorial debut of his brother, Rupert Jones, in which he plays a middle-aged man in a dysfunctional relationship with his mother. Add to that a Charlize Theron spy thriller, The Coldest City, an adaptation of Jo Nesbo's Scandi-thriller The Snowman, and you have to ask when Jones last had a holiday with his wife (Karen, a barrister) and two daughters, Holly and Madeleine.
"A good question", he says, before remembering. "No, I got away last year with my family. Working is addictive... I find it addictive. My relaxation is my job, and when I'm not working I'm working... I find I'm always observing. There is a side of my personality that is interested in why people do what they do."
Charles McDougall, who directed The Secret Agent, describes Jones as the quietest leading actor he has ever met. "Yes, he told me that too", says Jones. "It doesn't feel like that because I do ask an awful lot of questions, but I tend to do it not on set but in the evening over emails.
"But I'm not someone who likes to hang around on set between takes, I like to go somewhere else. Filming is an unusual environment where the artistic meets the industrial and so in a way you have to guard your own space quite carefully."
Jones doesn't go out of his way to watch any of his performances, except where he has to dub on his dialogue – or what they call in the trade 'ADR'. "I become very distracted by the disappointment of watching myself usually", he says. "There's such a discrepancy between what we think we look like and what we actually look like, and between how we feel about what we do and what we actually do. It rarely looks like what it felt like."
Later this month he's heading to New York to play a right-wing cable TV pundit in a ten-part TV series called Civil, about how a civil war breaks out in America after a closely contested election. It feels topical in the bitter aftermath of Brexit, I suggest.
"Whether you're for Brexit or against Brexit, nobody wants Britain to turn in on itself and it felt very inevitable that that's what's going to happen.", he says. "You can only hope that we're forced into an election – some way people will see that looking outward is the answer.
"When I think of how much of my work happens in the EU. I spend half of my life in Prague and Budapest – and I'm very, very fond of them. Whether I think it's the right decision is neither here nor there – I don't happen to think it's the right decision – it doesn't feel very progressive to turn inwards."
The Secret Agent begins on BBC1 on Sunday July 17 at 9pm
Register for free to continue reading
Registration is a free and easy way to support our truly independent journalism
By registering, you will also enjoy limited access to Premium articles, exclusive newsletters, commenting, and virtual events with our leading journalists
Already have an account? sign in
Join our new commenting forum
Join thought-provoking conversations, follow other Independent readers and see their replies