Interview
Tom Hughes: 'I find the whole class system crazy and outdated'
The star of ITV's hit drama 'Victoria' talks to Charlotte Cripps about his latest incarnation as a daemon in Sky's second season of 'A Discovery of Witches' and how he craves emotional honesty in his roles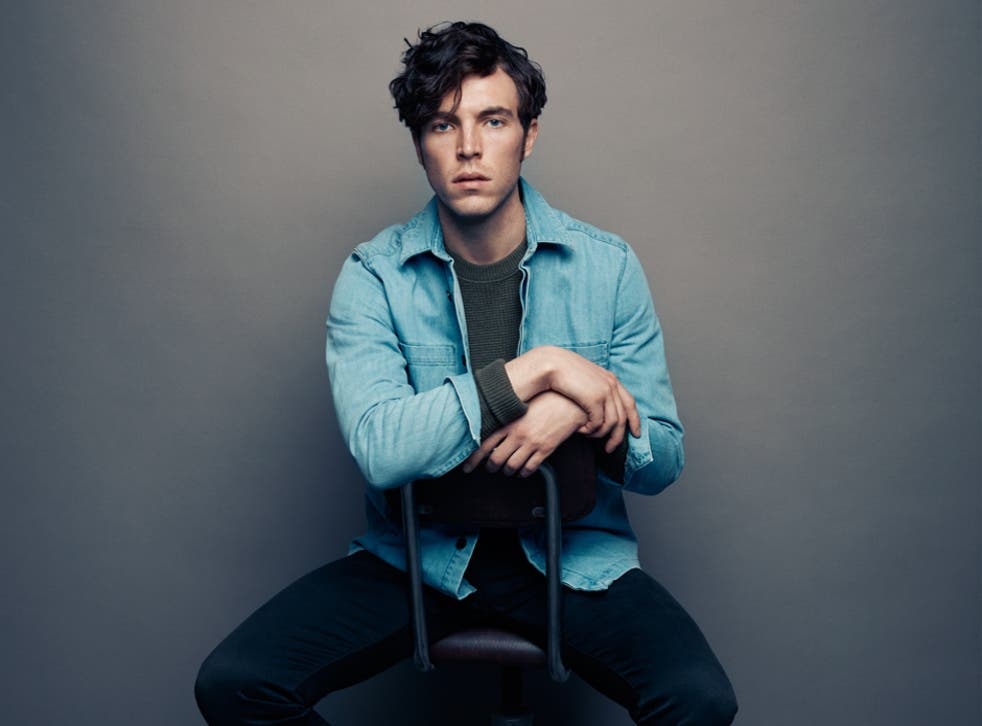 I think I might look different onscreen – some people do, don't they?" says Victoria star Tom Hughes, who played Prince Albert in the ITV hit drama. He's talking about the fact he never gets recognised, which he's chuffed about; he enjoys nothing more than privacy. Even when he dated his co-star Jenna Coleman, who played the young Victoria, and the show rocketed to seven million viewers, he flew under the radar. "People would come up to us and say, 'I love you in Victoria'," he says. "Then ask me, 'Could you take our photo?' They had no idea who I was. I guess the moustache helped with that."  
The 35 year old is talking to me from his house in leafy Islington, with his strong northwest accent and trademark floppy fringe – the last remnants of anything recognisable about the Germanic role. He is showing me his "music dungeon": a room overlooking his garden complete with a drum kit and various guitars, with one hanging on the wall next to a framed Oasis poster. Hughes, whose "first love" was the guitar, used to be in an indie band called Quaintways and remembers lying in bed at night aged five "trying to pull my little finger out of its socket" so he could reach the fifth thread; his hands weren't big enough to have guitar lessons.  
But after he left Rada in 2008, and was cast in his first lead role as the lairy but deeply wounded rebel in the 2010 film Cemetery Junction, acting took over. His latest role is as a daemon in the second series of the fantasy series A Discovery of Witches, which is on Sky One from 8 January. It's not long into the first episode that we meet Hughes's mercurial character – Christopher Marlowe (Kit), the Elizabethan playwright – who speaks in seductive hushed tones from the shadows. His beloved friend, the vampire Matthew Clairmont (played with brilliant iciness by Matthew Goode), whom Kit is in love with, has returned after a few hundred years. Much to Kit's horror, he's with his new wife, an untrained witch called Diana.  
The couple have time-travelled into Elizabethan London from the modern day to find a lost manuscript and to find a witch tutor for Diana, but Kit's jealousy bubbles away until he plots to kill her.
"I guess I made a choice after Victoria to try a new genre, then this thing came along; witches, daemons and vampires," says Hughes, putting an elastic band in his hair to keep his fringe out of his eyes. "I thought it was the perfect opportunity. I have been drawn to roles that have been based on some form of social realism – it doesn't mean to say everything has been Jimmy McGovern stuff – but I wanted to know what it felt like to step into pure escapism. But, equally, the fantastic thing about the part is that Kit is a real person."   
Hughes is a pro at playing complex psychological characters, often brooding, intelligent, and aloof – even dangerous. He was the enigmatic MI5 spy Joe Lambe in BBC's The Game in 2015, and the handsome sociopath James in the BBC thriller Paula in 2017. As the magnetic and debonair Julian Luscombe in the BBC drama Dancing on the Edge in 2013, about a black jazz band in 1930s London, he was a complex mix of emotional damage and privilege. 
Hughes seeks out the troubled roles. He's starring next year as Eric Black, a widower on the verge of a breakdown in the psychological horror movie Shepherd, as well as playing the bisexual war poet Robert Graves in the film The Laureate. But there is nothing dark, unstable, or foreboding about Hughes in real life. 
He is unlike his "emotionally repressed" characters, who he says, "carry a lot of pain". Growing up in Cheshire with his bass player dad, social worker mum, and older brother, he was always encouraged to express his feelings. Back then, Hughes had no interest in watching TV or films – "I preferred to climb trees and listen to Oasis" – and partly credits this lack of viewing with the fact he wasn't shaped by toxic masculinity shown on screen. He was sent to the local comprehensive Upton-by-Chester High School, where his interest in acting was sparked when he was asked to play Dracula in a school play aged 12. It led to him attending local drama groups, as well as the Liverpool Everyman Youth Theatre, before Rada.  
Did he ever feel like an outsider in a public-school-dominated profession? "No, not in my experience," he says, whilst acknowledging it's "not reflective of the general experience". "I didn't turn up at Rada saying, 'I'm a northern lad.' I didn't identify with any class as I find the whole class system crazy and outdated. I never thought I was taking on the north-south divide."
Access unlimited streaming of movies and TV shows with Amazon Prime Video Sign up now for a 30-day free trial
Sign up
He doesn't think there are always equal opportunities though. "Art is so unquantifiable; it's not like athletics where you are the fastest. It's about expression and it needs to be inclusive and representative of all of society. I'm not sure that it always is and the opportunities certainly aren't. If you do leave drama school, you need to earn money; perhaps if you have a safety net behind you it's easier to take the risks."
He mentions the big four public school actors  – presumably Eddie Redmayne, Damien Lewis, Tom Hiddleston and Benedict Cumberbatch – but he won't name them.  "The truth is they are great actors. If you are a good actor, you are a good actor. But it needs to be that the good actors get a chance across the board. The problem is trying to take the blocks away that stop people who are great, who don't get the chance to express that. We don't want to miss out on the next Pete Postlethwaite."  
He's talking about his idol; Postlethwaite was also from Cheshire and is the Oscar-nominated star of In the Name of the Father who inspired Hughes for the depths of emotion he portrays onscreen. Hughes admits to wanting to play more emotionally open roles. "I think there should be more roles across the spectrum that aren't just trapped in certain ideas of gender," he says. "But without a doubt, I'd like to play less emotionally repressed roles."
If he could pick and choose his next role, he says, it would be one that really "shows all the depths and changes of what it is to be a man in the modern world – fully oneself". But acting has its limits. "The world is changing and people are realising everyone feels things and communicating, talking about things and sharing stuff doesn't show weakness," he says. "But if you are playing a character like Albert who lived in the 1800s, you have to be true to the time when that wasn't the case."
Hughes, who came into acting "obsessed by psychology", says the problem with younger characters is that "they are often one-dimensional". "A 22 year old doesn't, generally speaking, have the life experience of somebody who is 35 or 45 and beyond." But, while he is drawn to troubled characters, "the difficulty is that when those experiences have been extreme early on, unfortunately, they are likely to be painful. By proxy, a lot of the characters I play are carrying pain and there is a certain amount of repression just to survive."
While Hughes's next step is to grow into more mature roles with "humility, humanity, and honesty", he's also still experimenting – and not just by playing a daemon. He's branched out into Hollywood, co-starring in Infinite, Paramount's sci-fi drama, directed by Antoine Fuqua and starring Mark Wahlberg. It was due out in August, but has been delayed until May 2021, due to the Covid pandemic. He can't tell me about his character Abel, as the film is shrouded in secrecy.   
But I ask him how he would feel if his film went straight to streaming at the same time as its theatrical premiere, as is happening with Warner Bros who are planning to release major films on HBO Max. "I certainly don't want to live in a world where films are only digested in your own time," he says. "There is nothing like being in a cinema." 
He remembers watching Shame at the Curzon in Soho. "The film finished and no one moved. There was static silence; you could hear a pin drop for five minutes. Then suddenly, people started to clap. The people who created this can't even hear you, but it's an expression of appreciation. Part of being moved by it was the shared experience."
'A Discovery of Witches' is on Sky One from 8 January
Register for free to continue reading
Registration is a free and easy way to support our truly independent journalism
By registering, you will also enjoy limited access to Premium articles, exclusive newsletters, commenting, and virtual events with our leading journalists
Already have an account? sign in
Register for free to continue reading
Registration is a free and easy way to support our truly independent journalism
By registering, you will also enjoy limited access to Premium articles, exclusive newsletters, commenting, and virtual events with our leading journalists
Already have an account? sign in
Join our new commenting forum
Join thought-provoking conversations, follow other Independent readers and see their replies