Transparent, TV preview: Amazon's comedy-drama is the latest gem in the online TV revolution
This show about a gender-transitioning parent and her kids should do for streaming service Amazon Prime what 'Orange is the New Black' did for Netflix
Hugh Montgomery
Friday 19 September 2014 17:42 Comments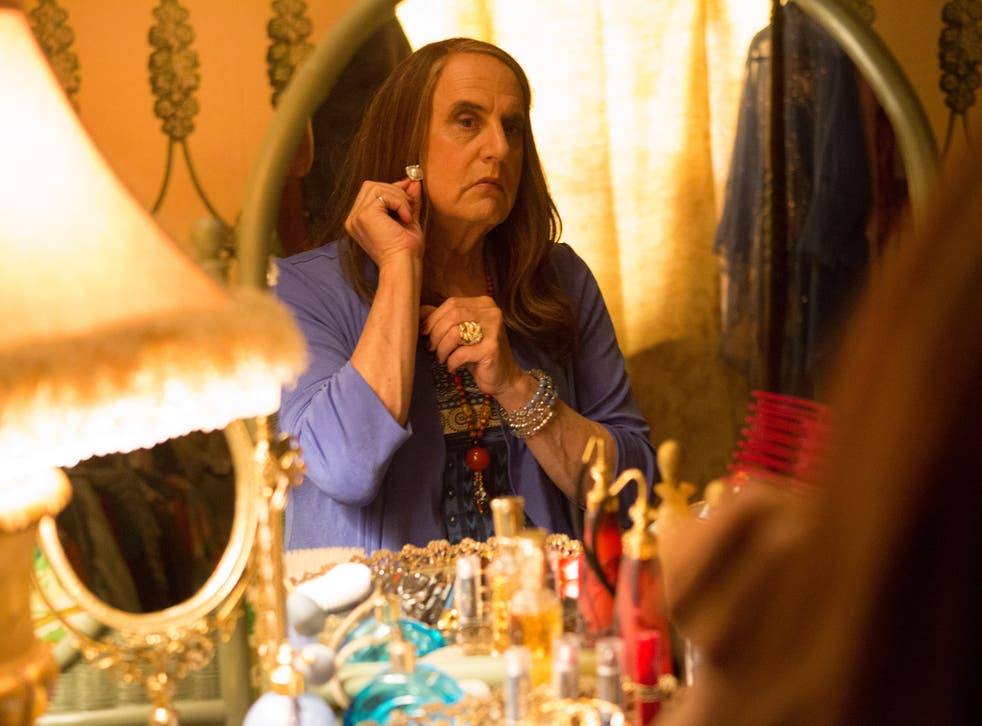 Jeffrey Tambor may have been in the biz for five decades, but he's certainly not jaded: down the phone from LA, the actor best known as Arrested Development's patriarch George Bluth tells me how he and his fellow cast members in new online TV series Transparent are currently "jumping around like high school kids" as they prepare for the show's first press screening.
And the reason for his buoyancy, in particular? The role he calls "the most transformative" of his career: that of Maura, formerly Mort, Pfefferman, a gender-transitioning, 70-year-old parent of three.
It's a transformative role in a transformative show that does for the streaming service Amazon Prime what Orange is the New Black did for Netflix: that's to say, showcase it as a home for pioneering original content. A comedy-drama about a dysfunctional, Jewish LA family, it premiered in February as part of Amazon's pilot season when it was far and away the most acclaimed of the 10 shown. And having seen the first four episodes of the series proper, I can say it's worth a subscription alone, when the whole 10-episode series goes live next Friday.
That's thanks both to its beautifully bittersweet writing and thoroughly organic performances, not only from Tambor but also from the actors playing Maura's three kids, each questioning their own identities: Gaby Hoffmann as wayward, body-image-conscious writer Ali, Jay Duplass as disaffected music producer Josh, and Amy Landecker as bisexually-confused housewife Sarah. Between them, Judith Light, who plays Maura's ex-wife, and creator Jill Soloway, they might have come up with TV's best study of family dynamics since Six Feet Under.
Which, funnily enough, was a show that Soloway, a veteran writer and director, cut her teeth on. Ever since then, she had in mind her own family show, "only a little bit more Jewish and replacing the obsession with death with an obsession with sex". However the idea only really crystallised when, after making her debut feature film, last year's Afternoon Delight, she suddenly felt "really confident of what my tone was. I wanted to take the sensibilities of people like Lena Dunham and Louis CK and Woody Allen, but as opposed to the singular depressed protagonist, let that depression spin among five people." And, she says, "communicate something about how it felt to be in my world", specifically "this is what it means to come from a queer family". Unlike many a writer, she is not shy of referring to the series as autobiographical: she has a lesbian sister, and says Maura was inspired by one of her parents coming out as gender-queer a couple of years ago.
As much as the show is an ensemble piece, it's no surprise that Maura is the talking point and not just because of that punning title: the history of transgender representation on screen is an ignominious one, with transgender characters over the decades largely falling into the categories of, as Soloway notes, "victim or villain". Moreover, this year has been widely recognised as a breakthrough year for trans visibility, thanks in part to another TV show, Orange is the New Black, and its trans star Laverne Cox.
Soloway says that "it's accidental that [Transparent] is part of this zeitgeist moment" but she's clearly thrilled that it can contribute. "We really want the show to be a vehicle for the trans movement that [trans people] feel they can hold up and say 'it's kind of deep and kind of sexy and it's about me.'"
Certainly, the character of Maura feels like progress: neither victim nor villain, but rather the (mostly) calm centre of her turbulent clan. "My opinion is that she's a better parent as a female, because she's her own self," says Tambor. Gender differences aside, he felt an affinity with Maura from the off, though that didn't stop him being "throw-up nervous" during filming, he says: "All the way through I felt [a sense of responsibility] tapping on my shoulder." In enacting Maura's journey, he was helped by three transgender consultants, and "field trips" in character to bars and out shopping. And with Maura in the process of transitioning as she is, Tambor says his creative journey has run parallel to her human one. "The very [discoveries] that Jeffrey has made, Maura has made," he notes.
Nevertheless, the casting of a non-trans male actor risks reinforcing the trans stereotype of a "man in a dress". Soloway is alive to the discussion this has generated. On one hand, she believes there is a validity to Tambor taking on this specific trans role. "Particularly when it comes to later transitioning trans women, in their fifties, sixties and seventies, some of them don't want to take hormones or get surgery… I'm hoping people will see the authenticity between Jeffrey and Maura," she says. But, on the other, she has had "a giant education in the past year", she admits. Getting politicised, particularly after reading trans activist Julia Serano's memoir Whipping Girl, she started to really understand "transphobia, particularly in relation to trans women", and "got why [this] was upsetting to a swathe of the community".
That realisation spurred her to establish what she calls "a transfirmative action program" that ensures there are trans people working across every department. There are 16 trans actors in the first series, encompassing many types of trans experience, and over 50 trans people working on the production as a whole. Meanwhile toilets on set are gender-neutral. As domestic a work as Transparent is, it's clear that both showrunner and show are political to the core. Soloway says she's always driven by "privileging the other", and that principle runs throughout Transparent, from its frank portrayal of female sexuality to its undiluted Jewishness. "I think Jewish people are going to watch it and think: what the heck, how did this get made?" chuckles Soloway. This makes for a show that, like Orange is the New Black, is ushering in a new diverse age of US TV drama, moving things on from the previous obsession with straight, white, male anti-heroes, à la Breaking Bad and Mad Men.
And it's no surprise that both OITNB and Transparent are on online platforms. As Soloway notes, the online TV revolution is as much changing what we get to watch as how we watch – about which she is sincerely glad, after wearying past experiences pitching sitcoms to major networks who said they couldn't make a show without certain prerequisites like a "likeable, rootable" male lead. "I think of all of those [entertainment companies] like Viacom and Time Warner as being owned by 'golf course males' whereas [the online bosses] are the people who go to Burning Man. They have made their money because they are disruptive ... and because the internet touches so many people at once, you don't have to have that critical mass of 'everybody must like it'. This show can find exactly the people who love it, and a place like Amazon can sell exactly to those people."
Tambor relates how someone in his agency recently came up to him and said "By the way, Mr Tambor, this show is a game-changer." One senses, gratifyingly, it is only the beginning.
The whole of Series One of 'Transparent' goes live on Amazon Prime Instant Video on Friday
Register for free to continue reading
Registration is a free and easy way to support our truly independent journalism
By registering, you will also enjoy limited access to Premium articles, exclusive newsletters, commenting, and virtual events with our leading journalists
Already have an account? sign in
Join our new commenting forum
Join thought-provoking conversations, follow other Independent readers and see their replies