Treme: Better than The Wire?
Last night the first episode of David Simon's follow-up to his Baltimore epic premiered on HBO in America. So how does Treme measure up? Sarah Hughes delivers the verdict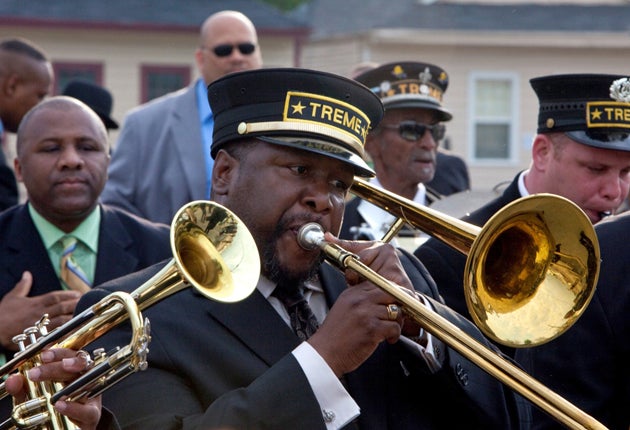 Few writers are as good at creating a wholly believable, fully fleshed out world as economically and with as few concessions to the casual television viewer as David Simon. The creator of The Wire and Generation Kill is an expert at throwing viewers in at the deep end, both linguistically and in terms of plot, and then asking them not just to pay attention but also to keep up.
That desire to keep viewers on their toes hasn't changed with his latest show, the much-anticipated Treme, set in New Orleans in the raw early months after Hurricane Katrina hit the city. From the moment John Boutte's soulful "Treme Song" starts playing and the stark phrase "Three Months After" appears, the viewer is thrust into the predominantly working-class neighbourhood of Treme and the complicated, conflicted characters who inhabit it.
There's Antoine Batiste, the trombone player with a roving eye and a shortage of ready cash; his ex-wife LaDonna, who's trying to find her brother, who has been missing since the storm hit. There's Albert Lambreaux, contractor and Mardi Gras chief who hopes only to rebuild his home and his son Delmond, a young musician intent on moving on and away from New Orleans. And there's Davis McAlary, the boy from the right side of the tracks who thinks he knows everything about Treme and its music, and his sometime girlfriend, Janette Desautel, a chef who just wants her new venture to survive.
This being a David Simon drama there are no obvious heroes – and even those with the best intentions find that good deeds come with a healthy dollop of moral ambiguity. Whether it is Steve Zahn's McAlary, equal parts privileged know-it-all and honest supporter of the city's culture, or Clarke Peters' Lambreaux, a man of few words but occasionally violent actions, no one in Treme is as straight-forward as they seem.
Even John Goodman's furious college professor, who could come across as little more than a mouthpiece for Simon's polemic, telling an ill-informed British reporter that "the flooding of New Orleans was a man-made catastrophe, a federal fuck-up of epic proportions, and decades in the making", gains in stature when you learn that he is based on New Orleans blogger Ashley Morris, whose refusal to go away in the post-Katrina days gave the devastated city a much-needed voice.
That said, those expecting The Wire Part 2 will be disappointed. Where that show aimed to show us how one city, Baltimore, failed and was failed by everyone from politicians to schoolteachers, from the cops who policed the city to the journalists who covered it, Treme has an altogether softer heart.
For rather than a condemnation of a city left to rot from within, Treme is a celebration of a city that, despite everything, survived. Simon and co-creator, Eric Overmyer, clearly love the music of New Orleans and their joy in that music spills over into scene after scene, transforming what could be seen as clichés (a second line parade, aka a "jazz funeral without a corpse", during which a band sways and plays through the city streets) into scenes filled with a reinvigorating sense of joy.
There are some great cameos too – Elvis Costello pops up with Allen Toussaint (with whom he recorded the post-Katrina record The River in Reverse) and Dr John puts in an appearance alongside local music heroes Kermit Ruffins and Troy "Trombone Shorty" Andrews. And alongside those impeccably researched musical scenes, which establish Treme's credentials, come the crucial touches that give the show its soul.
Whether it's Lambreaux donning his Mardi Gras finery and dancing sombrely in the dark, or the look in LaDonna's eyes when she realises that Antoine, for all his easy charm, has failed her (and crucially her children) once again, Treme is a show which is at its best in its smallest moments, those half-hidden glimpses of the reality of its characters' daily lives.
Access unlimited streaming of movies and TV shows with Amazon Prime Video
Sign up now for a 30-day free trial
Sign up
Access unlimited streaming of movies and TV shows with Amazon Prime Video
Sign up now for a 30-day free trial
Sign up
Critical response to the show in the US has largely been positive. The Washington Post called it "nearly flawless... a textbook example of how to launch an ensemble saga"; The New Yorker hailed it as "the bravest show David Simon has ever made" and Salon's Heather Havrilesky concluded that it was so "intimate [a] portrait of this strange, soulful American city that watching it makes you feel as if you're there." But not everyone is completely convinced. There are those who have questioned whether Simon and Overmyer, as relative outsiders (Overmyer owns a second home there, while Simon is a regular visitor to the city), can truly tackle the subject, and, more importantly, whether they should.
Chief among those voices is the novelist Poppy Z Brite, whose impassioned posts post-Katrina served as a rallying call. Brite, who lives in Central City, one of the poorest areas of New Orleans, has been outspoken in her criticisms of Treme, calling the crew "rude, intrusive assholes" and comparing them to "the fashion photographers in Ray Bradbury's Sun and Shadow who invade a poor Mexican town to glom onto the 'picturesque poverty'."
And it's true that there is something uncomfortable about the notion of a television crew recreating New Orleans post-Katrina at a time when the wounds remain raw. Simon has gone some way to addressing that criticism by hiring Tom Piazza, author of the 2005 book Why New Orleans Matters and Lolis Eric Elie, a former columnist at New Orleans' local paper The Times-Picayune and the co-director of the documentary film Faubourg Treme: The Untold Story of Black New Orleans as writers. He's also cast a number of locals in key parts – most notably Phyllis Montana-LeBlanc, whose anger and wit made her the most memorable interviewee in Spike Lee's When the Levees Broke, and who gleefully steels her scenes as Antoine's girlfriend, Desiree.
For all this, Simon remains sanguine about the show's chances, saying recently, "If we fuck up it's our fault, not New Orleans' fault. New Orleans has done nothing other than to deserve a well-made television drama about it."
He and his crew have largely succeeded in that aim. Yes, Treme is a more meandering affair than The Wire but it is also a more intimate, character-driven drama than that show, and more powerfully emotional, too.
For from the first moment, when Wendell Pierce's Antoine Batiste shows us his true feelings not through a traditional character-establishing monologue but via a trombone solo, by turns wistful and celebratory, wild and restrained, you know that, most of the time anyway, this show aims for and hits the right notes.
City slickers: What Baltimore's finest did next
Wendell Pierce:
The sardonic Bunk Moreland from 'The Wire', a native of New Orleans, takes one of the leading roles in 'Treme' as trombonist Antoine Batiste.
Clarke Peters:
The former Lester Freamon joins Pierce in 'Treme', playing Mardi Gras chief, Albert Lambreaux.
Dominic West:
Since his days as roguish detective Jimmy McNulty ended, West has starred in the West End and taken a very different television role as a particularly sullen Oliver Cromwell in 'The Devil's Whore'.
Sonja Sohn:
After playing the conflicted Kima Greggs in 'The Wire', Sohn has stayed in television, taking roles in 'Brothers & Sisters' and 'The Good Wife'.
Michael K Williams:
After a recurring role in 'Law & Order', Williams, aka the scene-stealing Omar Little, will take an equally eye-catching role in HBO's big autumn drama, Martin Scorsese's 'Boardwalk Empire'.
Idris Elba:
Elba followed up his time as the smooth-talking Stringer Bell with a number of films, including 'American Gangster' and 'Obsessed', and will next be seen as the lead in the BBC's six-part thriller 'Luther'. He has also launched a hip-hop career as Big Driis.
Tristan Wilds:
His portrayal of stoic teen Michael won him rave reviews. Wilds was subsequently snapped up for the glossy remake of teen drama '90210'.
Join our commenting forum
Join thought-provoking conversations, follow other Independent readers and see their replies