TV choices: Sandbrook shows how nuclear paranoia spread in time of national prosperity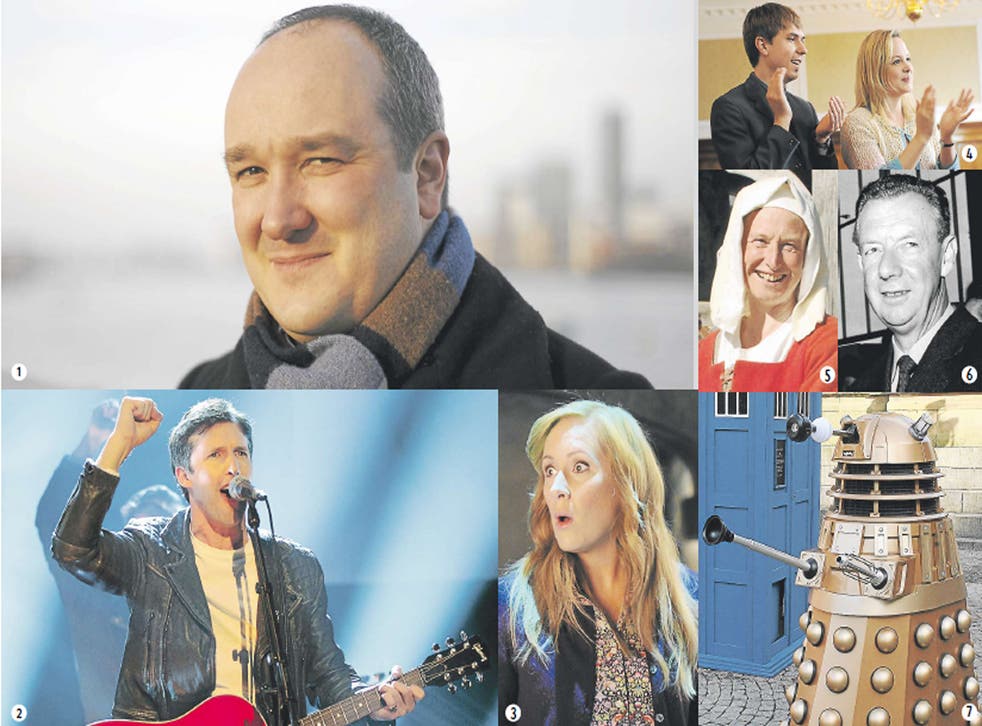 1. Tuesday
Strange Days: Cold War Britain
9pm BBC2
The historian Dominic Sandbrook considers the effects of the Cold War on the national psyche, how growing prosperity – of never having had it so good – went hand in hand with the real possibility of nuclear annihilation.
Starting in the late Forties, when George Orwell and Winston Churchill made unlikely bedfellows warning against the ambitions of the Soviet Union, and continuing with Hewlett Johnson, the so-called "Red Dean of Canterbury", Charlie Chaplin's flight from McCarthyism, and the story of the Cambridge spies, Sandbrook seems to constantly feel the need to re-assure modern viewers that people were once true believers.
"It may seem odd to us now," he says of the Communist sympathies of Johnson, Burgess and MacLean. Perhaps it's odder that it seems odd to us now.
2. Saturday
The Royal British Legion Festival of Remembrance
9.15pm BBC1
When exactly did Remembrance Sunday become Remembrance Week? This gets underway tonight as the Queen and members of her family have the pleasure of James Blunt, Alfie Boe, Katie Melua and various massed military bands.
3. Sunday
Yonderland
6.30pm Sky1
The Horrible Histories team enter Terry Gilliam territory by way of The Muppets, as Martha Howe-Douglas's bored mum Debbie discovers a magical kingdom at the back of her larder. She is the "Chosen Mum" prophesised to save the kingdom from the forces of darkness. The puppetry is by Baker Coogan, long-time collaborators with the Jim Henson Company.
4. Monday
Fresh Meat
10pm, Channel 4
Vod and Kingsley try to dump their respective lovers, Javier and Heather – Kingsley (Joe Thomas, above, with Kimberley Nixon) discovering that "juggling two women is hard... it's all about admin". Line of the week, however, belongs to Zawe Ashton's Vod, who, when Josie explains about her pharmacy course, mutters: "You can study drugs... now they tell me".
5. Wednesday
Tudor Monastery Farm
9pm BBC2
Peter Ginn, Tom Pinfold and Ruth Goodman tackle 16th-century farming methods – ploughing with cattle, growing peas (the Tudors' answer to the yet-to-be-discovered potato; beer was their drinking water) and making sheep-fat candles. But wool was the big earner, and the monasteries the biggest landowners after the king.
6. Thursday
Britten's Endgame
9pm BBC4
Nine years after his award- winning Britten's Children, about Benjamin Britten's relationships with boys, the film-maker John Bridcut examines the composer's creativity in the face of mortality, as he battled ill health to finish his final work, an opera of Thomas Mann's Death in Venice. "Perhaps of all his works," said his long-term collaborator Colin Graham of the obvious affinities of Mann's story with Britten's life, "this one went deepest into his own soul."
7. Friday
Doctor Who: Greatest Monsters and Villains Weekend
7.05pm BBC3
The 10 most popular antagonists as voted for by viewers (surely the Daleks claim the top spot). Part of the Doctor Who 50th-anniversary celebrations, which climax on 23 November.
Register for free to continue reading
Registration is a free and easy way to support our truly independent journalism
By registering, you will also enjoy limited access to Premium articles, exclusive newsletters, commenting, and virtual events with our leading journalists
Already have an account? sign in
Register for free to continue reading
Registration is a free and easy way to support our truly independent journalism
By registering, you will also enjoy limited access to Premium articles, exclusive newsletters, commenting, and virtual events with our leading journalists
Already have an account? sign in
Join our new commenting forum
Join thought-provoking conversations, follow other Independent readers and see their replies