The return of Twin Peaks: After an interregnum of 26 years, will the burden of expectations for the third season be unrealistically high?
The influence of 'Twin Peaks' on TV drama has always been far-reaching. Now it returns to our screens, with many of the cast from the original show, as well as new members, including Trent Reznor, Monica Belluci, Tim Roth and Naomi Watts
Stephen Arnell
Wednesday 15 February 2017 18:33 Comments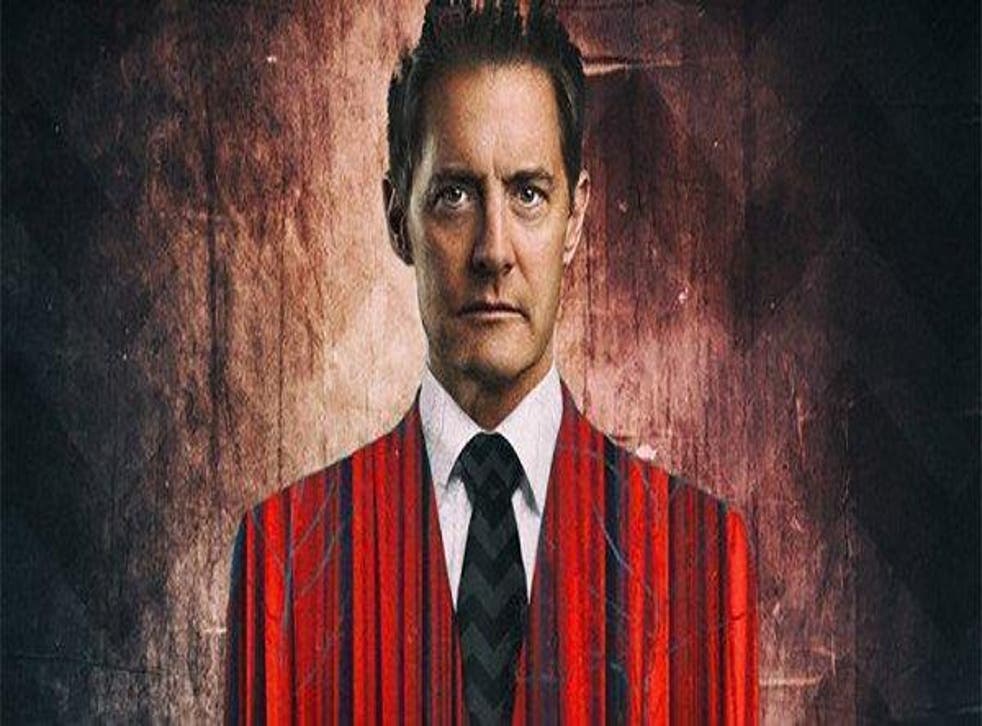 For a show that only ran to two seasons over a quarter of a century ago and was followed by a largely derided prequel movie (Fire Walk With Me, 1992), the influence of Twin Peaks on the world of TV drama has been enormous. This May will see the return of Twin Peaks to our screens on Sky Atlantic, with the eagerly anticipated third season of the show.
Sometimes it's difficult to see what's not been in some way affected by the show – in the UK, everything from Midsomer Murders (ITV) and Broadchurch (ITV) to The League of Gentlemen (BBC2) owe a debt of some kind to David Lynch's unique vision.
In the US, Twin Peaks inspired innumerable TV series, spreading like Martian red weed into some of the most unlikely places.
Dramas such as Lost (ABC), Wayward Pines (Fox), Carnivale (HBO) True Detective (HBO), the US remake of The Killing (amc), Bates Motel (A+E), Hannibal (NBC) and The X-Files (Fox) all have co-opted some Twin Peaks DNA in terms of quirky characters and settings.
But the show's oddball humour and penchant for dream sequences has been evidenced in a host of other not so likely US series, including The Young Pope (HBO) Mad Men (amc), cult teen detective series Veronica Mars (The CW) and Desperate Housewives (ABC).
Back in 2010, USA Network's comedy-drama Psych paid tribute to Twin Peaks with an episode wittily entitled Dual Spires, which saw a pre-season three reunion of sorts, with Sherilyn Fenn, Ray Wise, Sheryl Lee and other cast members gamely taking part in the spoof.
Just last month Netflix UK dropped the first episode of The CW's Riverdale, a series based on the Archie Comics town, part of the same fictional universe as Sabrina the Teenage Witch and Josie & The Pussycats.
In the UK, the Archies are probably best known (at least to readers of a certain age) from the 1969 bubblegum hit "Sugar Sugar".
Don't expect Sabrina-style high-jinks with Riverdale, as despite its antecedents, the show takes a much darker path, evidenced by self-consciously cineaste episode titles, including River's Edge, Touch of Evil and The Last Picture Show.
Access unlimited streaming of movies and TV shows with Amazon Prime Video Sign up now for a 30-day free trial
Sign up
With Eighties/Nineties icons Luke Perry, Robin Givens, Skeet Ulrich, Molly Ringwald and Twin Peaks's own Mädchen Amick (waitress Shelley Johnson in the series) as cast members, Riverdale may be a trifle too knowing for its intended Young Adult audience, which was reflected in the show's soft debut.
And to some minds, the life and career of Nic Cage (star of Lynch's 1990 movie Wild at Heart) has followed a kind of Lynchian trajectory.
With his often bizarre personal life (including a marriage to Elvis's daughter Lisa Marie and naming his son Kal-El) and sometimes almost wilfully ill-chosen film roles (including recently the Christian End of Times flop Left Behind and the unhinged Bin Laden hunting biopic Army of One), Cage has cemented a persona that could quite easily be a character in one of Lynch's creations.
Some credit the problems surrounding the second season of Twin Peaks expanded 22-episode run (up from season one's eight) as one of the reasons that the 13-episode season became the norm for cable and SVoD series, where writers weren't as overstretched compared to the demands of fulfilling a traditional US network order, which sometimes worked to the detriment of the show.
Aside from Twin Peaks, Lynch and co-creator Mark Frost's other forays into TV haven't caught the imagination in the same way.
1992's follow-up On the Air (ABC), a comedy based around a US TV variety show in the 1950s, had some fans, but the network only broadcast three of the seven episodes that had been filmed.
Readers in the UK with long memories may remember the series with some affection, when BBC2 screened all seven episodes the same year.
Hotel Room (HBO, 1993) a three-part series, based in the same hotel room across different years and with different occupants, disappeared without trace, with the concept semi-resurrected a couple of years later in the flop anthology movie Four Rooms.
Lynch experimented with the documentary format on Fox's American Chronicles (1990), but this also failed to find an audience.
With the return of Twin Peaks for its third season after an interregnum of 26 years, will the burden of expectations be unrealistically high?
The road to season three certainly doesn't appear to have been a particularly easy one, with rumours of production troubles ramping up fans eagerness to see what Lynch and Frost have come up with.
Back in 2014 the nine-episode season was announced as continuation of the original show in the present day, with Lynch and Frost having creative control.
Budgetary issues saw Lynch apparently leave the production in April 2015, only to return the next month, with an increased season order of 18 episodes.
The show's debut was consequently pushed from a 2016 debut to 2017.
Unsurprisingly, Lynch and Showtime are playing their cards close to their collective chest, with little details revealed about season three.
What we do know is that many – if not all – of the cast members from the original show will appear in 2017's run.
These include Kyle MacLachlan (Dale Cooper), Sherilyn Fenn (Audrey Cooper) David Duchovny (Agent Denise Bryson), Ray Wise (Leland Palmer), Harry Dean Stanton (Carl Rodd), Everett McGill (Ed Hurley) and Sheryl Lee as Laura Palmer and Maddy Ferguson.
And Lynch himself will of course again be playing FBI regional bureau chief Gordon Cole.
Both Miguel Ferrer (Albert Rosenfield) and Catherine E Coulson (The Log Lady) have died since filming their scenes for the series.
Some notable residents of Twin Peaks such as Michael Ontkean (Sheriff Harry S Truman), Lara Flynn Boyle (Donna Hayward) and Michael J Anderson (the backwards Man from Another Place) won't be returning, but new cast members present an embarrassment of riches.
These include Monica Belluci, Michael Cera, Richard Chamberlain, Laura Dern, Ashley Judd, Jennifer Jason Leigh, Tim Roth, Naomi Watts and Tom Sizemore.
Quirkier casting for season three boasts musicians Trent Reznor and Eddie Vedder, as well as genre/cult favourites such as Meg Foster (He-Man & The Masters of the Universe), Don Murray (Conquest of the Planet of the Apes), Ernie Hudson (Ghostbusters) and Candy Clark (The Man Who Fell To Earth).
We're told not to expect a 'traditional' roll out pattern of one episode a week, and that some shows may be longer than others, which I guess all adds to the intrigue.
To recall the apposite refrain from Robert Frost's "Stopping by Woods on a Snowy Evening": "The woods are lovely, dark and deep." Never more so than in the strange and disturbing world of Lynch & Frost's Twin Peaks.
Twin Peaks will be broadcast at 2am Monday 22 May on Sky Atlantic and then repeat at 9pm the same day. The first and second series are available to watch on Sky Box Sets and NOW TV
Register for free to continue reading
Registration is a free and easy way to support our truly independent journalism
By registering, you will also enjoy limited access to Premium articles, exclusive newsletters, commenting, and virtual events with our leading journalists
Already have an account? sign in
Join our new commenting forum
Join thought-provoking conversations, follow other Independent readers and see their replies