Wallander: Swede dreams are made of this
Sir Kenneth Branagh is back as the brooding Wallander in Henning Mankell's mysteries. Gerard Gilbert meets both Britain's newest actor-knight and the Scandinavian bestselling author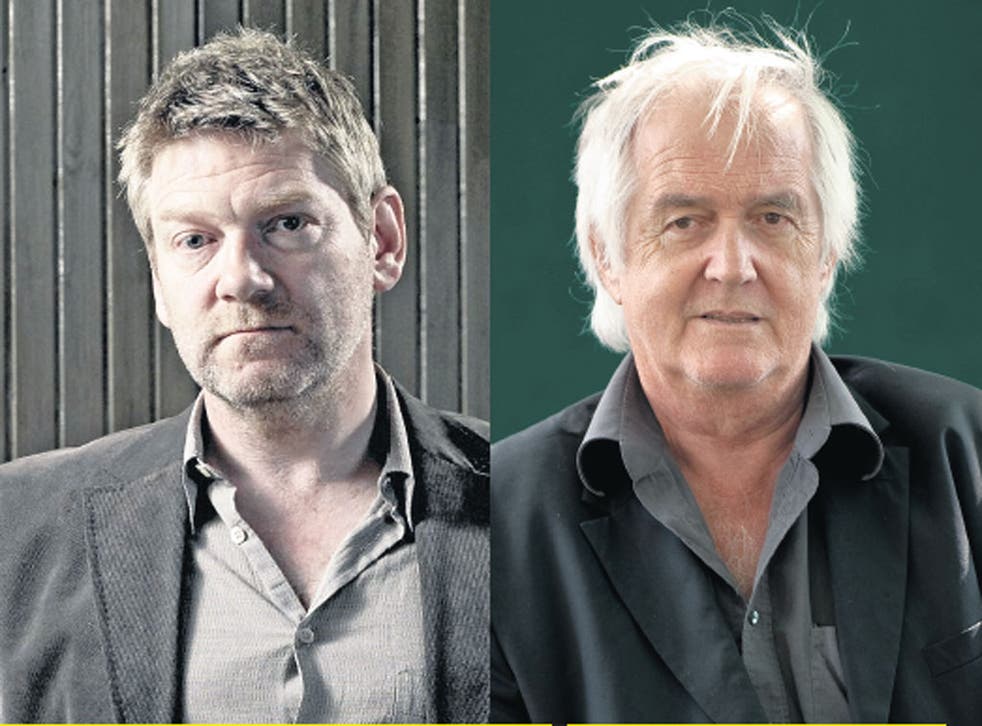 "No, I don't. I want to be called Ken." Sir Kenneth Branagh replies with some alacrity to the question of whether the newly minted knight wishes to be addressed as Sir Ken.
It's only a few days after the news that he is to join the illustrious cast of actor-knights – the likes of Sir Sean Connery, Sir Michael Caine, Sir Ben Kingsley and, of course (because the comparison has so often been made – not least, through emulation, by Branagh himself), the late Sir Laurence Olivier.
The impact of the honour is only just beginning to sink in. "The fact that it's out in the big wide world actually did make something [feel real] that felt quite surreal up to the last minute," he says. "The invitation comes in a great big Cabinet Office-stamped envelope, which makes you quite concerned." This was six weeks ago, he adds. "You have to keep schtum. They definitively say that 'you won't hear from us again until the morning that it's announced', so you do wonder if your letter of acceptance did get there..." Anyway, the news is out, and the response has been "lovely... from people I haven't seen for a trillion years... old school friends, people from all over the world," although it does make you wonder what Kurt Wallander, the dour, dyspeptic middle-aged Swedish detective hero of BBC1's Wallander, a character who has done so much to re-establish Branagh's profile with British television audiences, would make of the title.
"The Swedes of course have their own royal family," says Branagh, "Henning ribbed me about it, which I guess is what's going to happen for the rest of my days. All of that's fair game as far as I'm concerned."
Henning is Henning Mankell, the 64-year-old Swedish author of the phenomenally successful Wallander novels, and who has also been in the UK this week to help promote the new series of fresh BBC adaptations of his books. The attitude of the socially and politically active Mankell – an outspoken critic of the state of Israel and a radical of the 1968 vintage – is that if honours are to be dished out, then it's better that they go to someone like Branagh.
"Because he's a very decent guy... he doesn't come from the upper classes," says Mankell, referring to Branagh's roots in Protestant working-class Belfast (the actor's father, a plumber and joiner, moved the family to England when Branagh was aged nine, in order to escape the Troubles). "I can put it in a different way," continues Mankell. "It's no secret that I have earned a lot of money, but it's better that I have the money because I give it away."
Indeed, more than 30 million copies of the 10 Wallander novels have been sold worldwide since the author began writing about his fictional police inspector from Ystad in southern Sweden – Mankell donating much of his profits to various Aids charities and to projects in Africa, especially a cherished theatre, Teatro Avenido, in Maputo, the capital of Mozambique. The novels have already been filmed twice over in Sweden, first as movies starring Rolf Lassgard as the irascible detective, and then for Swedish TV, with Krister Henriksson in the title role. But it is Branagh's performance that has impressed Mankell the most – leading him to compare the BBC1 productions to Ancient Greek drama.
"I would say Kenneth and the team have purified the stories, that they have taken away everything that is unnecessary, including unnecessary dialogue. They work on silence, on the man in the landscape," he says, adding that while John le Carré (a role model for Mankell) was put off writing any more George Smiley novels because he felt his spy-chief character had been so totally taken over by Alec Guinness, Branagh's performance could inspire him to write some more. Not that he's going to.
"No, no more – I have so many other things to write", he says. Although he admits that if he ever felt tempted to revisit his old fictional beat in Ystad, he always has Linda Wallander up his sleeve. "I always have the daughter, who is also a police officer," he says. "So we'll see what happens in the future."
Access unlimited streaming of movies and TV shows with Amazon Prime Video Sign up now for a 30-day free trial
Sign up
The son of a judge, he was raised in a flat above a courtroom. His mother left his father when he was just two years old. Mankell claims to have asked each of his four wives whether they could spot the motherless child within him, and each apparently replied that they could not. His fourth wife is the daughter of Ingmar Bergman, and the legendary film director was apparently an avid Wallander reader. And it was at a Bergman film festival that Mankell first encountered Branagh, and the actor first asked to play Wallander.
The BBC Wallanders are shown at prime-time on Sweden's main channel, SVT1, leading to the odd situation where a Swedish-set drama is shown in Sweden with Swedish subtitles. "It is funny, yeah," says Mankell. "It was quite interesting when Kenneth was having this knighthood, it was written a lot about in the Swedish newspapers. I mean they were a bit proud of what he was doing. But I think it also shows that English audiences can feel at home in Swedish landscapes, because it's not English but it's not strange either. I think it's something very new. The BBC and Kenneth were very brave when they decided to take all the cast and crew over to Sweden.
The three new Wallanders begin with An Event in Autumn, in which young Polish prostitutes are the target of a serial killer, and which opens with the detective finding some sort of contentment with a new home by the sea, and comfort from Vanja Andersson (Saskia Reeves), the ex-lover of one of the murder victims in series two tale The Fifth Woman. He even has a dog – which soon unearths something unsavoury buried beneath the blackcurrant bushes. The two other adaptations in the series are The Dogs of Riga, which was partly filmed in Latvia, and Before the Frost, which centres on Wallander's relationship with his policewoman daughter, Linda (played by Jeany Spark).
Sarah Smart reprises her role as detective Anne-Britt Hoglund, although there is no Tom Hiddleston in the new adventures. "He was off in Avengers Assemble," says Branagh, who directed Hiddleston as Marvel Comics super-villain Loki in the Avengers predecessor Thor. Hiddleston is also playing Henry V – the role that made Branagh's reputation– in the new BBC Shakespeare cycle. "I'd love to work with him again," says the older actor. "We keep up with each other – in fact I'm seeing him tomorrow."
One eye-catching guest star in the new series is Soren Malling, the Danish actor familiar to BBC4 audiences from The Killing and Borgen. "I watched both The Killings, but I haven't got to Borgen yet, or The Bridge," says Branagh. "There's only so much time... I mean it gets very more-ish, doesn't it? Do you do that thing where you do three in a night, or maybe four? But having seen those, and done this, personally I'd be very happy to watch some Carry On movies for a while."
Branagh has been at pains to avoid the home-grown Wallanders. "It would just put me off," he says. "It would be very depressing to see how good the Swedes were. I will watch it, as soon as we do three more of these, which, God willing, we would love to do. And then put it to bed, unless Henning really does write some more." The three final Wallanders that, God (or BBC) willing, Branagh will film are The White Lioness, and a two-part version of Mankell's final Wallander novel, The Troubled Man – "a very dense and brilliant novel".
In the meantime, Britain's newest actor-knight will be busy directing Star Trek actor Chris Pine in the upcoming and so-far unnamed "Jack Ryan Five" project. "It's the Tom Clancey character in a sort of prequel," he explains. "This is the beginning of Jack's CIA career – it takes him from Wall Street, where he's working covertly as an analyst for the CIA, to Moscow."
Two other mooted projects are on what he calls "the side-burner," including a film with (Dame) Judi Dench and (Sir) Anthony Hopkins of Henning Mankell's non-Wallander novel, Italian Shoes ("we couldn't get any of us in the same place at the same time"). He was also due to direct Kate Winslet in an adaptation of the 2008 novel The Guernsey Literary and Potato Peel Pie Society, (the title shortened to Guernsey, "for the Americans") set in the German-occupied wartime Channel Islands. "We were going to go this spring and then we just couldn't get the cast and the budget."
Before I take my leave of Sir Kenneth Branagh, or Ken, one final question: not all those offered honours accept them – the painter LS Lowry holding the official record (under Government papers released under a BBC Freedom of Information request earlier this year) for the number of times he refused a knighthood – did Branagh hesitate?
"No," he replies without hesitation. "When people say that they're humbled by something like this, this is how I experienced it: what happens is that you immediately think about all of the people across your 30-year career that you've worked with... and you know that they would be so made up, as indeed they have been. And that that acknowledgement of that collaborative work, as I see it, comes to very few people. It just seemed the right thing to say, 'thank you very much'."
'Wallander' returns to BBC1 on 8 July
Register for free to continue reading
Registration is a free and easy way to support our truly independent journalism
By registering, you will also enjoy limited access to Premium articles, exclusive newsletters, commenting, and virtual events with our leading journalists
Already have an account? sign in
Register for free to continue reading
Registration is a free and easy way to support our truly independent journalism
By registering, you will also enjoy limited access to Premium articles, exclusive newsletters, commenting, and virtual events with our leading journalists
Already have an account? sign in
Join our new commenting forum
Join thought-provoking conversations, follow other Independent readers and see their replies