How Damon Lindelof steered HBO's TV adaptation of Watchmen to its incredible conclusion
The series culminated in a mind-bending finale that landed the show with improbable success, writes James Poniewozik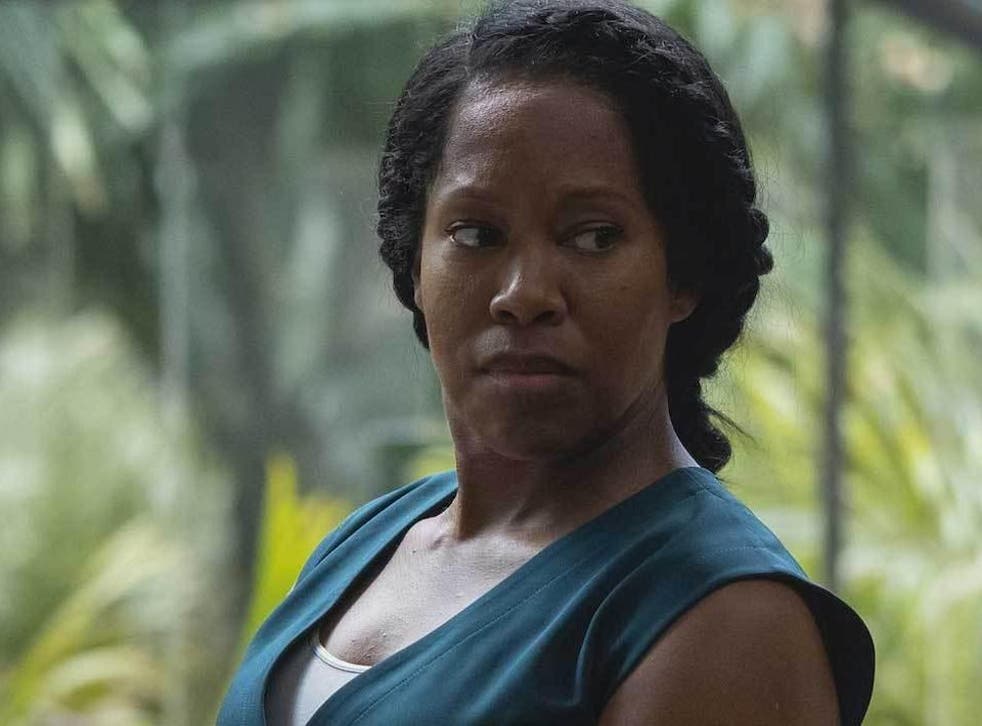 "Now: we have a god to kill."
It is a bold statement that Lady Trieu (Hong Chau) makes in the finale of HBO's Watchmen – boldness being part of the job description for a comic-book mad genius. It is also a kind of mission statement for this daring, breathtaking series, which in one season took American history and pop mythology, dismantled it down to its smallest atoms and reconstructed it in a form that was familiar yet wholly new.
It's hard to overstate how risky, how primed for disaster, was the challenge that the creator, Damon Lindelof, signed up for. First, to adapt a notoriously hard-to-adapt subversive superhero comic. Then to lovingly, impishly subvert that subversion, extending the story backward and forward in time. To do all that while reframing the story as an anti-racist pulp thriller, weighty without being pompous or exploitative. Oh – and could it also be electrifying and playful and fun?
Amazingly it could, culminating in "See How They Fly", a mind-bending, gravity-defying finale that successfully landed this improbable airship.
*Spoilers for Watchmen below*
Like a fine watch or a chicken's egg, the symbols the finale returned to, this season was a marvel of self-contained engineering. It succeeded, first, in craft and performance, with visual invention and memorable work from Chau, Regina King, Jean Smart, Jeremy Irons, Louis Gossett Jr and many others. It set up a domino chain of mysteries that the finale satisfyingly paid off.
But it also created something more: an urgent entertainment that was as unignorable as the pealing of an alarm bell.
The 30 best TV shows of the decade

Show all 30
Alan Moore, creator of the graphic novel, did not endorse this project, any more than he has other adaptations of his work. Yet Lindelof's approach – to honour it by taking it apart and questioning the appeal of masked avengers in the first place – was very much in the spirit of the original.
Reinventing Watchmen by making its subject white supremacy rather than the Cold War – not to mention making its hero Angela Abar (King), an avenging black police-ninja – also meshes with Moore's critique of the superhero genre, as he put it in a 2016 interview.
"Save for a smattering of nonwhite characters (and nonwhite creators)," Moore said, "these books and these iconic characters are still very much white supremacist dreams of the master race. In fact, I think that a good argument can be made for DW Griffith's Birth of a Nation as the first American superhero movie, and the point of origin for all those capes and masks."
Lindelof (who wisely assembled a diverse writers' room for the job) made a form of that argument. Then he complicated it and re-complicated it.
Access unlimited streaming of movies and TV shows with Amazon Prime Video Sign up now for a 30-day free trial
Sign up
One of the first things we see in Watchmen is not Birth of a Nation, but its imagined silent-movie antithesis: Trust in the Law!, the story of black Oklahoma marshal Bass Reeves, playing in a Tulsa cinema that is about to burn in the white-terrorist massacre of 1921.
The boy sitting in that cinema grows up to be Will Reeves (Gossett), who takes the marshal's surname and becomes America's first superhero, Hooded Justice, under cover of a lynching victim's mask. His "origin story", as he calls it in the finale, is horrific. Yet there's also a heartbreaking optimism in the idea that this child would grow up with the trust – or at least furious determination – that the law might win out, even if it took a century.
The history and present of American racism figure directly in Watchmen: the use of nostalgia as a literal drug; the Seventh Kavalry's resentment at being expected to "say sorry" for the "alleged" sins of the past; the circled-thumb-and-finger-to-forehead gesture of the racist secret society Cyclops, which resembles the real-life white-power appropriation of the "OK" symbol.
But Watchmen also asked: what if black people were among the ones wearing the masks? What if a black man – a black policeman – were the first masked hero? Why would he need to shield his identity, even more than Clark Kent? And would the subterfuge work so well that – as we saw on the show-within-a-show American Hero Story – later generations would assume he must have been a white man?
All this played out in the sixth episode, "This Extraordinary Being", which reimagined the origin of Moore's Hooded Justice, astonishingly taking that character's symbols – the hood and the noose – and tying them to the dark history of lynching in such a way that it seemed as if that reading was always there, begging to be revealed.
The Watchmen endgame then one-upped this gambit, remaking perhaps the original comics' most memorable character, Dr Manhattan, revealed here not to be in exile on Mars but living incognito as Angela's husband, Cal (Yahya Abdul-Mateen II).
The image itself, of an African American man as the azure Übermensch – as both black and blue, to quote Fats Waller – was a striking statement, reimagining the universe's one superbeing like an icon out of Afrofuturistic art.
Now the show was asking: what does it mean to give god a black man's face? What if the very people once left out of superhero stories have the greatest claim of all to their themes and ideals? Who has a greater stake in truth, justice and the American way – an exile from Krypton, or the black child who fled a ruined cinema, yet didn't forsake the words of Bass Reeves?
In the end, Watchmen returned to the subject of power: who holds it, who can be trusted with it and what should be done with it.
Superpowers are obviously horrifying in the hands of evildoers; hence the story of the Seventh Kavalry trying to steal Dr Manhattan's power, the show's most conventionally comic-book-villain plot.
But Watchmen is also suspicious of those, like Adrian Veidt and Lady Trieu, who want to use power to impose their idea of good on the world. That opposition – toxic hate and toxic idealism – is paralleled in the background, in the fictional, quasi-autocratic presidencies of Richard Nixon and Robert Redford.
But dispassionate withdrawal, as represented by Dr Manhattan's retreat from the world, is no answer either. "He was a good man," Will says. "But considering what he could do, he could have done more."
Can anybody be trusted with absolute power? Can it ever be employed in a way that won't create new and greater problems? Watchmen doesn't answer these questions. But by ending with the suggestion that Dr Manhattan could transfer his powers to Angela (incubated, like a vaccine, in a raw egg), it offers a suggestion as to who might be the best kind of person to entrust power to.
Maybe, the ending suggests, someone who didn't ask for it. Maybe someone who has watched god and her only love die simultaneously. Maybe a black woman who has swallowed the memories of a century of injustice and persecution and struggle, who has (through an egg and a pill) literally taken into her body both the ultimate power and the ultimate understanding of powerlessness.
We are left to wonder what Angela will do and should do from here. In a quintessentially Lindelof move, the screen cuts to black the instant that Angela's sole touches the surface of her swimming pool, to test whether she can, like Dr Manhattan, walk on water.
It's tempting to call this a "cliffhanger", though I have no reason to believe the show intends to resolve it. You could call it a "tease", but I don't think that's the spirit of it at all.
Instead, Watchmen leaves us at the electric moment of transformation – the precise instant when foot meets water, flesh meets the elemental, mortality meets immortality.
God is dead. Long may she live.
Watchmen is available to watch on NOW TV
© New York Times
Register for free to continue reading
Registration is a free and easy way to support our truly independent journalism
By registering, you will also enjoy limited access to Premium articles, exclusive newsletters, commenting, and virtual events with our leading journalists
Already have an account? sign in
Register for free to continue reading
Registration is a free and easy way to support our truly independent journalism
By registering, you will also enjoy limited access to Premium articles, exclusive newsletters, commenting, and virtual events with our leading journalists
Already have an account? sign in
Join our new commenting forum
Join thought-provoking conversations, follow other Independent readers and see their replies