The Independent's journalism is supported by our readers. When you purchase through links on our site, we may earn commission.
What new Daily Show host Trevor Noah can learn from James Corden's Late, Late success
Noah should dare to be bland, chill out about the accent and remember that 'unfunny' is a relative concept, says Ellen E Jones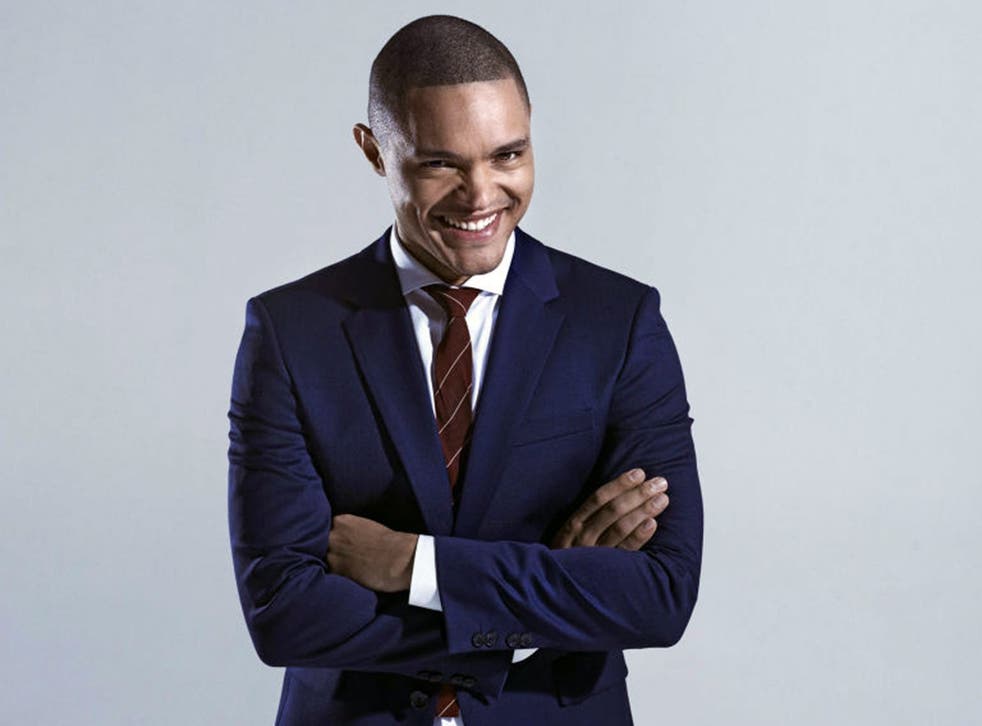 Just who is Trevor Noah? If you didn't know last week, you probably do by now. The 31-year-old South African stand-up and recently announced replacement for Jon Stewart on The Daily Show (Comedy Central) has been the subject of several profiles introducing him to a new audience.
On Monday his promotion was a shining career opportunity, but as the week closes it's looking severely tarnished. Noah's past tweets have been raked through in search of offensive one-liners, his stand up clips analysed for joke originality and his previous Daily Show appearances (all three) deemed "unfunny".
Lucky for Noah, he is not the first out-of-towner to walk a rocky path to US talk show success. Last year Brits and Americans alike were baffled when James Corden was announced as the new host of The Late Late Show. "Sorry, who?" said Americans. "We're terribly sorry, but it's the chubby one out of rubbish sketch show Horne & Corden?" replied the Brits. Now, just a fortnight into his run, and Corden has been enthusiastically embraced by America. So what can Trevor Noah learn from this success?
1. Dare to be bland
Comedy Central has defended Noah's tweeting style by pointing out that pushing boundaries is what comedians do: "he is provocative and spares no one, himself included." However, in future Noah might be wise to model his online persona after Corden, who tweets nothing but positivity, praise and thank-yous to his celebrity mates.
2. Chill out about the accent
Like Corden, Noah speaks with a lilt that's unfamiliar to the American ear. Debate over whether Corden would be understood ended for good last week when guest Mariah Carey cooed over his accent, and even if Noah's accent doesn't go down as well, he's got several alternatives to fall back on. A 2013 appearance on stand-up showcase Live at The Apollo what proved he also does an excellent generic American, Mexican, English and even German, albeit with a specific Hilter-esque inflection.
3. Remember: 'Unfunny' is a relative concept
So you made a few questionable jokes back in 2011 and now no one believes you when you insist your humour has since "evolved". Relax, Noah, it could be worse. At least you didn't star in a truly terrible 2009 film called Lesbian Vampire Killers. Corden must be so relieved that one didn't come up during his visa interview.
What exactly is going on between Paul Hollywood and Mary Berry?
Ever wondered what the relationship of GBBO hosts Paul Hollywood and Mary Berry is like once the ovens have cooled? Are they professional rivals? Or friendly work colleagues? According to Paul Hollywood on this week's Desert Island Discs it goes much deeper than that. He gives her lifts to the airpport and she irons his shirts before shows, but it's their post-show ritual which will really set tongues wagging: "Normally, when we leave the tent, she has a cold Chardonnay," Hollywood told Kirsty Young. "We just sit outside and put the world to rights. Then we have dinner together and then about 9.30pm we disappear up to bed." Not together though, right Paul?…Right??!
Still, whatever Paul and Mary get up to, it can't be any more unsavoury than the off-camera antics of another TV couple. This Morning's Amanda Holden recently confided an ongoing personal struggle to the Daily Star. "I have nipple covers because it's something I have suffered with all my life," she said. "On This Morning I forgot them and Phillip Schofield found them, and we played a game of throwing them at the wall to see how far we could throw them." Still intrigued by the off-screen relationships of presenting duos? Bet you wish you'd never asked.
CATCH UP
Inside No 9, BBCiPlayer
Last week's episode was typically clever, but this week's is unmissably good. Sheridan Smith stars as Christine, an ordinary woman living out her (apparently) ordinary life in flat number 9. Births, deaths and marriages keep us too engaged to wonder where it's all going, until, finally it's too late. You'll be mournfully humming Con te partiro for 12 days to come.
Access unlimited streaming of movies and TV shows with Amazon Prime Video Sign up now for a 30-day free trial
Sign up
The ITV Leaders' Debate, ITV Player
Whatever the party leaders say in this most-debated of debates, people are bound to be talking about it. All we know at the time of writing is that Julie Etchingham will chair and lots drawn to determine podium position have placed Ed Miliband in the middle and David Cameron on the far right fringe. Make of that what you will.
https://www.itv.com/itvplayer/search/term/itv-leaders-debate
Critical, Sky Go
If you're not a big fan of Jed Mercurio's new medical drama — he also wrote Line of Duty, you know — it can only be because you haven't seen it yet. Rectify that by catching this week's exciting episode in which Dr Harry (Fresh Meat's Kimberly Nixon) witnesses a horrifying accident. But why is she hiding her relationship with the patient from the team?
Regeneration Game, vice.com
Vice have promised big things to come from their election coverage and this series of short documentaries on London's social housing problem gets it off to a good start. Daisy-May Hudson, had her own experience of homelessness when her family was evicted in 2013. Now she's setting out to discover if rapid gentrification really means 'regeneration' or 'social cleansing'.
Register for free to continue reading
Registration is a free and easy way to support our truly independent journalism
By registering, you will also enjoy limited access to Premium articles, exclusive newsletters, commenting, and virtual events with our leading journalists
Already have an account? sign in
Register for free to continue reading
Registration is a free and easy way to support our truly independent journalism
By registering, you will also enjoy limited access to Premium articles, exclusive newsletters, commenting, and virtual events with our leading journalists
Already have an account? sign in
Join our new commenting forum
Join thought-provoking conversations, follow other Independent readers and see their replies