When it's time to say goodbye to your hero
Killing off the main character in a hit TV series is risky. But Game of Thrones seems to have survived, says Sarah Hughes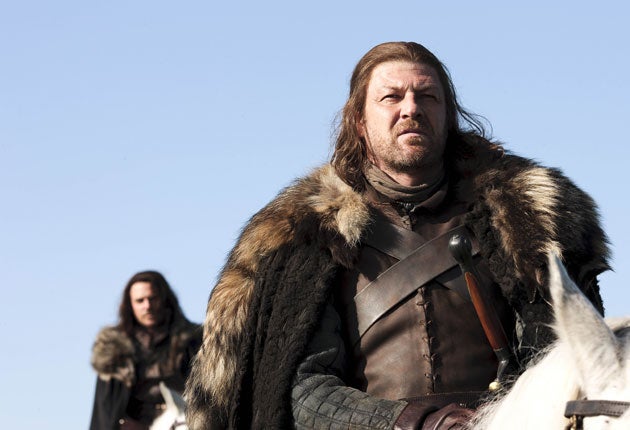 When HBO's fantasy Game of Thrones, which aired on Sky Atlantic in the UK, killed off Sean Bean's character, the upright Eddard Stark, in the penultimate episode the fallout was epic.
It is, after all, an unwritten law of television that you don't kill off your leading man – and Bean's was the biggest name in the cast, the face on all the show's promotional material and arguably the drama's most sympathetic character.
Small wonder then that fans swiftly vented their ire on Twitter and Facebook with many threatening to quit watching in protest. "Most of you who think this is some sort of brilliant move or something don't understand the difference between a book audience and a TV audience. TV audiences need to invest in characters," groused a disillusioned viewer on the Entertainment Weekly website, while a poster at TVOvermind.com moaned: "You killed Ned Stark – you killed the show for me." No controversy is complete these days without a viral video, and footage of a distraught fan shouting, "No, it can't be true, they killed off my man," duly racked up more than 200,000 hits on YouTube.
But, despite the furore, HBO stuck by its decision to make its adaptation of George R R Martin's books a faithful one with Sue Naegle, the cable channel's programming president, telling the press: "Sean brings a giant following but Thrones is not just about the promise you're going to see one of your favourite actors week in and week out. The star is the story."
To understand why Bean's death caused such a kerfuffle, try to imagine a version of The Sopranos in which Tony drops dead in season one or a Mad Men where Don Draper checks out nine episodes in. Indeed when Damon Lindelof and Carlton Cuse told network bosses that they wanted to kill Matthew Fox's character off in the first episode of Lost, they were swiftly shot down (and the luckless pilot of Oceanic Flight 815 died instead).
In the UK, Spooks has proved adept at culling its cast, although original hero Tom Quinn notably survived his lonely walk into the sea, but for the most part when shows kill off beloved characters, they do so further down the line (Omar Little's death in the final season of The Wire, Adriana's bleak end in season five of The Sopranos, Nate Fisher's collapse in the final season of Six Feet Under).
David Benioff and DB Weiss, the show's creators, admitted before it aired that they weren't sure how fans would respond to the twist. "They might hate us," Benioff said. "After all it's Sean Bean we're killing here. But that's one of the things I loved most about the books, the fact that no one is safe and there was no way that we were prepared to compromise regarding George's vision. This isn't a simplistic show and doing the right thing doesn't always work in your favour."
And ultimately that decision proved right as, for all the threats, fans still tuned in for the season finale. In the UK, the show drew Sky Atlantic's highest ratings with nearly a million viewers, while in the US viewing figures topped three million, a 37 per cent increase from the beginning of the season.
US critics talked of Emmy nominations while watchers in the UK were equally effusive with comments ranging from, "I didn't think I would enjoy the episode after [Bean's] death but that was incredible," to posts hailing it as "sensational". Even those frustrated by the finale's unresolved plot points admitted that they were desperate to tune in next season. "I hadn't read the books so was afraid it would be all hype and no substance," wrote one on the Digital Spy forum. "I needn't have worried, can't wait for season two."
Access unlimited streaming of movies and TV shows with Amazon Prime Video
Sign up now for a 30-day free trial
Sign up
Access unlimited streaming of movies and TV shows with Amazon Prime Video
Sign up now for a 30-day free trial
Sign up
Indeed the only question for increasingly addicted viewers is what to do next: turn for answers to Martin's books or endure the long wait for the show's return next spring?
Join our commenting forum
Join thought-provoking conversations, follow other Independent readers and see their replies