The Independent's journalism is supported by our readers. When you purchase through links on our site, we may earn commission.
From Will & Grace to Sex and the City, why do so many TV reboots lead to our favourite ensemble casts hating each other?
As the revival of 'Will & Grace' comes to a close amid allegations of cast feuds and bullying, Adam White asks why so many of our favourite shows seem to implode when they're brought back to life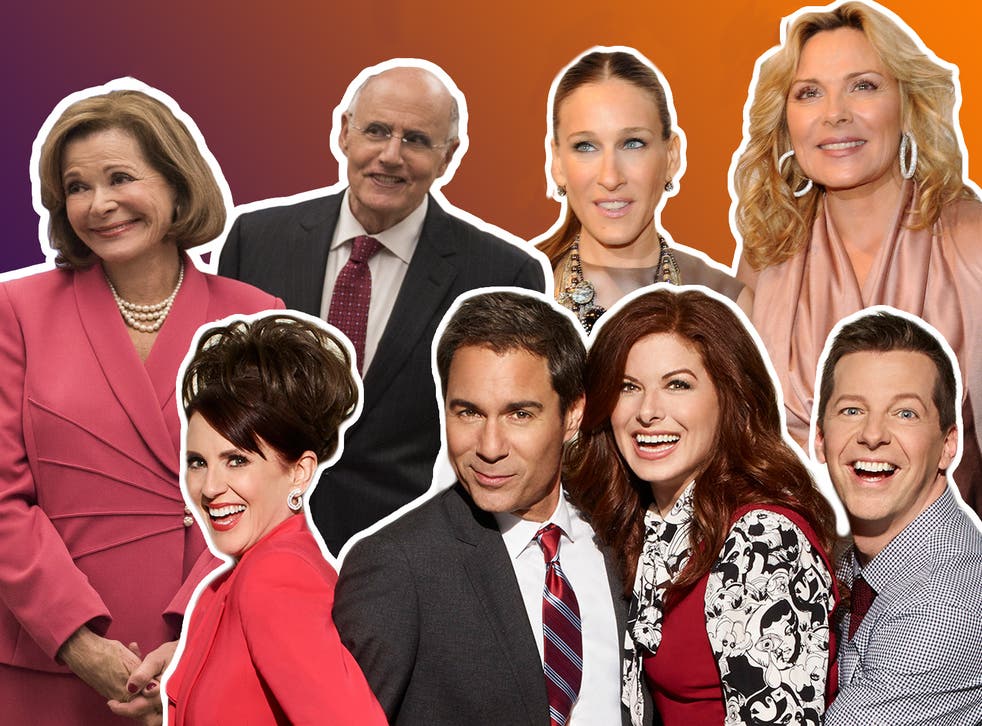 In January, the Willl & Grace actor Megan Mullally, best known for her role as acid-tongued boozehound Karen Walker on the long-running sitcom, alleged that she was being bullied at work. "I've had a recent situation that I can't be specific about," she said on the podcast she presents with her husband, the Parks & Recreation actor Nick Offerman. "I did try to stand up for myself in certain ways, and that made it a thousand times worse. Because the person, the bully – it just lit a fire under that person, where they just tripled their efforts ... This was in a work situation for me ... I'm pretty much on my own in this situation because the bully has recruited many of my allies to their side, so that they're not my allies anymore."
Mullally's claim trailed months of speculation about turmoil on the Will & Grace set. The queer, quippy comedy ran for eight seasons from 1998 until 2006 and earned a legion of fans in the process, before returning for new episodes in 2017. Yet its return has been rife with rumours of friction between the cast. Eagle-eyed devotees spotted that Mullally and co-star Debra Messing had unfollowed one another on Instagram, then later that Mullally had also unfollowed Sean Hayes, who plays her on-screen BFF. The revival was cancelled altogether soon after, while Mullally took a temporary leave of absence in the middle of filming, missing two episodes in total. Last September, Eric McCormack, who plays Will, attempted to pour cold water on the rumours of a rift. "It's crazy," he told Us Weekly. "I think people worried about that entirely too much. The four of us get along like a house on fire, we always have."
There remains a noticeable split, though. Just this week, Mullally skipped a live-streamed roundtable interview that Messing, McCormack and Hayes all attended.
While all of this has been happening, the show itself is still being broadcast, if with far fewer viewers. This week it comes to a close, for the second time in less than 15 years, with a noticeable lack of fanfare. It's also the latest in a run of high-profile TV revivals to witness cast implosions soon after their small-screen returns. For gossip devotees who love nothing more than a feud between television co-stars, it's been delicious. For those that actually liked these shows in their original form, it's been heartbreaking.
Besides David Lynch's acclaimed return to Twin Peaks and Lisa Kudrow resurrecting her cult sad-com The Comeback years after it was abruptly cancelled, the TV revival boom of the past decade has inspired just two outcomes: either a series has been met with strange indifference (The X-Files, Veronica Mars, Prison Break), or it has collapsed from the inside out.
Will & Grace was already an odd choice for a revival. Its premise – about a gay man and a straight woman living together – was groundbreaking for US television in 1998, but it was a queer show that appeared increasingly out-of-step as it went on. By the time it first went off the air in 2006, its politics had progressed far slower than the real world it was emulating. Bringing the show back, its characters having grown little in the meantime, felt especially regressive. The critics agreed. "Sublime moments are few and far between," wrote the AV Club, "with many more misses than hits." "Nobody needs it, and it doesn't have that much to say," declared NPR.
The only character still capable of entertaining with regularity was Mullally's Karen. It's probably for that reason the actor found herself ostracised. Will & Grace's secret weapon from day one, she pulled focus, earned the biggest laughs and was always the least annoying of its central quartet – mainly because she was the only character actually intended to be exhausting. But understanding why there may have been conflict doesn't make the situation any less depressing.
On her podcast, Mullally spoke eloquently and with palpable sadness about the strangeness of being bullied as an adult. "I'm 60 and I'm being bullied right now," she said with a degree of astonishment. She spoke of being deliberately frozen out by the mystery co-worker in question, as well as being ignored and refused eye contact. She claimed the person was attempting to "ruin" her, and confessed that she was "disappointed" in herself as it had happened with the same person before.
She explained: "This whole new thing has come up again with a person that I've had an experience of this with years ago … I've had two experiences with the person who I'm having a thing with. The 'trouble...' It makes me mad at myself."
Access unlimited streaming of movies and TV shows with Amazon Prime Video Sign up now for a 30-day free trial
Sign up
"The bullies that I've known as an adult are people who spend a lot of time trying to paint a picture of themselves as just opposite of that," she continued. "The person that I'm talking about ... they spend a lot of time trying to put forward an image of themselves as a wonderful, caring person who cares the most, [and] cares more about justice on the planet than any other person ever has, and they want everyone to know it. That's interesting, you know? To almost create a persona they reflect out to the public... or to people who they don't know."
It felt jarring to hear Mullally speak about her own feelings of betrayal. Although we're often told, in the Instagram age at least, that we have real intimacy with celebrities, we truthfully know little about them. We don't tend to know of their legitimate hardships, their uglier characteristics or internal dramas. If we do, it tends to be via gossip sites, or carefully orchestrated interview profiles. When a genuine glimpse behind the curtain arrives, particularly when it stems from entertainment we were once in love with, it can't help but hurt.
When Arrested Development returned for the second of two seasons produced years after it was first cancelled, a New York Times roundtable interview between the cast exposed an ugliness at the heart of the show. Discussing misconduct allegations made against series star Jeffrey Tambor, a number of his male co-stars, including Jason Bateman and Tony Hale, defended Tambor's "process" on set. That was despite actor Jessica Walter, who plays Tambor's wife on the series, weeping as she recalled him "verbally harassing" her while working.
"In like almost 60 years of working, I've never had anybody yell at me like that on a set," Walter said, through tears. "I will say," replied Hale, "we can be honest about the fact that – and not to build a thing – we've all had moments." "But not like that, not like that. That was bad," Walter said. To which Hale countered: "Not like that. But I'm saying we've worked together 15 years, there has been other points of anger coming out."
Regardless of the fact that the rebooted Arrested Development was terrible, it was the New York Times interview that placed a dark cloud over the show. Where once the show's ensemble were a collection of the funniest actors on television, they suddenly resembled a group of ignorant middle-aged men happy to prop up toxic behaviour. In the aftermath, it became impossible to separate their characters from the image of them sitting around that table, telling a crying 77-year-old woman to essentially get over her problems. No further episodes were made.
Similar problems beset the revival of family sitcom Roseanne, which inspired cast conflict and alt-right posturing after its star, tornado of volatility Roseanne Barr, was fired for tweeting racist comments. She had previously spun conspiracy theories about the Parkland shooting, the Holocaust and the billionaire George Soros.
Elsewhere, Sarah Jessica Parker and Kim Cattrall's beef went public in 2018, the latter accusing "cruel" Parker of "exploiting" the death of her brother to "restore [her] 'nice girl' persona". If Parker hadn't been so eager to make a third Sex and the City movie, their alleged feuding would have never escaped the early Noughties gossip pages. It's now difficult to not think about it when they share a scene in old episodes.
It's easy to understand why so many once-ubiquitous stars decide to go back to where they came from. The shows that propelled them to fame and most of their early riches exist as existential safety nets, with built-in armies of devotees and the kind of security a new and risky alternative could never provide. Recent memory has proven how often they go awry, though. The familiarity those shows once bred in viewers, only enhanced in years of repeats, means that anything untoward that occurs mid-reboot feels particularly wounding. In tandem with that, the resulting damage often proves even more destructive than it otherwise would have.
The sad part is that it rarely needs to go this way. Will & Grace, having run out of creative steam a couple of seasons into its first run, didn't have to come back. Arrested Development's return made us realise that sometimes an early demise isn't the worst thing to happen to a show. The rebooted X-Files didn't answer all our pressing questions about UFOs. Instead, these once great shows, and many like them, became sullied or weirdly inconsequential.
It should make us particularly wary about the keenly awaited Friends reunion, an unscripted sit-down due to bring back together arguably the most famous ensemble in TV history. Delayed indefinitely because of coronavirus, it would have seen the cast reminiscing about their time on the show. In the wake of the dramatic downfall of Will & Grace, however, they'd be smart to put a stop to it entirely. Just in case.
Register for free to continue reading
Registration is a free and easy way to support our truly independent journalism
By registering, you will also enjoy limited access to Premium articles, exclusive newsletters, commenting, and virtual events with our leading journalists
Already have an account? sign in
Register for free to continue reading
Registration is a free and easy way to support our truly independent journalism
By registering, you will also enjoy limited access to Premium articles, exclusive newsletters, commenting, and virtual events with our leading journalists
Already have an account? sign in
Join our new commenting forum
Join thought-provoking conversations, follow other Independent readers and see their replies