You, Me and the Apocalypse: Rob Lowe makes fun of the end of the world ... in Slough
The one-time Hollywood hellraiser plays a rakish priest in Sky 1's new comedy-drama. He tells Sarah Hughes that the show's typically British mix of 'seriousness and cheek' proved irresistible
Sarah Hughes
Wednesday 09 September 2015 20:47 Comments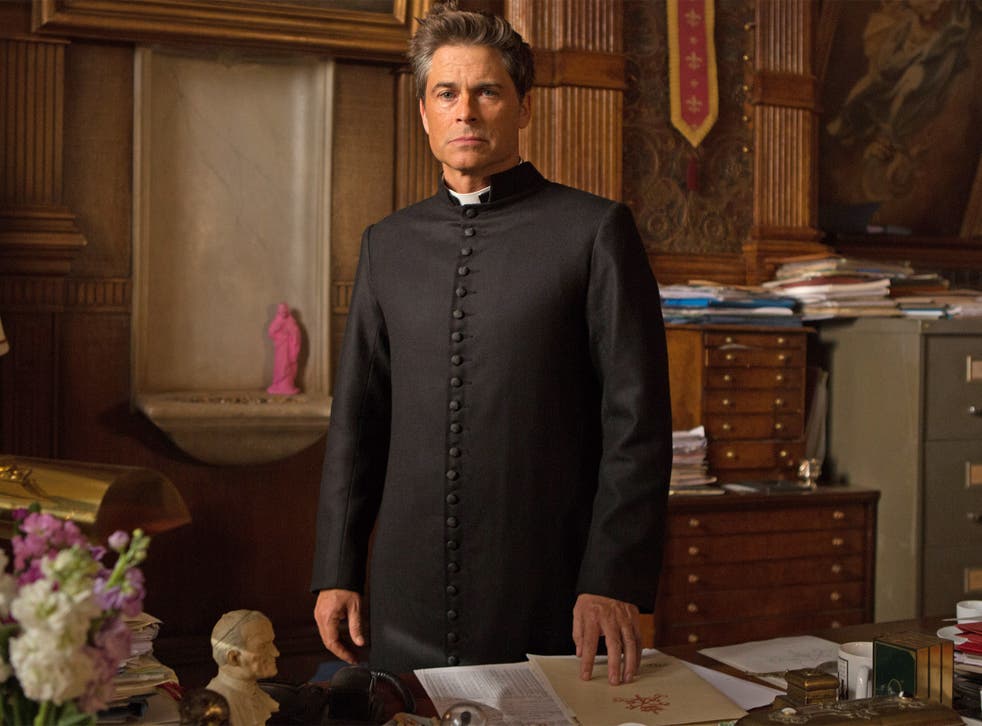 If you had to pick one image that sums up the odd appeal of Sky1's new comedy drama You, Me and the Apocalypse it's that of Hollywood star Rob Lowe wearing a priest's cassock and squashed in a tiny car alongside Pauline Quirke driving through the backstreets of suburban Slough.
"I know, right?" he says when I mention it. "It so eccentric and out-of-the box, but that was a lot of the fun." Had he ever heard of Slough? He laughs. "Listen, I wasn't initially even sure how to pronounce it. My assumption was that if it were in America it would be a place like Toledo [Ohio's fourth-largest city and infamous butt of American jokes], which makes me laugh."
We meet during a break in filming, which today is taking place in the outskirts of the leafy Hertfordshire town of St Albans where an old mansion is rather incongruously standing in for the White House. Lowe is in full priest's regalia for his role as Vatican bad boy Father Jude, and giving off more than a whiff of the Richard Chamberlains as he twinkles those famous blue eyes.
"Look, as a male actor, playing a man of the cloth is one of those boxes you've gotta tick off," he says with a grin when I admire the get-up. "Cowboy done it, president done it, cop done, doctor done it, lawyer done it a lot… now priest. There aren't many pieces of wardrobe I haven't worn."
Film stars turning to TV

Show all 9
Now 51, Lowe has come a long way since his early days as Hollywood heartthrob, carving out a respectable (and scene-stealing) career as a television actor with parts in everything from Parks & Recreation to Behind the Candelabra, but what drew him to You, Me and The Apocalypse, which begins at the end of this month, was its unusual tone. "It's both completely realistic and unbelievably irreverent," he says. "I kind of feel that what's beautiful about it is that there's nothing to compare it too and in a world that's more reductive and lowest common denominator every day that's a big calling card."
Certainly it's clear that Sky1 sees the show, which focuses on the final 34 days before a comet collides with Earth wiping out humankind, as something of a statement of intent spearheading a new commitment to year-round drama. It hired out the Vaults, a vast, subterranean space underneath Waterloo Station, intended to mimic the bunker in Slough where our hapless heroes and heroines surprisingly gather for the world's final hours, for the launch party, and much has been made of the fact that the series will debut in the UK before airing on US network NBC later in the year, a rare honour in a competitive world where British imports are more commonly found on smaller cable channels.
Luckily Iain Hollands' absurdist take on the end of the world can withstand the hype. Not only is the cast one of the most unusual of the year, a clever meld of British and American talent that sees Lowe's rakish priest alongside Quirke as a cheery suburban mum, Will & Grace's Megan Mullally as a crazy prison inmate, Peep Show's Paterson Joseph as an outwardly calm US Army General, Francis from Poldark aka American actor Kyle Soller as the geeky genius who might save the world, Joel Fry as a modern variation on his hapless Plebs character, Italian actress Gaia Scodellaro as a nun with doubts, The US Office's Jenna Fischer as a wrongfully imprisoned librarian and Mathew Baynton as a mild-mannered bank clerk who realises his life's not exactly as it seems. But the show itself is happy to take bold tonal risks, swerving between moments of high drama and laugh-out-loud comedy.
It's a clever and ambitious series in which suburban drudgery co-exists with action adventure, where prison breakouts occur alongside debates about the correct way to prepare breakfast and where all bets are off because we're counting down to the end of the world. It's also a definite departure for Sky, a witty, carefully conceived drama that never takes itself too seriously; a show in which terrible things can seem uproariously funny and the moments that might have made you laugh almost tempt to you to cry.
"It's a really unlikely mixture of serious content and cheek," says Lowe. "I don't actually consider it a comedy although I know a lot of folk do. There are parts that are played for out-and-out comedy but I think it's got more of a David Lynch feel. You know when I saw Blue Velvet for the first time I laughed all the way through even though it isn't a comedy and I feel like this is the same, a sort of naughty, cheeky look at the end of the world."
Access unlimited streaming of movies and TV shows with Amazon Prime Video Sign up now for a 30-day free trial
Sign up
He landed the role of Father Jude "out of the blue" and admits he was drawn to it because "it's so unlike anything I'd ever done. In fact when I first read it, I thought I might be offered the part of Jamie [Baynton's part] because he's got the big voiceover and seems like the lead but then I got to Father Jude and was like, wait a minute, maybe it's this guy and that really piqued my interest, the chance to play the Vatican bad boy because when you see his early life you see that Father Jude was a legit bad boy, not some goody-goody pretending to be bad. He still drinks a lot and smokes a lot and he still has an eye for the ladies [but] he also he ends up being one of the most devout believers on the show even if his faith doesn't really look like anyone else's.
"I found that fascinating because I've been sober for 25 years and I loved to drink. I mean, loved it, it was so much fun until it wasn't but I still know that even if the end of the world was coming I would not have another drink, it just would not be of interest to me. So when Father Jude is tempted to break his vows because he's fallen in love with Sister Celine, that's interesting to me – that whole idea that because it's the end of the world, do you just do what feels good in the moment? That's what's interesting about this story, I feel." He pauses, then laughs. "Plus, hey, I'll admit I just loved his introduction… I'm a sucker for great entrances."
He's not the only one. While Father Jude, a literal devil's advocate in that it's his job to argue the case against canonisation (a position that existed within the Catholic Church until 1983 when Pope John Paul II changed the role), gets many of the best lines in a well-paced opening episode, Lowe faces stiff competition from an almost unrecognisable Mullally as Leanne, a fearsome white supremacist prisoner who attempts to help Fischer's fish-out-of-water Rhonda for her own nefarious reasons and Baynton as bewildered Everyman Jamie, who provides the show with much of its soul, while in later episodes Joseph's controlled Army General and Quirke's not-to-be-messed-with mother come into their own.
"We're definitely not a show with a lead character. It's a true ensemble piece," says Hollands, who previously made E4's Beaver Falls, a quirky take on the US summer camp genre, adding that for him You, Me and the Apocalypse's appeal lies in the way its very British humour undercuts increasingly serious events. "I wanted something that felt really big but that juxtaposed British suburbia with American names, also I just really liked the image of Rob Lowe and Pauline Quirke travelling through Slough in a beaten up VW polo."
The show's original title – the brilliant Apocalypse Slough – has already bitten the dust after it was felt that the joke wouldn't work in the US and watching the first couple of episodes there's no getting away from the fact that, for all the American stars, this is a very British show filled with absurdist sight gags and deflationary moments. The sort of place where the end of the world is as much about awkward social encounters and misplaced jokes as it is about banding together to try and save the humankind.
"It is really absurd humour and situations that are so extreme you can't help but laugh," Baynton says, adding that he saw similarities with The Wrong Mans, his recent show with James Corden, which became a surprise hit on both sides of the Atlantic. "I do think it's quite similar but this is much crazier in that with The Wrong Mans you have two characters thrown into a world where they're out of their depth but in this everyone the world over is in an extreme situation, the stakes are immediately just that high. One of the great things this show has going for it is that absolute juxtaposition – the way that American national character and the tropes of Hollywood drama and action butt up against the tropes of British comedy."
For Lowe the show's very British nature only served to add to its appeal. "Look, that's certainly why I did it," he says. "I do enough things in America and this felt like something really different." He laughs again, crossing his legs and showing off some rather snazzy brightly coloured socks underneath the cassock. "Also nobody knows or cares where anything is made any more – my favourite show is Downton Abbey. I know over here it's a kind of a guilty pleasure but in America it's just a pleasure and I'm nuts about it so I'll take my entertainment wherever it comes from. This show works for me because to me it's the most unique look at the end of the world you'll ever see."
'You, Me and the Apocalypse' begins on Sky1 at 9pm on 30 September
Register for free to continue reading
Registration is a free and easy way to support our truly independent journalism
By registering, you will also enjoy limited access to Premium articles, exclusive newsletters, commenting, and virtual events with our leading journalists
Already have an account? sign in
Join our new commenting forum
Join thought-provoking conversations, follow other Independent readers and see their replies