Interview
Zoey Deutch on The Politician, playing three-dimensional women, and the trouble with Instagram
The 'Set It Up' star talks to Alexandra Pollard about her new Netflix series 'The Politician', using Instagram for validation, and why she talks fast out of fear that she'll sound stupid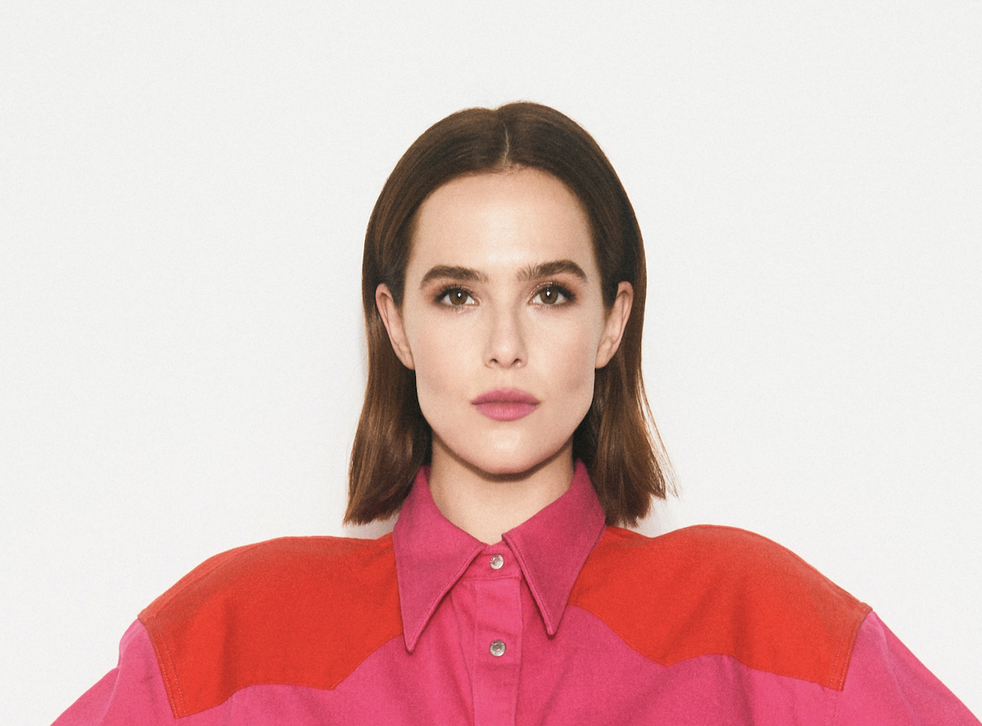 Zoey Deutch is doing her best to speak slowly. "My natural inclination is to talk so f***ing fast, out of fear that what I'm saying is too stupid," says the 24-year-old Californian, cracking her knuckles. "It's something I've been not digging about my personality lately. I don't think that my words hold value enough to be heard… or something?" She glances at my Dictaphone. "If there are any therapists reading, call a girl up."
It's true, the star of Netflix romcom Set It Up and Richard Linklater comedy Everybody Wants Some!! does talk fast. As she leans forward, clapping and flapping her hands on a chaise longue in a London hotel room, words pour out of her. She wonders if it might be younger sibling syndrome: she has an older sister, fellow actor Madelyn Deutch, and their parents are Back to the Future star Lea Thompson and Pretty in Pink director Howard Deutch. Dinner table conversation must have been something to behold. But is it a bad thing if she talks a little fast? "It's OK when you're from the valley and you fit the stereotype of 'oh my god da da da'," she chirrups. "But, you know, it's a good thing to avoid."
Recently, she got first-class training in the art of slowing down from Jessica Lange, her co-star in the new Netflix series The Politician. "I loved watching how much space and time and air and breath she would give herself in scenes," says Deutch (which, by the way, is pronounced "doytch"). "She would just have these delicious, bizarre, amazing pauses. I did my best to take on the role of sponge – just soak it all up."
The latest series from Glee creators Ryan Murphy, Brad Falchuk and Ian Brennan, The Politician is arch satire, campy melodrama and high-school romp rolled into one, with the hyper-real aesthetic of a Wes Anderson movie. It stars Ben Platt as Payton, a ludicrously rich high school student who has "three lesser Picassos" in his family home and is determined to one day be US president. But first, high school president. And to win over his fellow students, he needs a running mate who can provide a much-needed dose of humanity.
Enter Deutch as Infinity, a sweet-natured, sometimes stroppy cancer sufferer who speaks with a childish voice, wears knitted cardigans with crocheted roses, and whose formidable grandmother Dusty (Lange) uses her illness to wangle any free trip she can get her hands on. "I consider Infinity to be a through and through victim of her environment," says Deutch, pulling a jumper over just her forearms. "Somebody who's been infantilised since she was an infant and is lacking awareness as a survival mechanism."
The Politician: Official Trailer
To let her go any further would be to give away the show's many farcical twists and turns. The Politician is bright and lacquered with glossy grading, but it also tackles, head on, subjects as serious as gun control, suicide, voter fraud, sexuality and gender. It's biting but digestible. "Instead of being soap boxy, it's soapy!" says Deutch, momentarily delighted with herself before her grin turns quizzical. "Um. No." She changes tack. "The irony is not lost on me that the show is about a privileged white male, but it does a great job of making sure that all walks of life, all different types of cultures, are seen and heard."
She suddenly yelps. "Is my SHIRT UNDONE?" Quickly refastening a button on her black, flowered jumpsuit, she is more amused than embarrassed. "I'm literally flash… I didn't even button my dress. WELL." Deutch is irrepressibly expressive, every emotion dialled up to 11. When she's enthusiastic about something – usually a piece of work she isn't in – she talks with infectious hyperbole. She waxes lyrical about Eighth Grade ("Loved. Triggering. Urghhh"), A Little Life ("Oh my God, it will DESTROY YOU"), Wonder Woman ("Did NOT expect to be hit that hard by a superhero movie") and Fleabag ("I literally feel giddy talking about it. Phoebe Waller-Bridge is so brilliant. WHY-UH? Jesus"). Many of the things that inspire her most passionate sermons have a complex female protagonist at their heart. In an interview a few months ago, she declared that after two movies in which she played the love interest to a man (she declined to identify the movies), "I don't need to do it ever again".
When I bring up that quote, she grimaces. "Once you say one thing…" she says. "I by no means am complaining about the variety. A lot of times young actresses get pigeon-holed, but I play Infinity, an infantilised girl with the psyche of a little kid, and before that, [in Buffaloed], I played a crazy, money-hungry, hustling, sociopathic girl, then I went immediately after that to playing, in Zombieland, basically an incarnation of Paris Hilton in 2009." Deutch is the new blood in the 2009 zombie comedy's forthcoming sequel, Zombieland: Double Tap, joining returning stars Emma Stone, Abigail Breslin, Jesse Eisenberg and Woody Harrelson.
Hidden gems: The best Netflix originals you might have missed

Show all 20
"The only reason I discussed these two parts," she continues, "which I still have a lot of gratitude for, is that you can't fit a square peg into a round hole. As an actor, you have to serve the story, that's your job, not to do what you think is best for…" She squirms. "I'm hesitant to discuss it, because it makes me sound like I'm complaining about jobs that I loved doing. I don't know how to say it." After a few beats, she declares, hastily even by her standards: "I was saying that it is actually very, very difficult to play a one-dimensional female character in a male-driven comedy. It's actually much easier to play three-dimensional characters."
She may be hesitant to sound churlish, but it's understandable that Deutch would rather play characters who are not only seen in relation to men. On Instagram last month, she posted the words: "She's someone's sister / mother / daughter / wife", with all but "She's someone" crossed out. "I thought it was a very succinct way of describing, exactly, all the things I felt without having the ability to articulate it," she says.
Deutch has an ambivalent relationship with Instagram, where she has just under two million followers. "I'm not so good with words, so I don't vomit all my words out there, but I do take a lot of photos, and I do vomit those out there. It's always transparent with me that whenever I'm feeling particularly s***ty about myself, I post a vain, over-indulgent photo of myself. It's immediate validation from strangers. It's SO disgusting. I feel like garbage, and like clockwork…" She sighs. "But the first step to recovery is like, admitting you have a problem. I think more than anything, what's important is that people stop being so hard on themselves. The way that I talk about myself is not how I would ever talk to somebody I love."
So perhaps she shouldn't chastise herself for seeking validation sometimes? "Maybe it's not so bad." She smiles and lowers her voice. "Stop being so god damn hard on yourself."
The Politician is out on Netflix on Friday
Register for free to continue reading
Registration is a free and easy way to support our truly independent journalism
By registering, you will also enjoy limited access to Premium articles, exclusive newsletters, commenting, and virtual events with our leading journalists
Already have an account? sign in
Register for free to continue reading
Registration is a free and easy way to support our truly independent journalism
By registering, you will also enjoy limited access to Premium articles, exclusive newsletters, commenting, and virtual events with our leading journalists
Already have an account? sign in
Join our new commenting forum
Join thought-provoking conversations, follow other Independent readers and see their replies