Last night's TV review, Grayson Perry: Divided Britain (Channel 4); Broken (BBC1)
The artist defines the new divides in British society more succinctly and graphically than anything I've seen or read from any sociologist, economist, political scientist or, indeed, journalist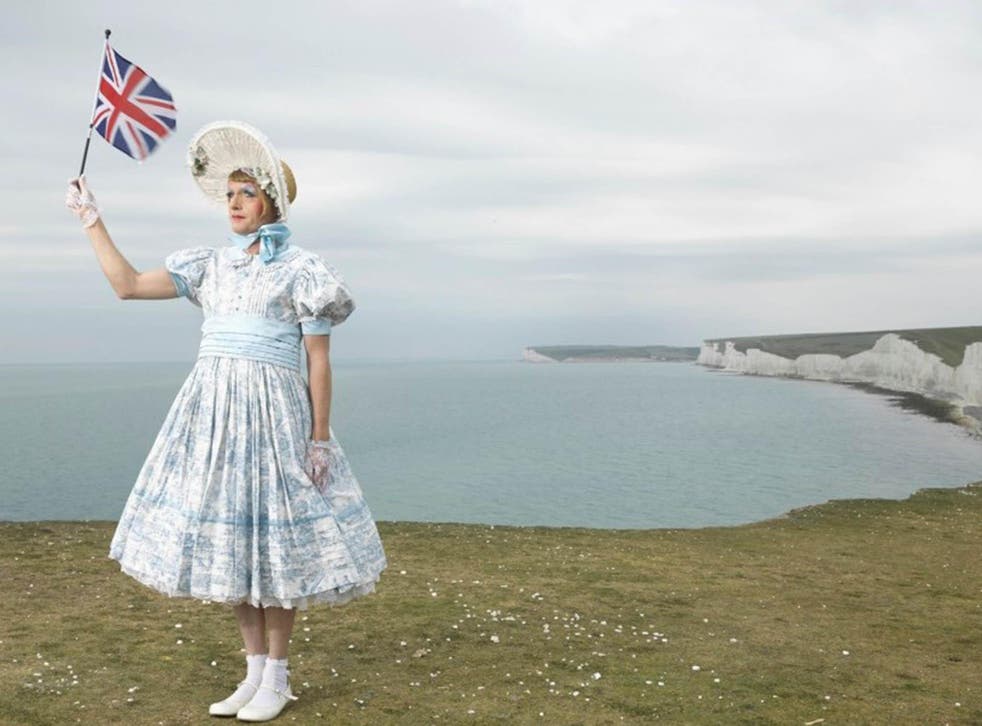 What on earth was Grayson Perry: Divided Britain all about? Like all great works of art, there's no simple answer to an ostensibly straightforward question.
For a start, it was about Perry creating two dirty great vases, big enough, as he put it, to "sit on Britain's mantelpiece". Each was to represent the images, visions and aspirations of each of the two tribes that now make up this divided nation – Brexit Leavers and Remainers. Wittily, the Leavers' pot was to be approximately 4 per cent bigger than the Remainers' one.
In order to find his images and inspiration, Perry took to social media. He asked for members of the two "tribes" to send in photographs. One such appeal was for Leavers and Remainers to show him their body tattoos. Interestingly, the Remainers went in for traditional but not necessarily British designs, including one image classified as "Alien Hawaiian". The Remain voters, on the other hand, were posher, or, as Perry put it, "carried more cultural capital", and were adept at mobilising, ironically or not, all sorts of less-expected motifs in the name of body decoration, such as the Apple logo (groan).
The split between a relatively well-educated group of pro-EU types found mainly in the big cities, and especially north London, against the anti-Eu rest was confirmed during Perry's peregrinations around the country. In Hackney, for example, we discovered phenomena that I, speaking as a pro-Brexit voter still mentally rooted in the East Midlands, found deeply disquieting. I've never been invited, for example, to an Early Morning Sober Rave, where you turn up at 7am in any kind of clownish costume before you going off to freelance your way through another shift in the "gig economy".
The same goes for some sort of moany pregnancy yoga class (moan) taking place in Stoke Newington. They all just looked like annoyingly smug hipster types on another planet. Even so, one of the expectant Stokie mums, whose kid will at least briefly be a citizen of the European Union, showed some degree of self-awareness when she confessed – and that is not too strong a term – that "I had done well out of the system and I didn't see that others weren't, and to me that's a huge sadness and shame".
When Perry pitched up in the place with highest Leave vote – Boston – and wisely opting to leave his Bo Peep outfit at home, he spent an evening meeting random folk in the back of a minicab. Here were people who felt that they had indeed lost out from "the system", and resented the power and wealth of the "rich metropolitan elite" who backed the EU, which meant anyone from those nice earth mothers cross-legged in a tiny yoga attic in trendy north London through to the rich City bankers who live in the big £17m houses not so very far away.
So, in the middle of "the Brexit election", we can see how two tribes are wearing their markings now, literally in the case of their tattoos, but less obviously via culture and language and beliefs and tastes. They divide over Europe, but much else too. I wondered about how this divide over Brexit is different to the traditional divides of class, wealth, income and education. In the old days these differences were much more closely aligned with party politics, but nowadays they seem much more closely aligned, rationally or not, with views about our membership of Europe's vast progressive, albeit also protectionist, economic bloc.
By the end Perry had not only created two gigantic pots, but had defined the new divides in British society more succinctly and graphically than anything I've seen or read from any sociologist, economist, political scientist or, indeed, journalist. As a contribution to understanding what on earth is going on in Britain these days, it's not been bettered. Those vases are very valuable.
Held over after the tragic events in Manchester last week, there is a great deal to be said for the BBC's new drama series Broken. Written and created by Jimmy McGovern, it is sumptuous to watch and Anna Friel and Sean Bean add dramatic star quality, obviously. But, resting as it did on a premise about the role of the church in deprived communities, its social realism is just a little too far away from realism for the right effect. Some might also consider the implicit verdict it delivers on the modern social security system somewhat tendentious, coming as it does during a general election campaign, though there's no overt party politics to be detected. Despite its virtues, then, and rather like the priest Bean plays, Broken is flawed.
Register for free to continue reading
Registration is a free and easy way to support our truly independent journalism
By registering, you will also enjoy limited access to Premium articles, exclusive newsletters, commenting, and virtual events with our leading journalists
Already have an account? sign in
Register for free to continue reading
Registration is a free and easy way to support our truly independent journalism
By registering, you will also enjoy limited access to Premium articles, exclusive newsletters, commenting, and virtual events with our leading journalists
Already have an account? sign in
Join our new commenting forum
Join thought-provoking conversations, follow other Independent readers and see their replies