Jenna Coleman interview: 'I won't be popping up in Doctor Who in the future, but I still have my Tardis key'
The former Doctor Who assistant launches the biggest role of her career as a young Queen Victoria, on a new show on ITV which bears resemblance to Downton Abbey
Gerard Gilbert
Thursday 25 August 2016 11:39 Comments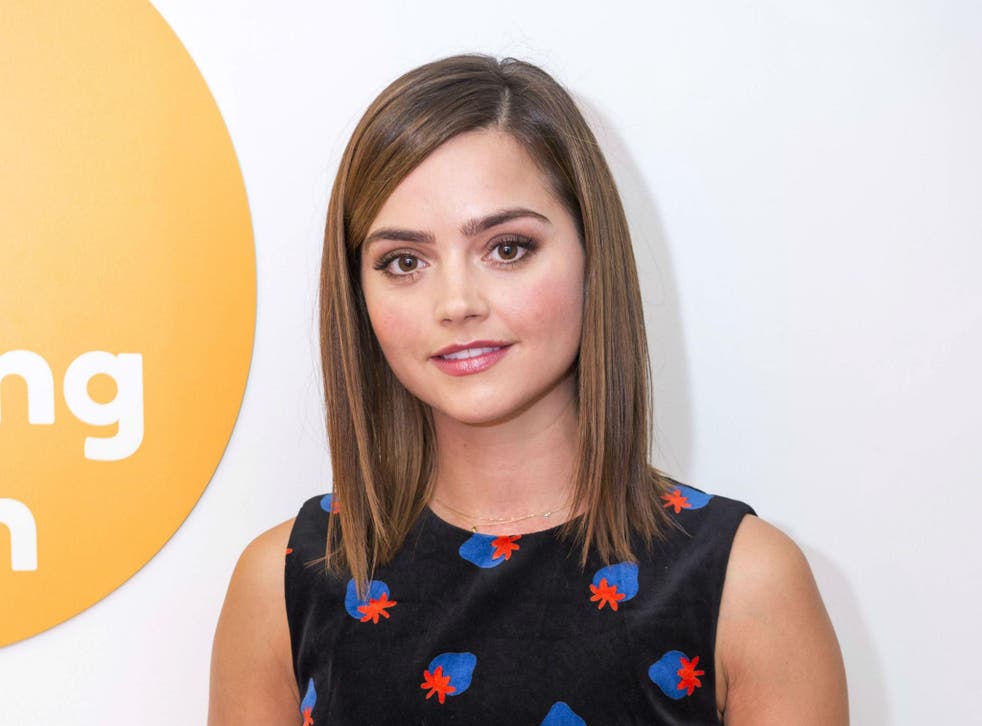 Minutes before my scheduled interview with Jenna Coleman, to promote her role as the young Queen Victoria in ITV's new Sunday-night costume drama 'Victoria' – and in the very room in Kensington Palace where the eponymous monarch was born in 1819 – the 30-year-old actress suddenly feels unwell and has to postpone. It's hardly surprising given the closeness of the hot August afternoon and the unexpected airlessness of the high-ceilinged rooms in the royal residence that Princess Diana felt was "more of a prison than a palace", and that Victoria herself came to hate.
The young queen endured, in her own words, a "rather melancholy", childhood in the Christopher Wren-designed building on the fringes of London's Hyde Park. The ITV drama meets the young queen at the age of 18, as she inherits the crown on the death of her uncle, William IV.
"I've never played anyone real before," says Coleman when we catch up later. "When taking on someone iconic and who really existed, I think you want to be sure you can do it, but ultimately it was impossible to turn down."
The offer arrived just as Coleman was preparing to film her final scenes as Clara Oswald, the Doctor Who companion that she had portrayed for the previous four series. "I was I coming up to filming my last couple of episodes and working out what to do next," says the 30-year-old actress from Blackpool. "It's always kind of strange to be reading other scripts while you're working."
Several of the actresses playing Doctor Who's female companions have sunk back into obscurity after their time in the Tardis, so such a high-profile role as Queen Victoria must have seemed heaven-sent. But that's not how she operates, says Coleman.
"I never quite know what I want to do until I read a script," she says. "Doctor Who takes up, in terms of filming, 10 months a year plus press, for four years, so it was more deciding what I actually wanted to do next – what's attracting me after I've been in a contract for so long. When I left Doctor Who the first thing I said was 'I just don't want to do a series for a while'. And then Damien took me out to lunch..."
'Damien' is executive producer Damien Timmer, MD of Mammoth Screen, the independent production company that also makes Poldark (ironically enough, Victoria, after a free run in its opening week, will go directly up against Poldark on Sunday evenings). "There was only Jenna," says Timmer of his casting shortlist. "She alone has star quality and diminutive power to be queen."
Actually, Coleman, at five feet two, is three inches taller than Queen Victoria, but Timmer is right about her star quality – this is indeed a luminous performance that dominates a big, colourful production that skilfully weaves historical accuracy and Sunday-night melodrama (the writer is Daisy Goodwin, who has been obsessed with the monarch since her days studying history at Cambridge).
Coleman's own research included biographies by AN Wilson and Kate Williams, and Marina Warner's 1979 tome, Queen Victoria's Sketchbook, in which the author explored the monarch's private life through the medium of her drawings and paintings.
Access unlimited streaming of movies and TV shows with Amazon Prime Video Sign up now for a 30-day free trial
Sign up
"The best things for me were the sketch books," says Coleman. "They're the only things that haven't been censored. Her daughter (Princess Beatrice) destroyed some of her journals so we don't have them all – but with her sketches it's her eye direct without any censorship.
"The role has been quite a revelation actually, and I'm quite surprised at how little I knew. A lot of people instinctively say 'you can't play Victoria... she's stern and old and wore black for the rest of her life'. And actually I don't think people are quite aware of how vivid she is and what a lust for life she has."
Victoria came to the throne as an 18-year-old, and not for the first time in her career, Coleman is playing younger than herself. After her four-year stint as teenage lesbian Jasmine Thomas in Emmerdale – a role that would see her kill an attempted rapist and finally be imprisoned for manslaughter – she was cast, aged 23, as 16-year-old Lindsay James in Waterloo Road.
"The costumes in Victoria really helped," says Coleman. "I look like a little girl, especially in episode one, and you see her grow up over the series and become a mother in the end. And I fall in love – unrequited love – and that was fun to do."
The unrequited love is for her first prime minister, Lord Melbourne, played here by Rufus Sewell. Melbourne was a widower – his late wife having been Lady Caroline Lamb, famous for her affair with Lord Byron – and the queen's close relationship with her advisor led to Victoria being nicknamed 'Mrs Melbourne'.
Happily a far more requited relationship was to arrive in the shape of her cousin, Prince Albert of Saxe-Coburg and Gotha, played here by Tom Hughes (The Game). Asked whether her drama would in any way resemble BBC2's raunchy Versailles, and show us the sex life of the monarch, Daisy Goodwin replies: "All I can say is that Victoria and Albert had nine children together and Albert had installed a device at Osborne House (their summer retreat on the Isle of Wight) so that if they wanted to get it on all they had to do was to push a button by the bed and the door would be locked and the children and servants couldn't interrupt them."
In any case, the resemblance isn't so much that between Victoria and Versailles, but between it and Downton Abbey. There is a cast of (fictional) servants in the ITV drama that will feel familiar to audiences of Julian Fellowes's world-beating costume drama.
"It's a household," says Coleman, while playing down the comparison. "It's a piece about Victoria and her inner life and outer life, but also about Victoriana, I suppose. For example we have a chef and you see the invention of hot chocolate, you see photography coming in, you see railways starting to appear, you see all the things that shaped the world as it is now."
The state of Coleman's own love life remains opaque – although if press reports are to be believed about the actress cosying with Prince Harry, it might not be playing out too far from Kensington Palace. Either way, she certainly seems to have split with her long-term, on-off boyfriend, former Game of Thrones star Richard Madden.
Victoria also had a very long reign, one whose 63-year length was only recently surpassed by our own present queen. Would Coleman happily follow the monarch into middle age and beyond? "I'm not entirely sure," she says. "The story is there to be told until she dies, effectively; there's no lack of real substance to follow. But ultimately that depends on the audience and their appetite for it."
She does however preclude any re-appearances Clara Oswald in Doctor Who – for the time being at least. "I've only just left... they're only just filming the next series now," she says. "I feel very proud and happy with what Steven (Moffat) did with my exit and that's not something I would want to unpick just for sake of popping up.
"Besides, he doesn't even remember who she is any more," she laughs, referring to her final episode, Hell Bent, in which the Doctor's memories of Clara are wiped. "So it in terms of storytelling... she'd pop up and he'd go 'who?'. Or he'd probably just walk past her... Anyway, I've still got my Tardis key!"
Coleman has never met her successor as Peter Capaldi's co-star, Pearl Mackie, but wishes her well. "Genuinely not," she replies when I ask her whether there isn't a tiny part of her that is jealous of Mackie for taking over this coveted role. "I started Doctor Who knowing it was only going to last a certain amount of time and I couldn't be happier with what I've had and got from it. It was so wonderful you kind of wish that for the next person."
Victoria begins on ITV tonight at 9pm
Register for free to continue reading
Registration is a free and easy way to support our truly independent journalism
By registering, you will also enjoy limited access to Premium articles, exclusive newsletters, commenting, and virtual events with our leading journalists
Already have an account? sign in
Join our new commenting forum
Join thought-provoking conversations, follow other Independent readers and see their replies