TV preview: The best and worst shows to look out for, from Love Island to Poldark
The Cornish period drama is back with more or less the same winning ingredients as before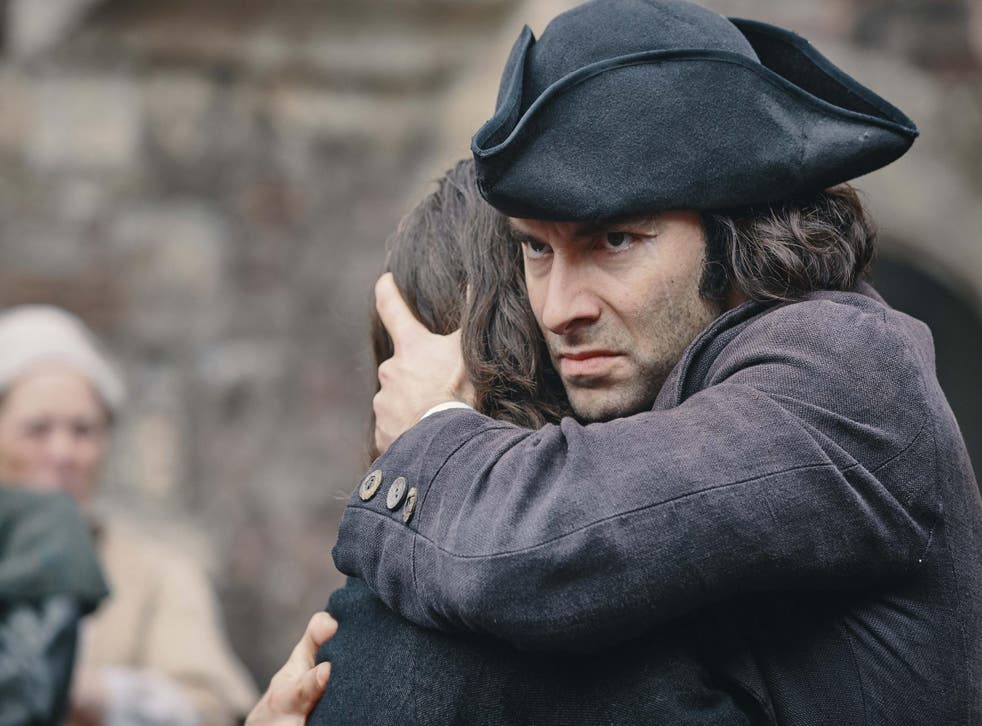 Britain's remaining stocks of tricorn hats, breeches and bodices seem to have been used up in the making of series 4 of Poldark, which is, you'll no doubt be pleased to hear, the recipe much as before. Thus the first scene features a hunky Aidan Turner (Ross Poldark) emerging from the sea to sort Cornwall out good and proper. Eleanor Tomlinson takes on the part of Demelza again, and Jack Farthing is the panto villain George Warleggan. This week, Poldark gets political. The eight-week series starts on BBC1 on Sunday at 9pm.
Thanks (or not) to Winston Graham's prolific output, there are many more novels to dramatise and, no doubt, many episodes more that could be rustled up based on the basic ingredients of sex, treachery and rural poverty to concoct even more tricorny tales.
Love Island I have to mention as it has become such a phenomenon, and because I greatly enjoyed reviewing it. If you've managed t avoid it, probably because it's tucked away on ITV2 and is bewildering to anyone much above the age of 27, it is worth a look. The contestants are uniformly beautiful and handsome, but their conversational skills and mental acuity don't always match their impressive physiques. It is strange to watch such an unreal "reality" show. There is, I should add, a small risk of addiction.
Confronted with the babes of Love Island, you do wonder where feminism went wrong, and some of the answer may be discovered in Saturday night's Germaine Bloody Greer, a brave piece of scheduling I'd have thought, putting it up against ITV's Take me Out with Paddy McGuinness. Then again, maybe not quite the same target audiences.
Anyway, the ever-controversial, ever-opinionated and, to be fair, ever-fascinating Greer reflects on her life, times and her bestseller, The Female Eunuch, which arguably did more for the cause of women than any other book simply because, for a change, men read it too. She's off again, anyway.
It's not going to cure your arthritis, you know, but Can Science Make Me Perfect? will try to shed some light on human decrepitude by reference to the animal kingdom. I suppose the ultimate, rather uncomfortable, lesson that nature teaches us is that we live far longer than we ought to. Anyway, and I need hardly make the reference to Love Island again, the brainy Alice Roberts is going to attempt to create the perfect human body. Intriguing.
I'm looking forward to Flowers returning for its second series. It's not had much recognition, but what you need to know is that it stars Olivia Colman and Julian Barratt as parents Deborah and Maurice, the comedy is magically surreal and witty, and it's funny. Can't say fairer than that can we? Credit too to writer, director and actor Will Sharpe and to Channel 4 for recommissioning it. It deserves to blossom.
Before Grenfell: A Hidden History sets out to show that the now notorious block and its working-class neighbourhood is "more than just the ruin everyone's seen in the news". That means a timely history lesson, and understanding how it came to be that this corner of the capital become the most unequal area in Britain, a place where a royal palace and grand homes with quarters for nine servants sit next to squalid conditions and, as well now realise, dangerous social housing.
So, from its origins as a former clay pit through the building of those nice big houses, a wall to divide the rich and poor districts, Victorian slums, exploitation by landlord Peter Rachman in the 1950s, the first Notting Hill race riots right up to the construction of Grenfell Tower in the 1970s.
Last, you hardly need me to remind you that the World Cup kicks off this week, with the Russia-Saudi Arabia game on ITV on Thursday. Even footiephobes might enjoy this authentic contest, where money can't buy talent if the talent wasn't born or otherwise associated with the nation in question. And it's all free. Enjoy.
Poldark (BBC1, Sunday 9pm); Love Island (ITV2, Sunday to Friday, 9pm); Germaine Bloody Greer (BBC2, Saturday 9pm); Can Science Make Me Perfect? (BBC4, Wednesday 9pm); Flowers (Channel 4, Monday 10pm); Before Grenfell: a Hidden History (Wednesday, BBC2 9pm); World Cup Football (ITV and BBC1 from 2.30pm, Thursday)
Register for free to continue reading
Registration is a free and easy way to support our truly independent journalism
By registering, you will also enjoy limited access to Premium articles, exclusive newsletters, commenting, and virtual events with our leading journalists
Already have an account? sign in
Register for free to continue reading
Registration is a free and easy way to support our truly independent journalism
By registering, you will also enjoy limited access to Premium articles, exclusive newsletters, commenting, and virtual events with our leading journalists
Already have an account? sign in
Join our new commenting forum
Join thought-provoking conversations, follow other Independent readers and see their replies