Aaron Sorkin says Marjorie Taylor Greene can 'go to hell' after 'anti-vaxxer' quotes A Few Good Men
'I liked it a lot better when Burger King was using [the line] in its billboards,' filmmaker said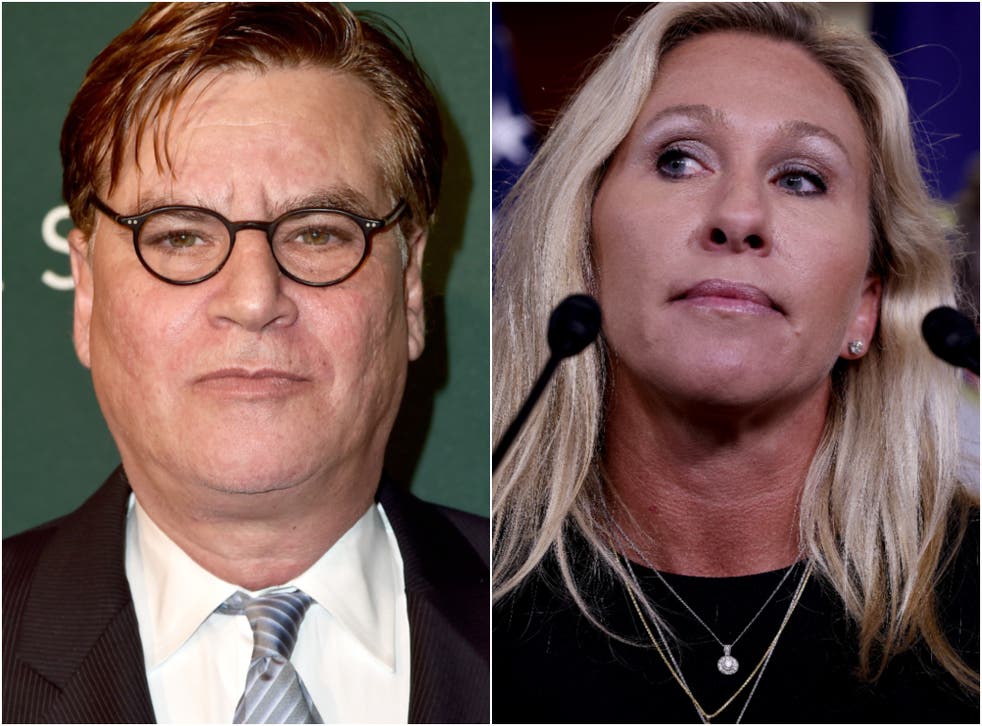 Aaron Sorkin has responded to US politician Marjorie Taylor Greene using dialogue from A Few Good Men to criticise Twitter for banning her account.
On Monday (3 January), the controversial Republican congresswoman was permanently banned from Twitter for multiple violations of its Covid-19 misinformation policy.
According to Twitter's policy, five "strikes" or violations by the same account will trigger a lifelong ban from the social media platform.
A screenshot of Greene's Twitter account, obtained by The Independent, showed the "anti-vaxxer" congresswoman falsely claiming that the US government was ignoring a large number of deaths related to Covid vaccines.
Subsequently, Greene condemned Twitter's decision to ban her personal account on alternative social media platform Gettr, according to a Variety report.
The right-wing Georgia lawmaker wrote that Twitter is "an enemy of the people and can't handle the truth", referencing Jack Nicholson's monologue from Sorkin's 1992 film A Few Good Men.
Asked to comment on Greene's use of his dialogue during a recent interview, Sorkin replied: "Yeah, she can go to hell."
Appearing on The Late Late Show with James Corden on Tuesday (4 January), the filmmaker continued: "I liked it a lot better when Burger King was using it in its billboards."
In the Nineties, Burger King's parodied the Tom Cruise-Nicholson starrer to advertise its Rodeo burger. In one advert, fictional Small Soldiers character Chip Hazard says "you can't handle the Rodeo Burger" instead of "you can't handle the truth".
Register for free to continue reading
Registration is a free and easy way to support our truly independent journalism
By registering, you will also enjoy limited access to Premium articles, exclusive newsletters, commenting, and virtual events with our leading journalists
Already have an account? sign in
Register for free to continue reading
Registration is a free and easy way to support our truly independent journalism
By registering, you will also enjoy limited access to Premium articles, exclusive newsletters, commenting, and virtual events with our leading journalists
Already have an account? sign in
Join our new commenting forum
Join thought-provoking conversations, follow other Independent readers and see their replies