Amazon pulls 'offensive' Nazi TV ad campaign for The Man in the High Castle from New York subway
Following a huge backlash, 'irresponsible and offensive' ad signage for the drama will be removed  
Clarisse Loughrey
Wednesday 25 November 2015 12:48 Comments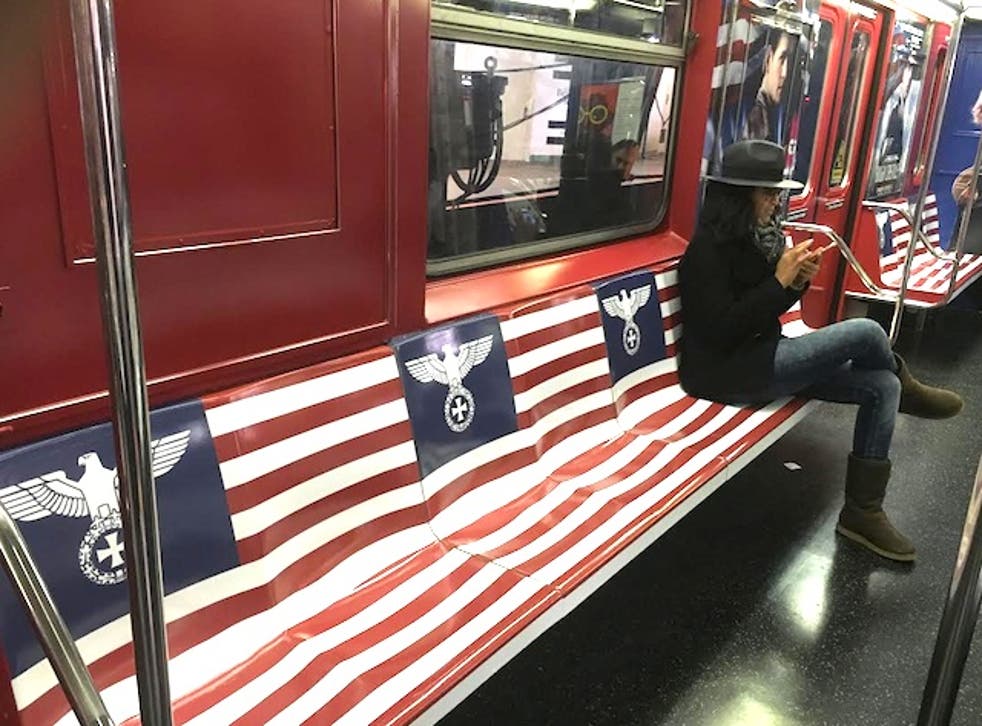 Common sense finally seems to have kicked in over at Amazon Prime; their ad signage promoting new drama The Man in the High Castle, which saw subway trains emblazoned with Nazi and Imperialist Japan-related imagery, will be pulled.
This follows a horrified backlash from both commuters and advocacy groups, culminating in New York City mayor Bill deBlasio telling New York Daily News he found the ads "irresponsible and offensive".
Evan Bernstein, the Anti-Defamation League's New York regional director, spoke to the Gothamist about his own concerns. "On the television programme, which explains this is the notion of an America controlled by Hitler, you get that context. On the train, seeing the American flag paired with a Nazi symbol is viscerally offensive, because there is no context as to what it means. The fact that the flag is spread across the seats only compounds the effect."
Originally intended to run from 9 November through to 14 December, subway cars on the MTA's Silver Line (which runs between Grand Central Terminal and Times Square) have had their seats covered in wraps featuring both the German "Iron Eagle", heavily associated with the Nazi regime, and a version of the Rising Sun insignia reminiscent of Imperial Japan. 
 
Amazon has yet to directly comment on the matter, their prepared statement directing back to the show's own context. "Amazon Studios creates high-quality, provocative programming that spurs conversation. The Man in the High Castle, based on an acclaimed novel, explores the impact to our freedoms if we had lost World War II. Like Transparent and the movie Chi-Raq, stories that society cares about often touch on important, thought-provoking topics. We will continue to bring this kind of storytelling to our customers."

The show, part of Amazon's current drama spread, takes its basis from the 1962 Philip K. Dick novel. It imagines an alternate history in which the Axis powers won World War II, the United States becoming a split territory between The Third Reich and Imperialist Japan. 

Though the official stance still remains that the decision stemmed from Amazon itself, some sources are now reporting that it came from elsewhere; with Decider claiming an anonymous source stating the call originated from a governmental branch. 
Register for free to continue reading
Registration is a free and easy way to support our truly independent journalism
By registering, you will also enjoy limited access to Premium articles, exclusive newsletters, commenting, and virtual events with our leading journalists
Already have an account? sign in
Join our new commenting forum
Join thought-provoking conversations, follow other Independent readers and see their replies