Handmaid's Tale protesters gather outside Supreme Court to oppose Amy Coney Barrett confirmation
Donald Trump's pick once served as a 'handmaid', a female leader in the People of Praise religious community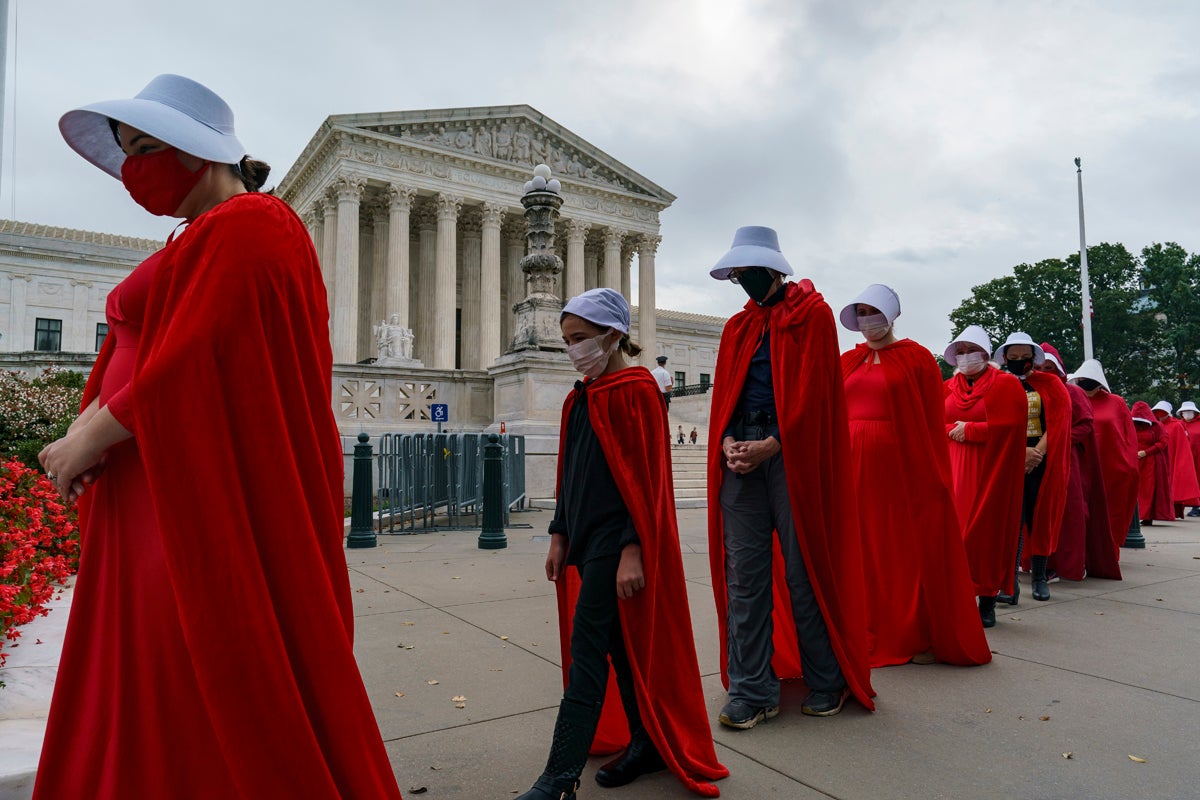 Protestors dressed as characters from The Handmaid's Tale gathered outside the Supreme Court to oppose Amy Coney Barrett's confirmation, hours before hearings on the matter began at the Capitol.
Photos show the group of demonstrators arriving outside the Supreme Court on Capitol Hill on Sunday, dressed in red robes and wearing white bonnets. The outfit mimics that worn by handmaids in Margaret Atwood's The Handmaids Tale, the famous dystopian novel in which women have been stripped of their reproductive rights.
Confirmation hearings for Barrett began on Monday in front of the Senate Judiciary Committee. The hearings have drawn criticism as they are beginning just 22 days before the US general election.
In 2016, Senate Republicans refused to hold confirmation hearings for Merrick Garland, Barack Obama's Supreme Court pick to replace Antonin Scalia, arguing that those should take place after the presidential election. At that time, the 2016 election was eight months away.
Handmaid's Tale protesters have been a staple over the past few years, especially in contexts where reproductive rights might be threatened.
In The Handmaid's Tale, which has had a successful TV adaptation starring Elisabeth Moss in the lead role, handmaids are fertile women assigned to high-ranking households and subjected to a variety of abuses as they are forced to bear children for their corresponding families.
Barrett, a conservative, would shift the balance on the Supreme Court significantly to the right, from five-four in favour of conservatives to six-three. Democrats are concerned about her record on abortion, and also worry she would vote to rule the Affordable Care Act is unconstitutional.
The judge has been affiliated with a religious organisation in which she was herself called a "handmaid",  the term then used for high-ranking female leaders in the People of Praise religious community, according to an old directory for the group's members obtained by The Associated Press.
All the top leaders within People of Praise are male, but in each of the group's 22 regional branches a select group of women is entrusted with mentoring and offering spiritual guidance to other female members.
Access unlimited streaming of movies and TV shows with Amazon Prime Video
Sign up now for a 30-day free trial
Sign up
Access unlimited streaming of movies and TV shows with Amazon Prime Video
Sign up now for a 30-day free trial
Sign up
Until recently, these female leaders were called "handmaids," a reference to Jesus' mother Mary, who according to the Bible called herself "the handmaid of the Lord." The organisation recently changed the terminology to "woman leader".
Atwood stated in a tweet last month that The Handmaid's Tale is inspired by a "different but similar" group.
Protesters dressed in similar garb demonstrated at the October 2018 hearing for nominee Brett Kavanaugh, who was eventually confirmed to the court amid widespread controversy.
Additional reporting by Associated Press.
Join our commenting forum
Join thought-provoking conversations, follow other Independent readers and see their replies