AOC reveals she is a survivor of sexual assault
Alyssa Milano criticised for 'awful' comment during Alexandria Ocasio-Cortez's moving Instagram Live
'She went through a terrible experience and you decide to joke about it?' one person wrote
Alyssa Milano is being criticised for posting a thoughtless comment during an Instagram Live hosted by Alexandria Ocasio-Cortez.
The Charmed actor was one of thousands to watch the congresswoman's moving video on Monday (1 February), in which she recounted her experience of the Capitol riots on 6 January.
AOC was present when a group of Trump supporters stormed the Washington DC building in an attempt to stop Joe Biden's presidency from being certified.
She hid with Representative Katie Porter, who has previously said she told Ocasio-Cortez: "I hope I don't die today."
As AOC spoke of her traumatic experience, and explained how she feared for her life, Milano wrote in the comments: "At any point, did Katie pull out her whiteboard?"
RELATED: Outpouring of support for AOC as she reveals sexual assault and likens letting Trump off to sparing abusers
Porter is known for using a whiteboard to pick holes in sums given by people she's challenging in Congress.
Her use of the whiteboard, nicknamed "the mighty whiteboard of truth", was effectively responsible for scoring free Covid-19 testing in America.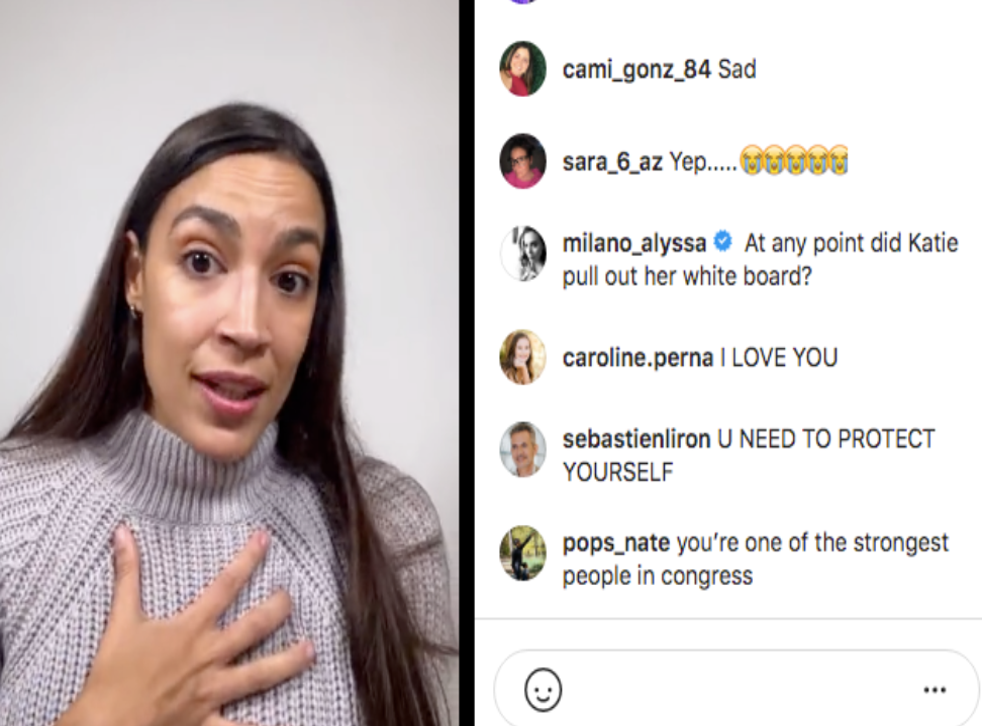 Many people who spotted Milano's comment on AOC's Instagram Live criticised the actor, with one person writing: "AOC is literally talking about her fearing for her life, but leave it to Alyssa Milano to be as annoying as ever in the comments."
Another person wrote: "Alyssa Milano, queen of absolutely f***ing awful judgement."
"Fool what is wrong with you. [AOC] went through [a] terrible experience and you decide to joke about it?" someone else wrote.
Join our new commenting forum
Join thought-provoking conversations, follow other Independent readers and see their replies