Baftas 2016: Full list of winners at the TV awards
Wolf Hall takes Best British Drama, while Transparent takes the International award.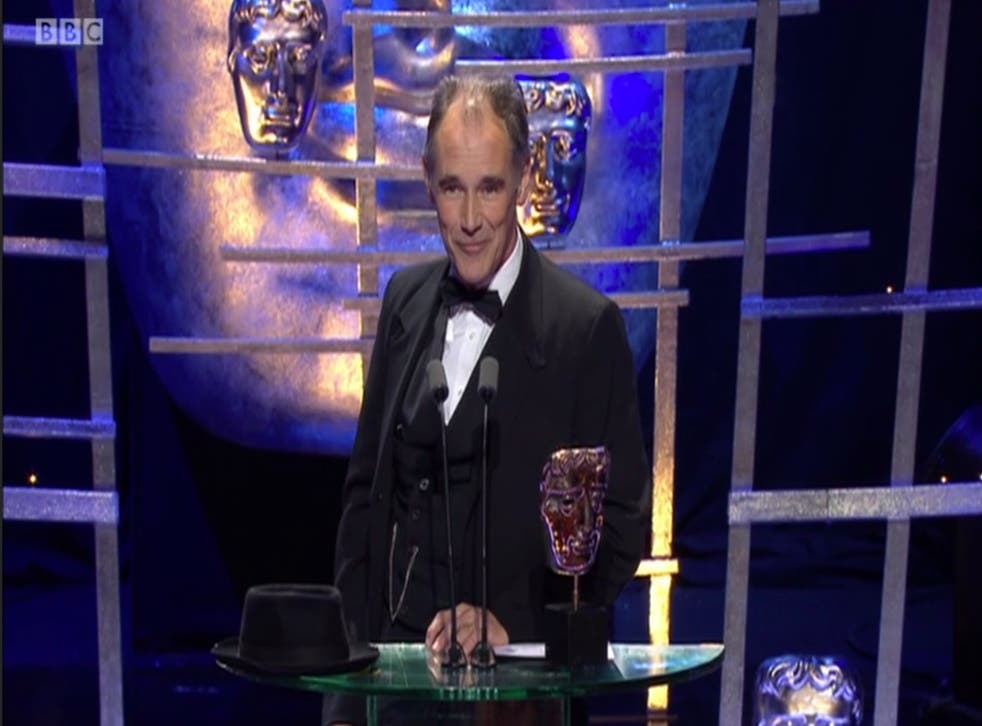 It's fast becoming tradition that award ceremonies are taken over by one overarching political issue, and at this year's TV Baftas it was recent rumblings of the closure of the BBC.
Several of the night's award winners including Ian Hislop and Mark Rylance called for the safeguarding of the broadcaster's future during their acceptance speeches, but it was Wolf Hall director Peter Kosminky who really went all out, accusing the government of trying to "eviscerate" it in an impassioned defence.
"I think most people would agree that the BBC's main job is to speak truth to power," he told the audience, who went on to give him a lengthy standing ovation. "To report to the British public without fear or favour, no matter how unpalatable that might be to those in government. It's a public broadcaster independent of government, it's your BBC.
"In many ways, our broadcasting, the BBC and Channel 4, which they're also attempting to eviscerate, is the envy of the world and we should stand up and fight for it, not let it go by default.
"And if we don't, blink and it will be gone. There will be no more Wolf Halls, no more award-winning Dispatches documentaries on Channel 4, just a broadcasting landscape where the only determinate of whether something gets made is whether it's likely to line the pockets of its shareholders.
"No, no," he concluded. "It's time for us to stand up and say 'no' to this dangerous nonsense. Thank you very much."
Peter Kosminsky gives passionate defence of BBC
This year's ceremony was hosted by Graham Norton at London's Royal Festival Hall, with the top awards going to Wolf Hall for Best Drama, Mark Rylance for Leading Actor in the series, Suranne Jones for Doctor Foster and Transparent for best International show.
Peter Kay's Car Share and Have I Got News For You were decorated in the comedy categories, though there were no prizes for Peep Show, which bowed with its final season this past year.
Winners list in full:
Special Award
Lenny Henry
Leading Actor
Mark Rylance
Wolf Hall
Leading Actress
Suranne Jones
Doctor Foster
Entertainment Performance
Leigh Francis
Celebrity Juice
Scripted Comedy
Peter Kay's Car Share
Peter Kay, Gill Isles, Sian Gibson, Paul Coleman.
Features
The Great British Bake Off
Paolo Proto, Andy Devonshire, Anna Beattie.
Soap & Continuing Drama
EastEnders
Production Team
Specialist Factual
Britain's Forgotten Slave Owners
Production Team
Comedy and Comedy Entertainment Programme
Have I Got News for You
Richard Wilson, Mark Barrett, Danny Carr, Jo Bunting.
Supporting Actress
Chanel Cresswell
This is England '90
Reality & Constructed Factual
First Dates
Nicola Lloyd, Martin Conway, Adam Chapman, Rob Clifford.
Supporting Actor
Tom Courtenay
Unforgotten
Radio Times Audience Award
Poldark
Fellowship
Ray Galton & Alan Simpson
Single Drama
Don't Take My Baby
Jack Thorne, Ben Anthony, Pier Wilkie, Aysha Rafaele.
Male Performance in a Comedy Programme
Peter Kay
Peter Kay's Car Share
International
Transparent
Production Team
Sport
The Ashes
Bryan Henderson, Mark Lynch, David Lloyd, Ian Ward.
Female Performance in a Comedy Programme
Michaela Coel
Chewing Gum
Live Event
Big Blue Live
Production Team.
News Coverage
Channel 4 News: Paris Massacre
Jon Snow, Lindsey Hilsum, Jonathan Rugman, Ben de Pear.
Factual Series
The Murder Detectives
Ben Brown, Bart Corpe, Neil Grant, Dave Nath.
Mini-Series
This Is England '90
Shane Meadows, Mark Herbert, Jack Thorne, Rebekah Wray Rogers.
Current Affairs
Outbreak: The Truth About Ebola
Dan Edge, Sasha Joelle Achilli , Eamonn Matthews, Sarah Waldron.
Single Documentary
My Son the Jihadi
Production Team
Entertainment Programme
Strictly Come Dancing
Louise Rainbow,
Vinnie Shergill, Sarah James, Nikki Parsons.Find out more about this award
Entertainment Programme
Strictly Come Dancing
Louise Rainbow, Vinnie Shergill, Sarah James, Nikki Parsons.
Drama Series
Wolf Hall
Peter Kosminsky, Peter Straughan, Mark Pybus, Colin Callender.
Register for free to continue reading
Registration is a free and easy way to support our truly independent journalism
By registering, you will also enjoy limited access to Premium articles, exclusive newsletters, commenting, and virtual events with our leading journalists
Already have an account? sign in
Register for free to continue reading
Registration is a free and easy way to support our truly independent journalism
By registering, you will also enjoy limited access to Premium articles, exclusive newsletters, commenting, and virtual events with our leading journalists
Already have an account? sign in
Join our new commenting forum
Join thought-provoking conversations, follow other Independent readers and see their replies