Ellen DeGeneres posts 'LGBT Thank You to President Obama' from stars of film, music and TV
Ellen DeGeneres, Jim Parsons, Evan Rachel Wood,  Jonathan Groff, Sia, Alan Cumming, Macklemore, Debra Messing, Neil Patrick Harris, Lance Bass, Laverne Cox, and Portia De Rossi all paid tribute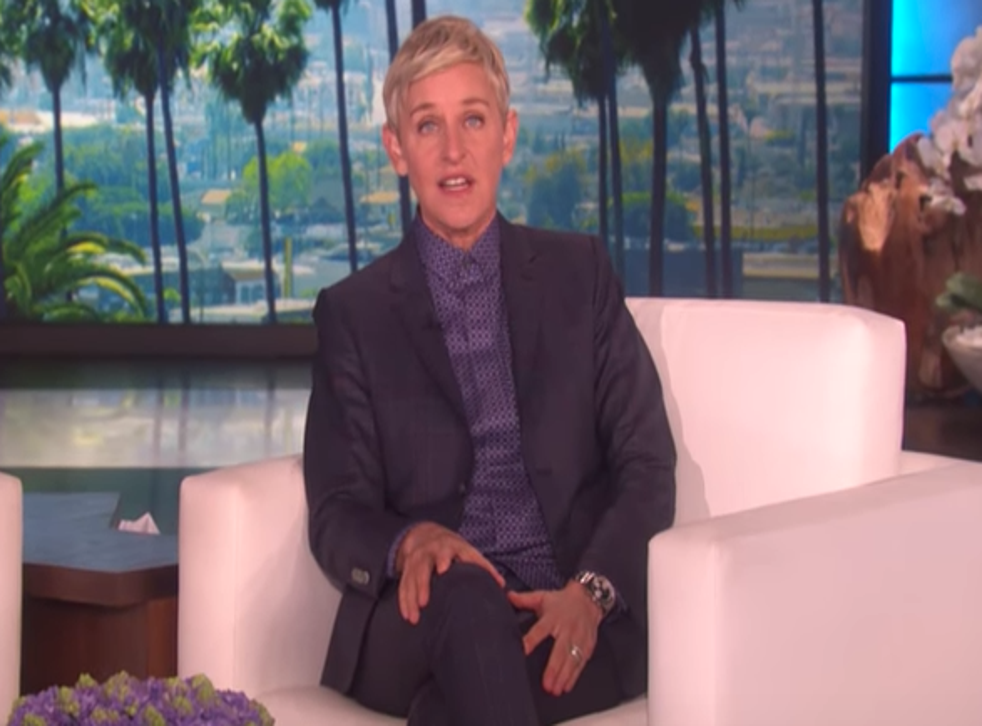 TV host Ellen DeGeneres and other LGBTQ stars have compiled a moving 'thank you' video to Barack Obama for everything he achieved on behalf of LGBT rights during his presidency.
Posting the video on The Ellen Show's YouTube account, the accompanying text reads: "Ellen compiled a message from the likes of Neil Patrick Harris, Evan Rachel Wood, Jesse Tyler Ferguson and many more to offer a personal message of thanks to President Obama for everything he was able to accomplish in the name of equality.
The Big Bang Theory star Jim Parsons said: "You presided over a period of time that turned out, in many ways, one of the most positive periods ever in the lives of gay Americans. How can we ever thank you?"
A visibly emotional Evan Rachel Wood, thanked him for "changing the way people thought about us and, honestly, the way I thought about myself".
Looking star Jonathan Groff said: "I couldn't believe that the future President of the United States said the word 'gay' in the first three minutes of his victory speech, and that was just the tip of the iceberg... you made what seemed truly impossible... possible."
The Obamas celebrate the Inauguration in 2009 and 2013

Show all 10
Sia said: "It's actually astonishing how much you've managed to achieve in those short eight years."
"[Thank you] for making LGBT people more visible," actor Alan Cumming said.
Ellen DeGeneres and Michelle Obama go shopping together
The video also featured stars who have actively spoken in support of LGBTQ rights. Macklemore said: "Thank you for fighting for a world where I can raise my daughter to love whoever she wants to love."
One particularly touching moment came from Portia de Rossi, who thanked Obama for allowing her to marry Ellen DeGeneres.
"Thank you, President Obama," she said. "Because of you, I got to marry the girl of my dreams."
Obama called Ellen a "role model" for Americans after she came out as a lesbian during the 90s. In a speech where she was honoured with the Presidential Medal of Freedom, he said that she "reminds us that we have more in common than we realise".
"It's easy to forget now, when we've come so far, where now marriage is equal under the law, just how much courage was required for Ellen to come out on the most public of stages almost 20 years ago," he said.
"Just how important it was, not just to the LGBT community, but for all of us to see somebody so full of kindness and light, somebody we liked so much, somebody who could be our neighbour, or our colleague, or our sister, challenge our own assumptions.
"Remind us that we have more in common than we realise. Push our country in the direction of justice. What an incredible burden that was to bear, to risk your career like that."
The full list of those of thanked Obama in Ellen's video is as follows: Ellen DeGeneres, Jim Parsons, Nathan Lane, Evan Rachel Wood, Colton Haynes, Jonathan Groff, Sia, Alan Cumming, Macklemore, Debra Messing, Lily Tomlin, George Takei, Kristen Bell, Neil Patrick Harris, Lance Bass, Laverne Cox, Guillermo Diaz, Dan Bucatinsky, Tom Daley, Sarah Silverman, Jesse Tyler Ferguson, Tig Notaro, Portia De Rossi, Chris Colfer and Drew Barrymore.
Register for free to continue reading
Registration is a free and easy way to support our truly independent journalism
By registering, you will also enjoy limited access to Premium articles, exclusive newsletters, commenting, and virtual events with our leading journalists
Already have an account? sign in
Register for free to continue reading
Registration is a free and easy way to support our truly independent journalism
By registering, you will also enjoy limited access to Premium articles, exclusive newsletters, commenting, and virtual events with our leading journalists
Already have an account? sign in
Join our new commenting forum
Join thought-provoking conversations, follow other Independent readers and see their replies