BBC celebrates Doctor Who's musical genius
Chris Stevenson and Alex Christian on the woman who put the waa-oos into teatime
Chris Stevenson
,
Alex Christian
Sunday 17 February 2013 01:00 Comments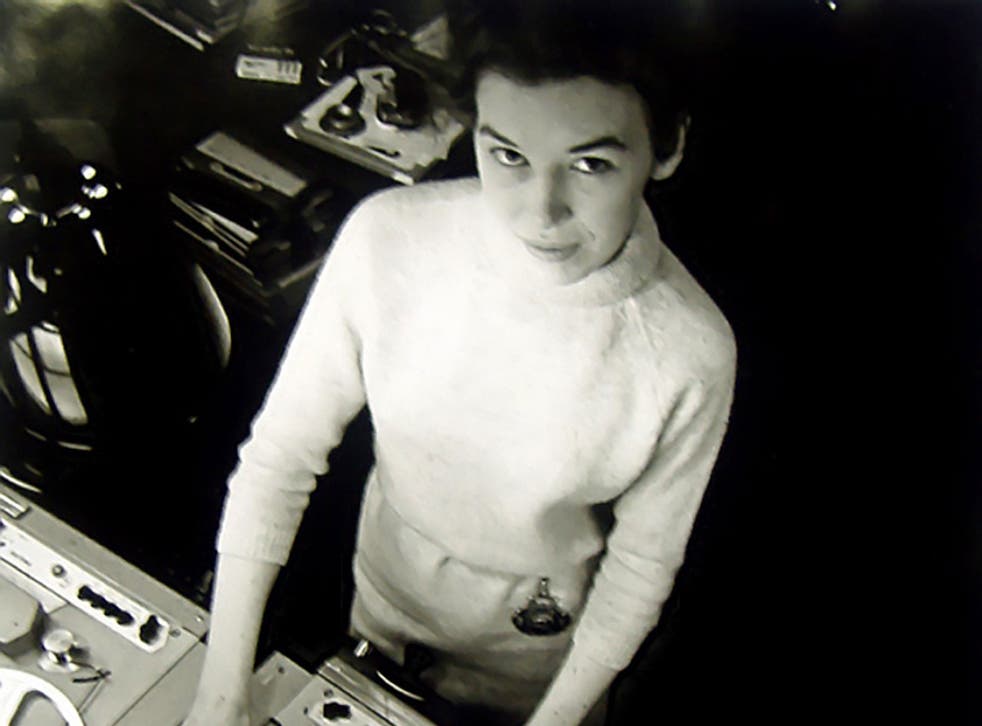 She was the electronic pioneer who, 50 years ago, created one of the best-known theme tunes on British television. Its oscillating arc would send children rushing to hide their heads under the sofa cushions; and it become lodged on the lips and in the brain of all who heard it. The composer was Delia Derbyshire, and the sound she devised heralded every episode of Doctor Who. Now, after decades of being left in the shadows, she is finally to make her way into the limelight.
Derbyshire's 1963 creation of the Doctor Who theme is to be celebrated by the BBC in a 90-minute special. Filming started this month and the programme is due to air in November. It is a big step for the legacy of a woman who fell out of love with her job, feeling she did not get the recognition she deserved, as well as battling with alcoholism. Derbyshire, who died in 2001 aged 64, will be played by Sarah Winter.
Working from 1963 to 1972 for the Radiophonic Workshop, a unit created to provide sound effects and music for programming across the BBC, Derbyshire was responsible for many of the futuristic sounds that were to fill living rooms across the nation. She and fellow Radiophonic colleagues were denied credit for their work because the BBC deemed them to be "engineers". Ron Grainer, the composer of the Doctor Who theme, which Derbyshire "realised", fought for dual credit for her, but was denied. On hearing the piece, Grainer is said to have remarked, "Did I write that?" Derbyshire replied, "Most of it."
Despite this, many electronic music exponents credit her with influential and groundbreaking work. Adrian Utley, of the band Portishead, says it "changed how [he] felt about the world". "I was about six or seven years old and it went into my DNA," he said.
From a musical standpoint, he also believes that she deserves a place in history with some of the greats: "Hendrix had a kind of a music spirit to him. So did Delia."
Paul Hartnoll, of the electronic dance duo Orbital, placed a cover version of the theme in their live sets, including a memorable version at Glastonbury in 2011, where the musicians were joined on stage by the then Doctor, Matt Smith: "Out of her generation, she was the most unusual – she was more moody and spooky and scary. It is something that anyone can get something out of and a huge influence on us."
The last musician to work with Derbyshire, just before she died, was Peter Kember, known as Sonic Boom, who tried to coax her towards making music again. There were plans for live shows and festivals, as Derbyshire became fascinated with the potential created by photos scanned into a computer, using the information created to plot sounds.
"The funny thing was that the bleeping noise she enjoyed using was very similar to her laugh. She was incredibly sweet and generous, but lonely, I think," Kember says. "She was back to getting revved up by it."
He believes that the BBC should ensure her music is "out there", and that what she did for the corporation and electronic music should be recognised by the public at large. "She was a genius and deserves that," he says.
Register for free to continue reading
Registration is a free and easy way to support our truly independent journalism
By registering, you will also enjoy limited access to Premium articles, exclusive newsletters, commenting, and virtual events with our leading journalists
Already have an account? sign in
Join our new commenting forum
Join thought-provoking conversations, follow other Independent readers and see their replies