Ben Elton mauled by critics after getting BBC sitcom The Wright Way badly wrong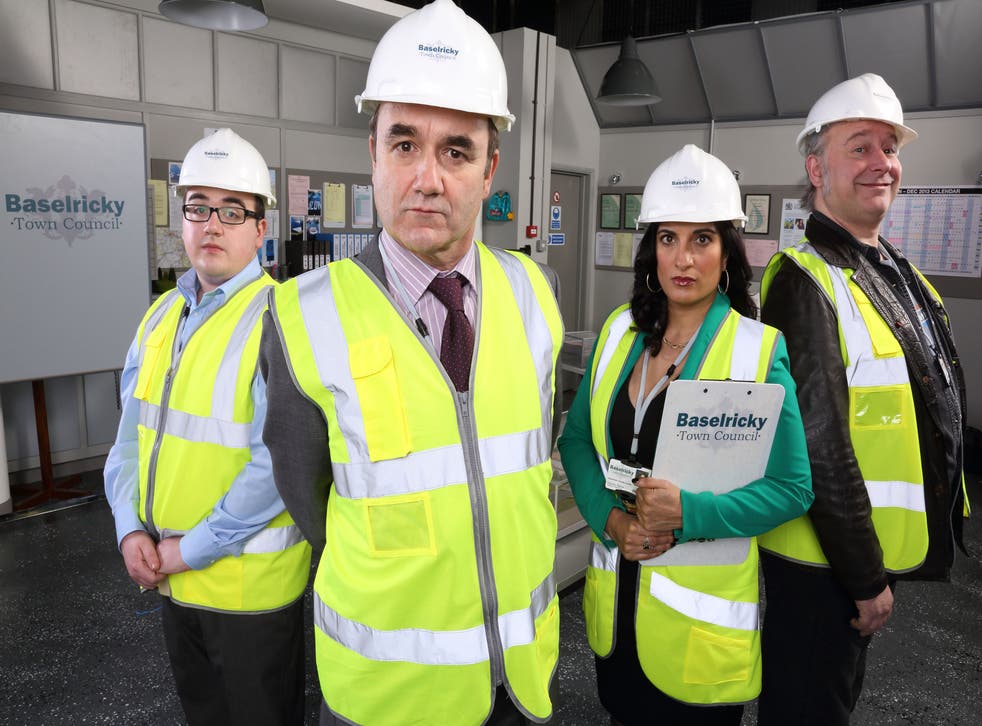 With its laboured puns and broad slapstick, viewers assumed that The Wright Way, Ben Elton's new BBC1 sitcom, must be an acutely-observed parody of a creaky 70s sitcom.
But the realisation dawned that there was no such ironic intent, and as television critics delivered a withering verdict on the show, the question now being asked is: What on earth has happened to Ben Elton?
The motor-mouthed stand-up, who battered down the doors of the comedy establishment in the early 80s and made "Thatcher-bashing" routines the stuff of prime-time entertainment, has long since departed.
Elton, 53, the author of 14 novels and the hit Queen musical We Will Rock You, now divides his time between Britain and Australia, where he lives with his musician wife and their three children.
The Wright Way, starring David Haig as Gerald Wright (geddit?), an exasperated local council health and safety officer, is Elton's first studio-based comedy for BBC1 in 20 years.
Broadcast with little fanfare in the post-10 O'Clock news slot on Monday night, its double-entendres ("talk me through my proud erection…") and routines about the length of time women spend in the bathroom produced a vitriolic reaction on Twitter.
The opening episode shed viewers whilst it was on air. Its average audience of 2.16 million, whilst the most-watched in its 10.35pm slot, was below BBC1's average of 2.28 million for the past 12 months. Citizen Khan, another BBC1 sitcom launched in the 10.35pm slot last year, opened with an audience of 3.41 million.
Critics accused Elton of producing precisely the kind of dated sitcom that the "alternative comedy" uprising he once spearheaded, with its zero tolerance for sexist attitudes, set out to destroy.
Evening Standard comedy critic Bruce Dessau compared The Wright Way to the parody fictional sitcom When The Whistle Blows in Ricky Gervais's Extras.
Access unlimited streaming of movies and TV shows with Amazon Prime Video Sign up now for a 30-day free trial
Sign up
He wrote on his Beyond The Joke website: "It is easy to knock Elton because of his involvement in We Will Rock You, but that does not explain quite how bad The Wright Way is. It stinks from nose to tail."
The Times said the series' fatal flaw was its lead character's inconsistency: "He is not a character at all but a succession of unusable stand-up routines from a middle-aged and politically disorientated comedian."
Tom Sutcliffe in the Independent suggested that the show was occasionally "so groan-inducing that you want to gather a mob with torches and pitchforks." However he conceded that the Gerald Wright character had comic potential.
Could this really be the same Elton who lit a fuse under staid studio-based comedy when the anarchic Young Ones burst on to screens in 1982?
Or the Elton whose crafted scripts for Blackadder, created with Richard Curtis and littered with quotable lines, have become a comedy masterclass for generations of aspiring writers?
Elton's critical downfall can be traced to the Labour supporter's collaboration with Andrew Lloyd-Webber, a staunch Conservative, on the Beautiful Game musical in 2000.
"We all felt with Ben that what motivated him primarily was popularity and power," his Comedy Store contemporary Alexei Sayle said. "But the problem with pursuing that popularity, I think, for him, is that it can never make you happy."
The comedian Stewart Lee compared Elton unfavourably with Osama Bin Laden, arguing that the terrorist had "at least lived his life according to a consistent set of ethical principles."
Elton said the decision to move the family permanently to his wife Sophia Gare's hometown of Fremantle in Australia in 2009, was not to escape this backlash but so that their children could see more of their Antipodean relatives.
A comedy series for Australia's Channel 9 flopped and Elton immersed himself in the writing of his most personal novel, Two Brothers, the story of German "twins" who end up on opposite sides during the Second World War, drawing on his family's Jewish heritage.
He was "very grateful" to have been given the opportunity by Danny Cohen, BBC1 Controller, to write a new series for the channel and believes The Wright Way has the makings of a classic British comedy, if viewers give it a chance.
"I chose this situation because it offers endless opportunity for logical absurdity and big physical comedy while also allowing for a bit of social satire on a subject which looms large in everyone's lives," Elton said.
His ambitions have not changed. "For me the sitcom is the holy grail of comedy writing, the toughest discipline but also the most rewarding," Elton maintains.
"If you get it right you can become a real part of the culture in a way that other TV entertainment, be it drama, comedy or variety just doesn't. Think of Only Fools And Horses or Porridge or The Office or countless others.
"Of course that's a big ambition but you have to aim high, don't you? You also have to get the chance and I started by saying how grateful I am to have been given this one. Being back in studio at the BBC is a joy for me; it's where I started in 1981 with The Young Ones and it's truly wonderful to be back."
Ben Elton Highs & Lows:
Highs
1981 – Wins compere slot at The Comedy Store club in Soho and surfs new wave of "alternative" stand-ups. Elton's "motor-mouth" routine, challenging sexism and racism of mainstream TV stars, silences hecklers. 7/10
1982 – First television success as co-creator of The Young Ones, anarchic BBC2 student comedy starring Comedy Store contemporaries Rik Mayall and Adrian Edmondson, which becomes cult viewing. 8/10
1988 – As compere of Channel 4 variety show Friday Night Live, the sparkly-suited Elton delivered trademark "anti-Thatch" rants. Repeated success on BBC show The Man From Auntie, winning Royal Television Society Writers' Award. 9/10
1989 – Blackadder historical BBC sitcom, co-written with Richard Curtis, ends on a high with Rowan Atkinson and chums going over the top in moving climax to forth series, set during WW1. 10/10
1996 – Novel Popcorn, a satire about a Hollywood director forced to account for the violence in his movies, becomes No 1 best-seller, wins Crime Writers' Association award and turned into a successful West End play. 8/10
Lows
2000 – Sell out claims begin as Elton collaborates with Tory Andrew Lloyd-Webber for Beautiful Game musical which fails to make it to Broadway. Songs used at 2001 George W. Bush inauguration ball but without Elton's approval. 7/10
2002 – Critics pan We Will Rock You musical based on Queen songs. "Ben Elton should be shot for this risible story," argues one. Show becomes a huge hit. "The people who come to the show want a good night out and they get one," Elton says. 6/10
2005 – Returns to BBC for new Friday night sitcom Blessed, starring Ardal O'Hanlon as a record producer, who is struggling to bring up two small children. No second series commissioned after lukewarm response. 5/10
2011 – A relocation to Australia produced Ben Elton Live From Planet Earth, a "radical" comedy sketch series for Channel 9. Axed after just three weeks when ratings fell from 455,000 to 200,000 viewers. 4/10
2013 – Critics condemn "laboured and creaky" late-night BBC1 sitcom The Wright Way sitcom set in council health and safety office. Opening episode attracts 2.4 million viewers. 3/10
Register for free to continue reading
Registration is a free and easy way to support our truly independent journalism
By registering, you will also enjoy limited access to Premium articles, exclusive newsletters, commenting, and virtual events with our leading journalists
Already have an account? sign in
Register for free to continue reading
Registration is a free and easy way to support our truly independent journalism
By registering, you will also enjoy limited access to Premium articles, exclusive newsletters, commenting, and virtual events with our leading journalists
Already have an account? sign in
Join our new commenting forum
Join thought-provoking conversations, follow other Independent readers and see their replies