Bill O'Reilly fired from Fox News, company confirms
The 67-year-old has been under pressure following a boycott from advertisers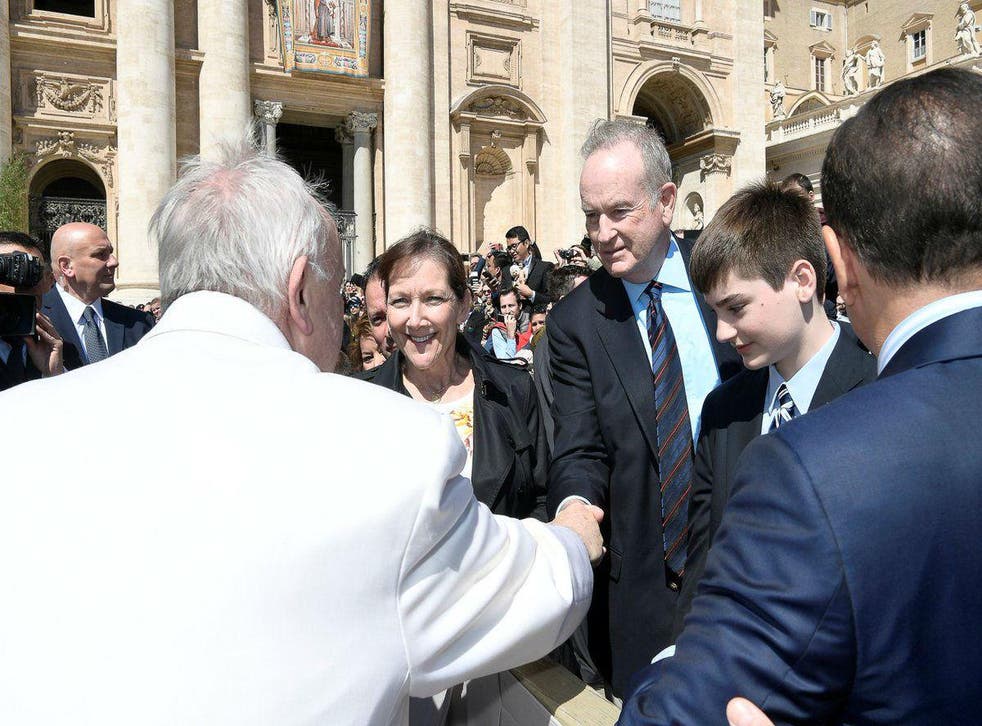 Fox News has confirmed that it is letting go of Bill O'Reilly, its highly profitable but controversial anchor, amid accusations of sexual harassment.
In an email to staff, the company's parent company, 21st Century Fox, said the 67-year-old was leaving following a review of accusations of sexual harassment and inappropriate behaviour levelled against him.
"After a thorough review of the allegations against him, the company and Bill O'Reilly have agreed that Mr O'Reilly will not return to the Fox News Channel," it said.
The decision by the company came as Mr O'Reilly was on holiday in Italy where he shook hands with the Pope. It was also taken a day before the board of 21st Century Fox was to meet to discuss the anchor's future. Tucker Carlson will reportedly take over O'Reilly's slot, with his show "Tucker Carlson Tonight" moving from 9pm to 8pm.
Earlier on Wednesday, Gabriel Sherman, author of a biography of former Fox News CEO Roger Ailes, had reported that a decision has been made to let go of Mr O'Reilly.
Rupert Murdoch reportedly wanted to stand by his star, but his sons, Lachlan and James, decided it was time for him to go, he said.
Bill O'Reilly: A history of on-air sexism
"The Murdochs have decided Bill O'Reilly's 21-year run at Fox News will come to an end," Mr Sherman wrote on the website of New York magazine.
"According to sources briefed on the discussions, network executives are preparing to announce O'Reilly's departure before he returns from an Italian vacation on April 24."
The decision to get rid of Mr O'Reilly followed a report earlier this month in the New York Times that said the channel had been obliged to pay out $17m to settle claims against the anchor from five women. Mr O'Reilly has continued to deny the accusations.
Access unlimited streaming of movies and TV shows with Amazon Prime Video Sign up now for a 30-day free trial
Sign up
The move also comes despite vocal support from President Donald Trump who said there was no need for Mr O'Reilly to stand down.
"I think he shouldn't have settled; personally I think he shouldn't have settled," Mr Trump said after the accusations emerged.
"Because you should have taken it all the way. I don't think Bill did anything wrong. I think he's a person I know well - he is a good person."
On Tuesday, Mr O'Reilly's lawyer, Marc Kasowitz, said his client was being attacked by left-wing organisations.
"Bill O'Reilly has been subjected to a brutal campaign of character assassination that is unprecedented in post-McCarthyist America. This law firm has uncovered evidence that the smear campaign is being orchestrated by far-left organisations bent on destroying O'Reilly for political and financial reasons," he said in a statement. "That evidence will be put forth shortly, and it is irrefutable."
Join our new commenting forum
Join thought-provoking conversations, follow other Independent readers and see their replies