Blue Planet 2: 7,000 plastic ducks deliver a sombre message
Plastic samples have been found as deep as the Mariana Trench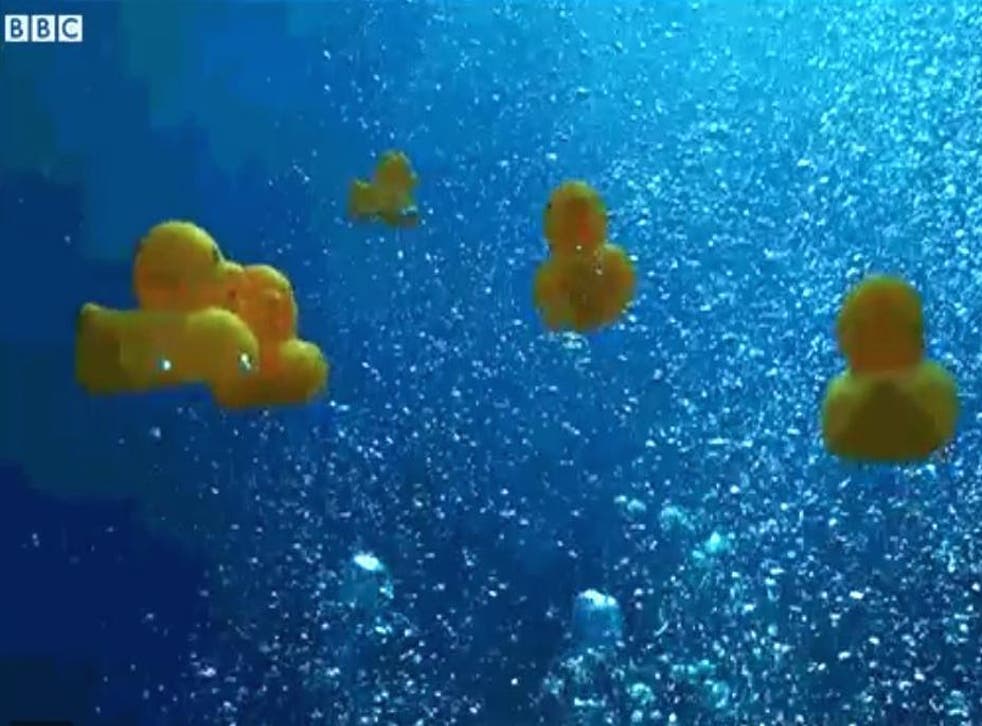 Blue Planet II picked out an ironic and tragic example of man-made waste to highlight it on Sunday night: the 7,000 plastic baths ducks that were accidentally dumped into the arctic ocean after a shipping container fell off a freighter ship.
Some of the ducks floated as far as Australia and Russia, while one turned up on a Scottish shore 15 years after the container sank.
Four shipping containers sink a day, Sir David Attenborough told viewers, scattering their contents around the world.
This, coupled with more nebulous plastic wastage, has become such problem that there was rarely a time when the Blue Planet II crew were filming and they didn't come across plastic in the sea.
"There would rarely be a dive where I wouldn't find some form of plastic from a thread of plastic fishing line, sweet wrappers or plastic bottles," assistant producer Sarah Conner told BBC Newsbeat.
"When in the open ocean on the boat, if we noticed rubbish while in transit we would do our best to stop and pick it up, just as anyone who cares for the ocean would hopefully do."
A hawksbill turtle was seen getting caught in a plastic bag in the episode, ultimately freed by camera operator Rafa Herrero Massieu, with marine plastic posing a conservation threat to entire populations in the ocean.
"We've seen albatrosses come back with their belly full of food for their young and what comes out for her chicks?" Attenborough recalled.
"You think it's going to be squid, but it's plastic. The chick is going to starve and die."
Register for free to continue reading
Registration is a free and easy way to support our truly independent journalism
By registering, you will also enjoy limited access to Premium articles, exclusive newsletters, commenting, and virtual events with our leading journalists
Already have an account? sign in
Register for free to continue reading
Registration is a free and easy way to support our truly independent journalism
By registering, you will also enjoy limited access to Premium articles, exclusive newsletters, commenting, and virtual events with our leading journalists
Already have an account? sign in
Join our new commenting forum
Join thought-provoking conversations, follow other Independent readers and see their replies